Press
Mon 03.31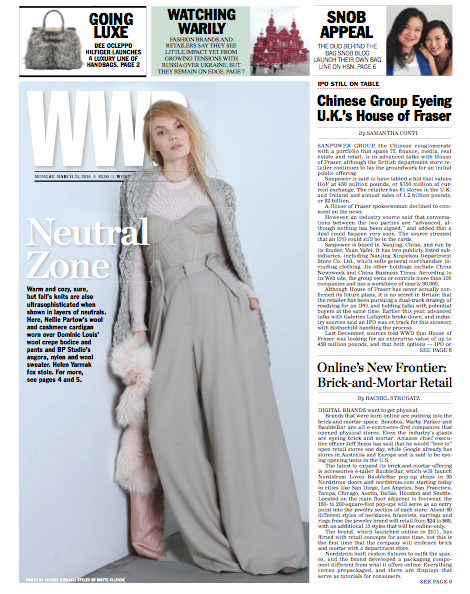 Our heartfelt gratitude goes out to Women's Wear Daily for making the launch of our Snob Essentials bag line today's front-page news! As the name suggests, we have covered all the bag essentials a Snob needs, from clutches to backpacks to everyday totes. Using vegan leathers, we've designed the whole line within an affordable price range ($68 to $128) without sacrificing quality.
Thu 03.27
Congratulations are in order for our very own Tina Craig! She's taken on a new role as Contributing Editor at Vogue Taiwan, sharing tips (in Chinese!) on how to make it in the fashion industry. Check out her interview here…
Wed 02.26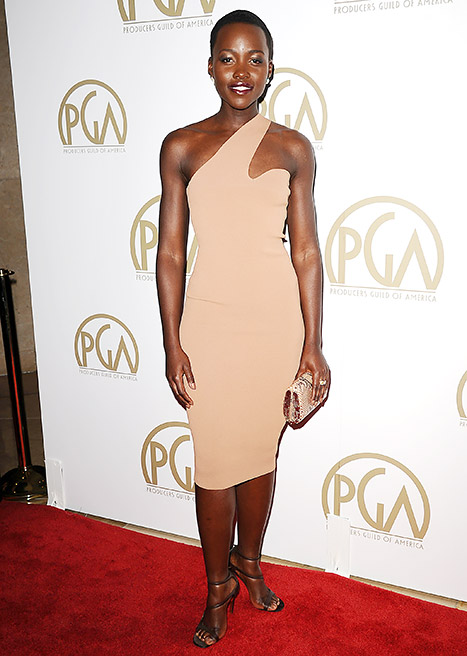 Check out my Oscar predictions in US Weekly! From it girl Lupita Nyong'o to veteran Cate the Great, the nominees are sure to be carrying clutches as award-worthy as they are, and I have just the right ones in mind. While the dress steals most of the attention on the red carpet, let's not forget the bag can make or break a leading look. See my picks here…
Mon 02.24
Haven't had a chance to pick up the March issue of Harper's Bazaar yet? Check out all of Tina's top picks here!
Fri 02.14
Have you picked up the March issue of Harper's Bazaar? If not, it's time to get to the newsstand now! Our very own Tina is featured in the glossy's pages, detailing her top beauty, culture, and fashion picks including everything from signature scents to the greatest artists to – you guessed it – bags! What do you think of her must-haves?
Wed 01.29
Heading to NYC for Fashion Week? Tina knows all the best places to go, and she's sharing them exclusively with the Neiman Marcus blog. Find out where to eat, shop, and of course, what to pack (Fendi, Fendi, and a sprinkling of Tom Ford)! See it all here…
Wed 12.18
I was asked to participate in The Cut's Fashion's Secret Santa project and was so surprised to find out Bryan Boy was my Secret Santa! We have been friends for years, and he knew just what to get me.
Thu 10.31
This year marked the 15th anniversary of Howard and Cindy Rachofsky's TWO x TWO for AIDS and Art benefit, and to honor the occasion, art collectors, designers, and style gurus from all around the world flew in to fete the affair. The international who's who raised $5 million, living up to the auction's reputation as amfAR's highest grossing event in the U.S.
Fri 10.11
Fashion Month may be over, but we'll always have Paris – in photos at least! To commemorate her week in the City of Light, Tina shared her favorite Instagram moments with Lifestyle Mirror.