Quilted
Front is the new back. And pack is the new bag. When it comes to casual dressing, the latest celeb bag trend isn't just the roomy backpack, from the classic and quilted to the rugged and safari-inspired. It's carrying your backpack in the front. Think 360° and use the straps to your full advantage. Also, use your hands. While the appeal of the backpack has long been in its capacity to free you up, now is the time to take a hands-on approach.
Featured Items
Off-duty model fashion always piques our interest – especially when covetable bags are involved – and few models get more photographer attention than Victoria's Secret Angels. Their individual styles aren't just on display in lingerie and swimwear shoots; they're even more prominent in everyday moments. From Adriana Lima's well-priced basic black tote to Alessandra Ambrosio's on-trend Fendi to Candice Swanepoel's classic Chanel Flap, there's enough variety to suit every personality – and with the frugally-priced alternatives I found, every budget as well.
Featured Items
The business of re-commerce is bigger than ever, thanks to social media and technology. With so many sites around, it's hard to navigate and zero in on the best. I recently discovered LGS in Dallas (and Chicago!), founded by two childhood friends, Brielle Buchberg and Lindsay Segal. LGS is Brie and Lindsay's joint vision: A curated designer retail experience and consignment boutique rolled into one.
It's so easy to get caught up with all the high-end designer bags that continuously get released – too easy, actually. So easy it can get boring! There are moments when nothing feels more satisfying than nabbing a great bag that looks far pricier and prettier than its frugal price tag. Kelly just handpicked the trendiest clutches under $100. Now I'm showing you my favorite timeless scores under $200. Because making a super-savvy purchase is worth gloating about.
Featured Items
It's been a while since the spotlight has been on the Alma, the Louis Vuitton bag that was originally called the Squire, then the Champs-Élysées. It wasn't until it was finally christened the Alma that it became a success. Named after Place de L'Alma, a lush square in Paris where the Avenue Montaigne meets the Seine, it's all about old-school elegance. With a shape inspired by the Art Deco movement that resembles a traditional bowling bag revamped into a ladylike style, it's about as classic as a bag gets.
Featured Items
We all know and love Chanel Flap bags, and many own one or two (or a dozen); but not everyone understands the difference between the Classic Flap vs. the 2.55 Flap. Whether you're researching for an upcoming purchase or just want a fun bit of trivia for your next cocktail party, here's the rundown…
Featured Items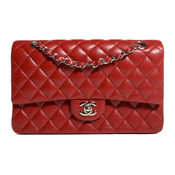 I'm so excited to announce our Holiday bags have arrived! My favorite shape out of the new collection is the Edie. It's a petite, mini-sized style meant for you to wear crossbody, but don't let the small size fool you. Edie can handle a lot.
Featured Items