Quilted
Just like people, many bags prefer certain climates to others. I'm not just talking seasonal styles. While some only function happily on the balmiest days of summer, others are made with winter weather in mind – and the messiness that arrives with it.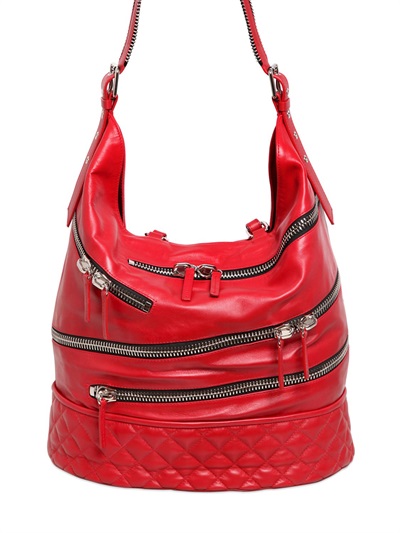 I love Giuseppe Zanotti. I really do. His shoes are exquisite and fabulous, and I can only wish I had the stamina to wear his stilettos daily. So as much as it pains me to do so, I've got to call it like I see it…
It's easy to get so wrapped up in Karl Lagerfeld's stunning work for Chanel and Fendi that we forget he has his own eponymous line. But he does, and it's pretty desirable in its own right, especially the Spring '15 collection.
Two-for-one special, anyone? This is quite possibly the most functional trend, ever. Jeremy Scott (seriously, who else?!) at Moschino is determined to bring the term "hands-free" to brave new levels.
This is a prime example of everything a Frugal Snob bag should be: flirty, fun, noncommittal, and lighthearted (no pun intended). If something like this cheekily romantic bag happened to veer off into the quadruple-digit price range, you would surely hear me exclaim that such a novelty purchase isn't worth a big investment. But that's not the case!
Finally, the long-awaited Moschino jacket bags are here. Yep, now you can wear your leather motorcycle jacket and carry it, too!
Last night, we celebrated the launch of Snob Essentials at an intimate dinner for a group of our dearest friends. The event was generously hosted by HSN, where we will introduce our first collection on May 15th. As the date rapidly approaches, I can happily say we are so proud of this collection.
Here is a perfect example of a bag that illustrates the pillars of Bottega Veneta: impeccable craftsmanship, contemporary functionality, and timeless design topped with quality materials. And like every Bottega piece, it effectively grabs attention without resorting to the vulgarity of in-your-face logos or cheap tricks like tacky dangling fur balls.
We're taking April showers pretty seriously around here, with not one, not two, not even three, but four prizes to give away this month! Each week, we'll reveal a different bag from pre-owned accessories purveyor LUXE DH, offering four chances to win (though you can only take home one).