Runway
Wed 03.05
This season, Miu Miu had me at hello. Or was it Lupita Nyong'o who had me at hello? I have to admit I was distracted by her presence as we settled into the show; she is such a flawless, chic, and modern beauty! Speaking of muses and modernity, Miuccia had to have been inspired by the new Oscar winner and Miu Miu model…
Wed 03.05
No pressure or anything for Nicolas Ghesquière. He was only granted the task of taking the reins at one of the most prestigious French houses in the world, in time for Fall 2014. Not that the beloved Ghesquière, he of much-praised Balenciaga fame, doesn't come with quite a pedigree. But any time there's a shift in power and a change in creative direction, one must tread carefully.
Tue 03.04
I say this with confidence: When it comes to mastery of the craft and virtuosity of divine execution, Maria Grazia and Pierpaolo are unparalleled. In a most emotional Fall 2014 show, the pair made their inspiration felt by each and every onlooker: unconventional women deeply rooted in a moment of change.
Tue 03.04
Nobody understands the importance of showmanship as well as Karl Lagerfeld. For Fall 2014, he took us to market, and the once-in-a-lifetime Chanel Shopping Center experience was one that left all attendees reeling. Strolling into the Costco-sized big-box market made for a surreal moment, one that made me wonder to myself (and I was not alone!), "Where am I?"
Tue 03.04
Fall 2014 marked a most beautiful show from the duo – and one of Viktor Horsting's and Rolf Snoeren's most wearable to date! Last season's flirty schoolgirl-inspired collection gave way to a more somber, studied Fall.
Mon 03.03
The first sunny day of the week gave way to an appropriately lighthearted mood at Chloé. The Fall 2014 Chloé girl is as breezy and effortless as ever, and more free-spirited than before. She doesn't sweat anything; her attitude is chill because she's confident in herself – and her innate sense of style, no over-the-top accessories or airbrushed face of makeup required.
Fri 02.28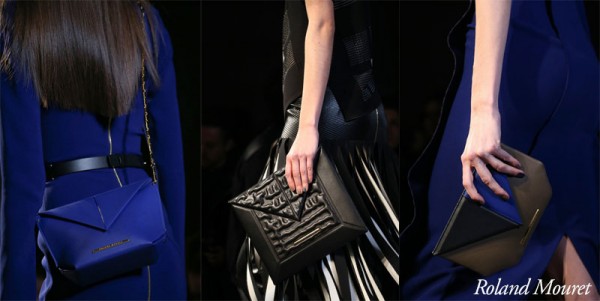 My favorite dressmaker may just become my favorite bag maker yet. Watch this video I made backstage of the Classico bag. The man is pushing envelopes, literally. These envelope-style bags constructed of origami folds (fastened by a single magnet) allow you to play with and change up the flap of the bag at your whim.
Fri 02.28
What is the essence of the Nina Ricci woman? That's the question Peter Copping explored at his show at the Jardin yesterday, and the answer he reaped was a most satisfying one. Not that we didn't have more than a hint already.
Fri 02.28
Never underestimate the power of a Balmain woman. Or designer Olivier Rousteing, for that matter. While Fall 2014 welcomes a most relaxed collection from Olivier, the sense of confidence is just as potent as ever, proving that power does not lie in the cut of a dress or jacket. It's all in the spirit.