Shoulder Bag
Wed 03.05
At first glance, I quite liked this bag. How perfect for summer, I thought. The structure, polished lock, and rolled leather top handle add sophistication to seasonal favorite rattan. It's not some slouchy straw bag you'll take to the beach, but it does evoke the look and feel of summer that we all love.
Wed 03.05
…And tulips and daisies and lilies. Some people say the first day of spring is March 21st (and technically, they are right). Others say it's when new buds have returned to the trees. But I say it's when a fresh crop of blossoms hits the shelves by way of my favorite accessory.
Mon 03.03
Who says you need to be decked out in camouflage to inject a little bit of boot camp chic into your look? Sometimes subtle is the way to go, and sticking with a neutral palette of lush olive, earthy brown, rich hunter green, and all-grown-up mahogany will leave you anything but fatigued.
Mon 03.03
Excuse me! When did Ferragamo get this good? Actually, forget good. It really doesn't get much better than this, as far as I'm concerned.
Thu 02.27
Did anyone else just catch that balmy breeze in the air? What a delightfully fresh summer bag! Sometimes a bag is all it takes to make you feel like a new season is finally in effect, and for me, Viktor & Rolf's eyelet-inspired creation is it.
Fri 02.21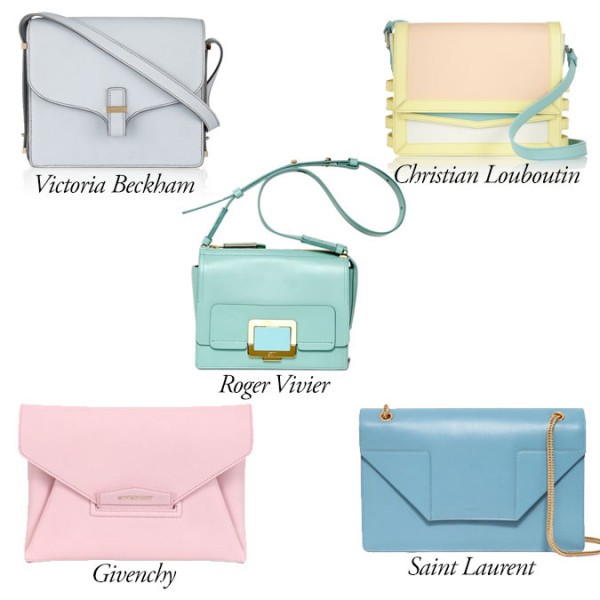 There's no need to wait for Easter to get a basket-worth of sugar-sweet confections. Pastels are where it's at this season, even for girls whose daily uniforms consist of black, gray, and more black.
Thu 02.20
Sometimes it's okay to play favorites – at least when bags are involved! Tell us which is your favorite this week in the poll below…
Thu 02.20
A new movement in bags is literally taking shape. Forget what you've heard about beginner-level geometry; it's a mere trend – nothing more. What was once a novelty concept has now evolved into a staple.
Mon 02.17
More of a good thing is a great thing, and in this case, that's color! The best combos are the most drastic contrasts, especially when one hue is classic and simple, while the other shocks the senses out of their winter doldrums – black and hot pink, black and metallic gold, etc. Pastel may be the unofficial tone of spring, but that just makes these surprising double acts all the more exciting.