Shoulder Bag
Off-duty model fashion always piques our interest – especially when covetable bags are involved – and few models get more photographer attention than Victoria's Secret Angels. Their individual styles aren't just on display in lingerie and swimwear shoots; they're even more prominent in everyday moments. From Adriana Lima's well-priced basic black tote to Alessandra Ambrosio's on-trend Fendi to Candice Swanepoel's classic Chanel Flap, there's enough variety to suit every personality – and with the frugally-priced alternatives I found, every budget as well.
Featured Items
New, now, and not to be missed: You don't want to jump on every trend the Spring '16 collections have to offer – because in the age of social media saturation, trends are a dime a dozen. You've got to be selective. That's why I'm stopping just short of a dozen…
Featured Items
When Valentino executes excess, it's always elevated, and it always exudes the highest level of craftsmanship. An exotic, hand-touched mood has struck for spring, and it's materialized in the form of intricate laser-cut details and a well-traveled tribal motif. I have to say the house has outdone itself.
Sometimes you've gotta go big, and now is that time. It's looking like more is most definitely more this summer. When you're seeking out embellishments, unfettered exuberance is the only way to go. Store away the boring and plain bags for later. Minimalism will surely come back soon as an opposing reaction to this current bubbly mood, so for now, let's live in the moment and fall in love with the exciting trims, appliqués, embroideries, hardware, heavy stitching, and anything else you can throw on a bag that will stick.
Featured Items
By the time Friday rolls around (and it sure took its time), you feel tired and frazzled, but much like the weekend, another bag is always waiting to offer you a sense of renewal. Plop down that less-organized-than-it-was-on-Monday work tote and get yourself one of these ladylike top handles. You can't help but feel sophisticated and put-together with polished accessories like these – even if you're in your sweaty yoga pants.
Featured Items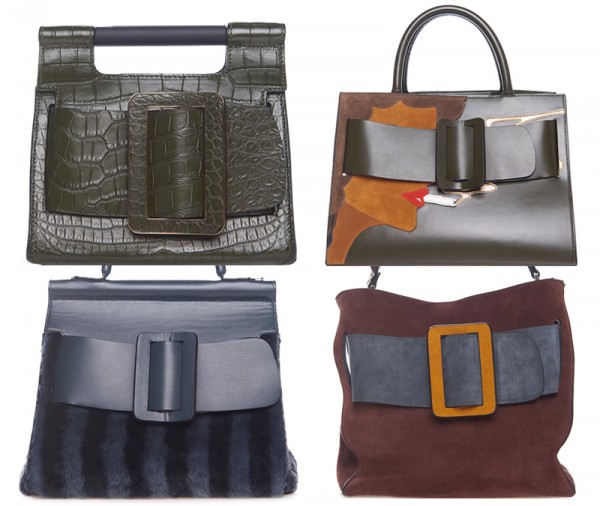 Few brands can pull off a bag punctuated by a gigantic, belt-like buckle. Then again, BOYY isn't your average brand. The brainchild of Jesse Dorsey and Wannasiri Kongman grabbed our attention a couple of years ago, thanks to their label's way with strong, masculine lines and decidedly un-precious details. I have two BOYY bags myself, and I've always loved the duo's unique take on classic styles.
Featured Items
Don't be thrown by the name. Le Snob is not the European division of Snob Essentials. It's something different entirely, a self-proclaimed "goth-meets-goldfinger" brand by designer duo B. Åkerlund (she cites styling for Beyoncé and Rihanna on her resume) and Robert Lussier (he launched the label after getting inspired by a bag he stumbled across at a California garage sale). Le Snob is also the ultimate in convertibility.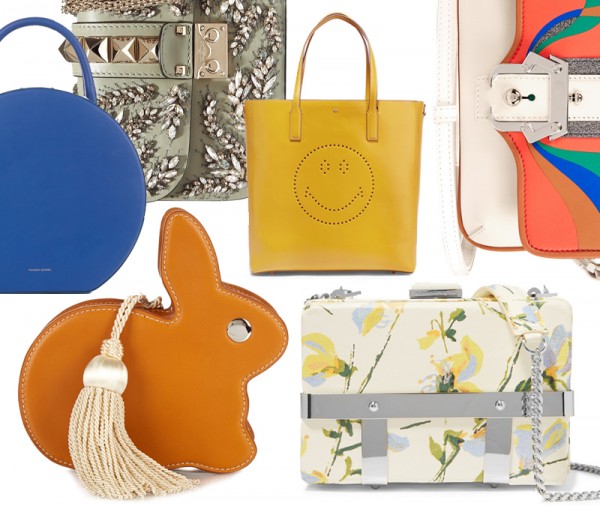 Impossibly innocent pastels and sugar-coated sweetness are great when you're of a certain age. The age when you believe the bunny delivered your basket and Easter egg hunts are exciting, no mimosa required. There are different ways to celebrate Easter and the unofficial onset of spring. Bright colors and bold bows, graphics that won't fade into the grass, and florals that give garden blossoms a run for their money: This is how I like to celebrate the upcoming holiday!
Featured Items
We've always appreciated good whipstitching on a bag. It's instant texture, it's rustic elegance, it's a detail that, when done right, doesn't translate to one that tries too hard. But most importantly, it's great only when done with restraint – a touch of trim here, a jolt of punctuation there. This season, whipstitching is also a big trend, so jump on it. Here, my pick of the best bags that will have you in stitches…
Featured Items