Shoulder Bag
From the looks of the Spring 2016 runways in Milan, striped bags are continuing to reign on for seasons to come. Prada went so far as to showcase an ample variety of variations on the stripe, including thick blocks, metallic exotics, and shots of bold color.
We're more than midday through Monday, and I'm still not ready to face it. But I am ready to face a fresh bunch of happy-to-go lucky bags featuring, you guessed it, faces! Fashion is still in a lighthearted mood, so we might as well capitalize on the sense of novel fun.
As much as I resist trying to be tempted, whenever a see a celebrity carrying a cute bag, I get serious FOMO and start searching for it online immediately. These are the ones that had me scrambling this week…
This may look like nothing more than a nothing bag, but sometimes barely anything can translate to a whole lot of wear. There isn't much going on, but the simplicity is the story here – and therein lies the appeal. The details of a Loewe bag can only be appreciated when things aren't too complicated.
I am not one for a festival, but I never say no to Las Vegas. No, there will not be any camping. I am staying near the Life is Beautiful festival, where Kendrick Lamar and Stevie Wonder are slated to perform, among many others, and enjoying the glamour.
We are seeing a lot of boxy bags recently, but here is more of an approachable and softer hybrid. This Bottega Veneta has the look of a box, but it functions like a typical shoulder bag with an easy-access zipper-top opening.
The bag business is not as easy as it seems. That's because for most women (and a few men), our bags are an extension of ourselves. Selecting a new bag is always an emotional purchase for me. I don't care about logos; I don't feel the need to announce my label of choice to the world.
Still on the fence about mini bags that hold nothing and are perhaps better suited for fourth graders? Not to fret. We are headed without hesitation back to bigger bag territory, if Victoria Beckham has anything to do with it. But don't think larger means more somber and serious.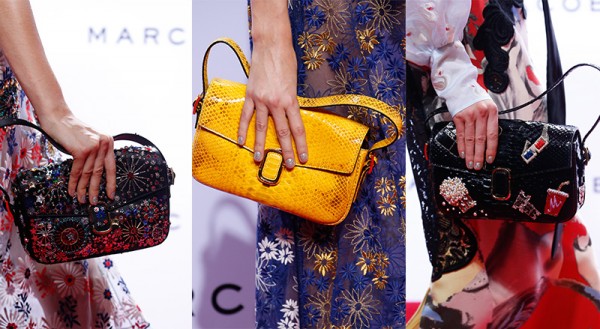 In a collection that shut down New York Fashion Week with a dazzling bang, Marc Jacob reminded us once again that he never disappoints in the dramatics department. New York's famed Ziegfeld Theatre set the scene for Marc's trademark genius theatrics.