Shoulder Bag
Mon 02.17
I have been doing some Spring cleaning in my closet, and I can tell you, I am ready to sell the bags I no longer use and get ones that are relevant to me now. There are many resale consignment sites out there, but I have found that LuxeDH has all the amazing brands, including my top 3 – Hermès, Chanel, and Celine. Their service is incredible especially for buying gently used bags.
Mon 02.10
Another week, another set of celebrity bags! Let us know whose is your favorite in the poll…
Sun 02.09
It's not easy being Alexander Wang. Between responsibilities helming both the house of Balenciaga and his own eponymous line, the 30-year-old is currently shouldering more than most take on in a lifetime. No matter to him, it seems. He carries it all with natural grace and insoluble ease (and a big happy smile; every time I see him he's smiling!).
Fri 02.07
Calling all sexy outdoorswomen, hot bowling enthusiasts (and leggings enthusiasts, for that matter), vixen-cum-tomboys, and models with definitive senses of style: Rag & Bone's Fall 2014 collection just hit the runway, and it was made just for you.
Tue 02.04
If you're not used to them, the designs of Maison Martin Margiela tend to require some adjusting. From ID bracelets that have been magnetized and converted into straps to the ludicrously elongated clutch, their bags, while neutral and simplistic in many ways, are always out-there and off-beat in some way. The term "deviated classics" is what comes to mind. Or, at other times, downright bizarre.
Mon 02.03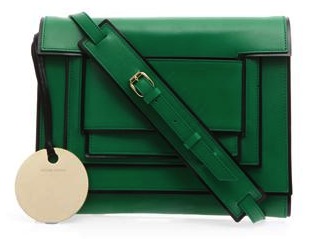 Lush, verdant, grassy green: this color is key for the upcoming season, and not just because St. Patrick's Day is on March 17th…although, how perfect would this be to take out that night?
Fri 01.31
Colorblocking combined with texture-mixing: Sounds disastrous, right? And the blocking of not two but five shades sounds like a train wreck, I know. But somehow, against all common sense and logic, the Johan bag works. It works really well. Jérôme Dreyfuss has put his quirky-casual aesthetic to good use, executing a lighthearted a day bag that feels fun and fresh.
Thu 01.30
Not too big and not too small, structured but not overly so, and neutral enough to go with all your favorite staples: You can count on a daily bag to be practical, but rarely do they inspire excitement. Not these five. More than just an afterthought, these daily bags have great designs and details to spare, so you won't find yourself making a compromise while following the KISS rule: Keep It Simple and Stylish.
Thu 01.30
As we start shopping – and getting earnestly excited to wear – the Spring 2014 collections, you can't ignore Roger Vivier. But can you ever?! Thanks to effortless geometry, the unified contrast of strong lines and sweet delicacy, and a pastel-perfect palette, the Prismick feels very on-trend this season. But Roger Vivier's quintessential bag is actually far ahead of the current trends. The elite Vivier has been doing this for years.