Shoulder Bag
We love pastels, but they can be tricky. If the hue is even the slightest bit off or styled in the wrong way, you end up looking like you're a six-year-old out in the yard hunting for Easter eggs. That said, there's little that brings a greater sense of renewal than pulling out your lightest and brightest accessories for spring…
Featured Items
Your wardrobe reflects your personality and for all our own varied tones and moods, our bags should have just as many facets. The demure, feminine girl sometimes gets taken over by a rough and tumble attitude, and vice versa. Isn't that what makes being a woman so fabulously fun? Make sure your bags show how are you feeling each day.
Featured Items
The business of re-commerce is bigger than ever, thanks to social media and technology. With so many sites around, it's hard to navigate and zero in on the best. I recently discovered LGS in Dallas (and Chicago!), founded by two childhood friends, Brielle Buchberg and Lindsay Segal. LGS is Brie and Lindsay's joint vision: A curated designer retail experience and consignment boutique rolled into one.
It's so easy to get caught up with all the high-end designer bags that continuously get released – too easy, actually. So easy it can get boring! There are moments when nothing feels more satisfying than nabbing a great bag that looks far pricier and prettier than its frugal price tag. Kelly just handpicked the trendiest clutches under $100. Now I'm showing you my favorite timeless scores under $200. Because making a super-savvy purchase is worth gloating about.
Featured Items
Okay, I'm trying not to harp on about this, as some people have told me to get over the fact that my bag was stolen, but wouldn't you be upset if you lost this gorgeous Ferragamoicon?? The striped Spring 2016 style is surprisingly easy to incorporate into your wardrobe, whether you're pairing it with red fur like I did or simply basic black. Plus, it was taken from an invite-only presentation, rather than a public event, which just makes you wonder all the more who took it…anyway, I intend to pick up another Ferragamo, and in the meantime, there are plenty of other bags to get me through the season.
Featured Items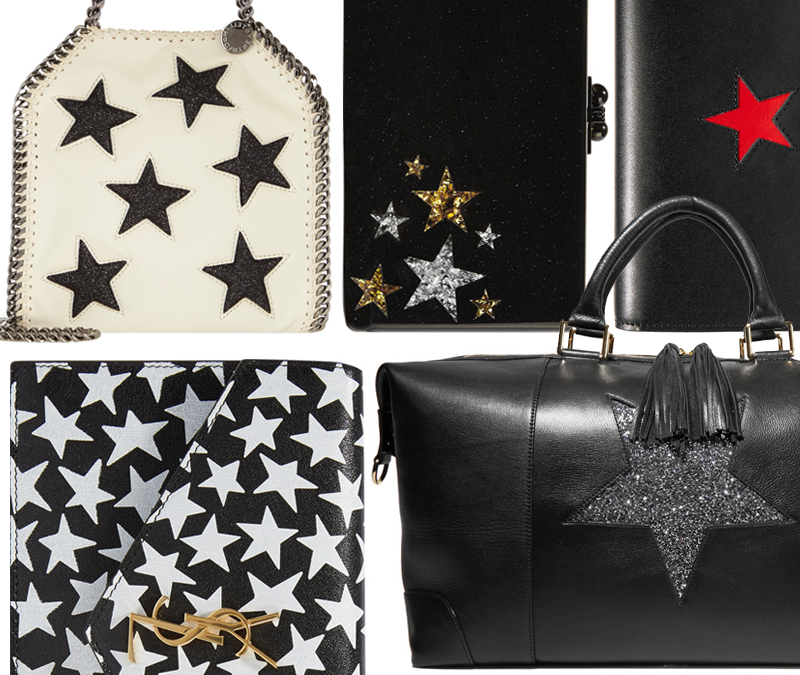 According to my new BFF, famed astrologer Susan Miller, the stars are aligned for anyone born within four days of August 26th. Over the next year, we lucky August babies will be enjoying the kind of good fortune people only experience once in a lifetime! It just so happens that stars are my favorite print, and coincidentally, they are everywhere in fashion right now – most importantly, of course, on bags…
Featured Items
My second day at NYFW started as any other day in my life, at Pure Barre. One of my goals at Fashion Week this season is to stay focused on the healthy lifestyle and habits I picked up a couple of months ago, so I'm taking it easy this time around. Instead of my usual 50-plus-show grind, I'm attending a mere 38 shows (I know that's still a lot, but it frees up much of my time!), and they're strictly brands I'm interested in. I guess you could say my reviews are different from that of the average fashion critic. I'm driven by my own desires, what I want to wear, and what speaks to me on an emotional level.
Right now, the overarching trend in bags is everything optimistic and fun. It's not the shape that makes a bag a must-have anymore. Instead of specific silhouettes, it's all about the vivacious and expressive. Think details that catch the eye for bags that are personality-driven and tell a story – so you can tell your own story with your bag. What's not to love about that?!
Featured Items
Some runway bags don't translate well to real life. But Marc Jacobs is one of the few designers who can successfully bring the dream to reality. His Spring '16 bags are just as enticing a prospect to carry all day, every day as they were when we first saw them swinging from the arms of models back in September at the Ziegfeld.
Featured Items