Shoulder Bag
Wed 10.16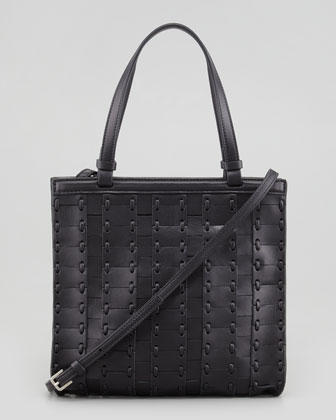 Trust the young ladies of The Row to offer a true twist on the time-tested weave theme. The way this shopper's tiles are stitched and woven is more similar to the way metal plates are attached, rather than plain, old interlocked bands of leather.
Tue 10.15
Bags are beginning to blur together. Perhaps that's why I'm currently so attracted to bags like the insect Damien Hirst for Prada Entomology bag. These days, it takes a lot to stand out, even for designers with a wealth of creativity. Take Stella McCartney, for example.
Mon 10.14
Every year when fall rolls around, pony-hair is a seasonal must, no questions asked. Nothing will get you in the mode to enjoy the rest of October and ease right into winter like natural texture that's lush yet subdued.
Thu 10.10
Givenchy's Lucrezia bag is a current classic for modern snobs who aren't afraid of a little edge or to take a risk. While we're used to seeing it in color or alligator-stamped texture, the latest edition just reinforces the fact that Givenchy isn't afraid of a lot of edge.
Tue 10.08
There are days when it's all about the bag. You take out your wardrobe's best and enjoy putting forth the energy to baby it with precious treatment. And then there are those days when life gets in the way and you're too busy to worry about taking care of an investment piece while you go about your business.