Shoulder Bag
Fri 05.09
We tend to dislike bucket bags just as much as we dislike drawstring pants. With a scrunched, cinched closure and a dropped, often unstructured body, they're messy and inherently hard to get in and out of. Similarly, just try going to the bathroom at 2 a.m. in drawstring pajama pants! They also have a way of being awkward to carry, bumping and protruding like they have a mind of their own.
Fri 05.02
We let loose come summertime, but our wallets need not follow suit. It's the season when Frugal Snob options are aplenty, especially the beachy ones, and I intend to take full advantage. Nothing says summer more than raffia, and Mar y Sol knows a thing or two about that.
Tue 04.29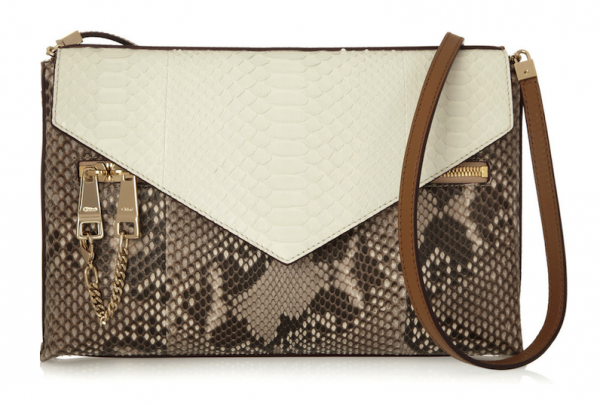 This isn't the bag that's going to keep you up at night wishing for it or the one that will taunt you in your dreams when you do fall asleep. But Chloé's Cassie bag is one of those beautiful pieces that you'll get use out of forever and then some. As practical as it is easy on the eyes, this is one of the bags that will take a front seat in your closet.
Wed 04.23
Is it just me or is Tod's really turning up the heat? They've reinvented themselves right in time for the better part of the spring season, and I'm feeling their casual, low-key take on everyday elegance.
Wed 04.16
Here is a perfect example of a bag that illustrates the pillars of Bottega Veneta: impeccable craftsmanship, contemporary functionality, and timeless design topped with quality materials. And like every Bottega piece, it effectively grabs attention without resorting to the vulgarity of in-your-face logos or cheap tricks like tacky dangling fur balls.
Tue 04.08
I like fringe; I really do. Actually, back in high school, I had a rather serious habit of dousing myself in fringe. A black fringe leather jacket, circa 1990? Check. White fringe leather boots, circa 1991? Double check!
Fri 04.04
Graphic black and white was last year's biggest spring trend. Actually, it was probably the biggest trend of the year, one that has stuck around and likely won't go anywhere too soon. Because really, when is the classic duo not in style?
Wed 04.02
To all you distressed cotton, acid-wash, and frayed-to-a-fringe bags out there, this is how you do denim. Make like Pierre Hardy and don't take the idea literally. Go figurative, and stick to keen structure and polished leather piping, so the effect is anything but trashy.