Shoulder Bag
Wed 04.16
Here is a perfect example of a bag that illustrates the pillars of Bottega Veneta: impeccable craftsmanship, contemporary functionality, and timeless design topped with quality materials. And like every Bottega piece, it effectively grabs attention without resorting to the vulgarity of in-your-face logos or cheap tricks like tacky dangling fur balls.
Tue 04.08
I like fringe; I really do. Actually, back in high school, I had a rather serious habit of dousing myself in fringe. A black fringe leather jacket, circa 1990? Check. White fringe leather boots, circa 1991? Double check!
Fri 04.04
Graphic black and white was last year's biggest spring trend. Actually, it was probably the biggest trend of the year, one that has stuck around and likely won't go anywhere too soon. Because really, when is the classic duo not in style?
Wed 04.02
To all you distressed cotton, acid-wash, and frayed-to-a-fringe bags out there, this is how you do denim. Make like Pierre Hardy and don't take the idea literally. Go figurative, and stick to keen structure and polished leather piping, so the effect is anything but trashy.
Tue 04.01
We're taking April showers pretty seriously around here, with not one, not two, not even three, but four prizes to give away this month! Each week, we'll reveal a different bag from pre-owned accessories purveyor LUXE DH, offering four chances to win (though you can only take home one).
Mon 03.31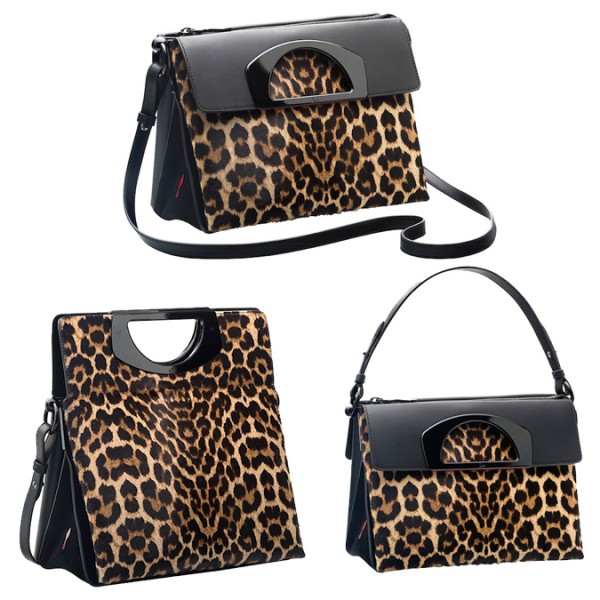 Bon voyage, studs, grommets, glitter, and heavy-metal hardware, and bonjour, clean lines, smooth metal, and pristine cutouts! From spikes to structure, I like the direction Christian Louboutin bags are headed for Fall 2014.
Thu 03.27
Why do bags cost so much? It's a question I ask myself all the time, especially as I'm handing over my Amex with eyes shut tight in denial. 10 years ago, we were up in arms anytime a Prada bag topped $750, and yet now that's considered a steal!
Thu 03.27
Some collaborations are nothing but a natural fit. Smythson's latest Panama Collection marks the second capsule partnership between the leather company and artist Quentin Jones. Best of all, I love Smythson and their clean, simple shapes readily lend themselves to artistic embellishment.