Shoulder Bag
Tue 08.12
Thanks to the brilliant Roland Mouret's arguably long-overdue foray into bags, my favorite dresses now have perfect companions. On his Fall '14 runway, the French designer, he of the body-transforming dresses and sensuous, geometric genius, unleashed a first line of bags with his typically top-notch collection.
Mon 08.11
Disclaimer: I love Carven everything. Regardless, their bags have always lagged rather far behind the killer ready-to-wear and even the shoes for me. Until now. The Malher has piqued my interest, particularly in part to its great price point.
Tue 08.05
We see a lot of envelope clutches, but envelope shoulder bags? Well, BOYY, you have my attention!
Tue 07.29
This is one of my favorite bags from Chloé, and given how many gorgeous contenders there are, that's no small statement!
Tue 07.29
Remember how eagerly we anticipated the premiere of each new season of Sex and the City? The excitement would overtake every woman I knew, whether they lived in a bustling metropolis or not. And it wasn't just to observe and empathize with Carrie Bradshaw's love life but to gaze at the shoes and bags worn by Sarah Jessica Parker.
Mon 07.28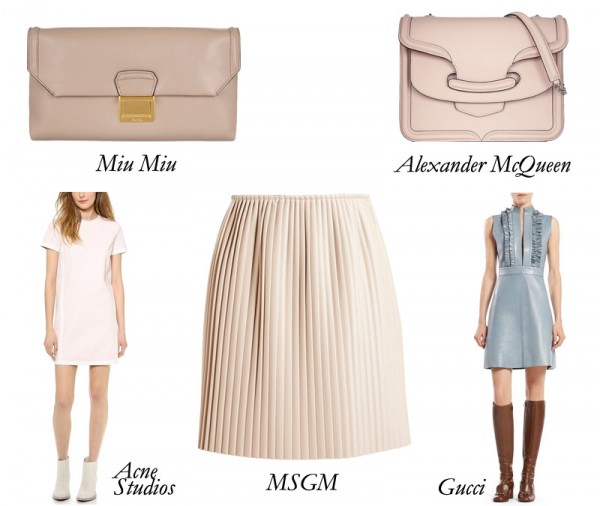 Pastels are for spring, you say? Not anymore! Or at least, not only for spring. Sooner or later, we must accept that fall will be here soon. I know, I know…the summer just started! It's okay, though, because we can keep the color palette going through autumn…
Mon 07.28
A solid bag, there's absolutely nothing wrong with this design – other than the fact that it's somewhat unremarkable. The Bucket lacks the hallmarks of what I've come to consider Proenza-luxe: the striking details and signature "PS" elements. Instead, it's a truly clean and casual bucket style with minimal metal accents and strong structuring…
Fri 07.25
My first Prada bag was a nylon backpack with gold chains. I wore that thing everywhere, even to class (a student needs a backpack, no?). I was so obsessed with these bags that they were one of the main topics of conversation with my girlfriends every day.
Wed 07.23
I love a good pouch, but I hate dragging a pouch around with me. Enter the ideal compromise for maximum pouch power: Marni's multifunctional Bandoleer with a removable strap is perfection!