Shoulder Bag
As we head towards the end of summer (noooo!), there is one thing we don't need to leave behind. While nautical prints and caftans will have to move to the back of closet, there's a certain fabric that gets to remain front and center: Canvas.
How is it already Monday again? I'm not going to opine on why the weekend goes by in the blink of an eye, while a workday can feel like an eternity. Instead, I'm going to distract myself with a bunch of bags that have me all starry-eyed.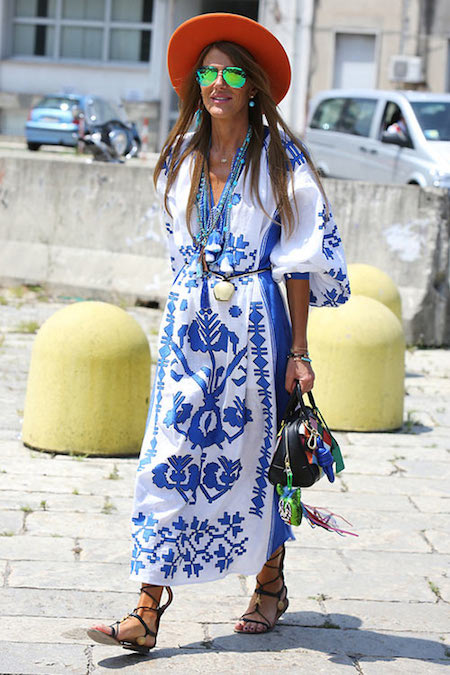 From fringe to hobo bags to exaggerated hoop earrings, the boho look is a fashion favorite at the moment, and none are doing it as well as Ukranian brand Vita Kinicon. For one thing, the style – vyshyvanka, the nation's traditional embroidered clothing – is a different take on boho than we're used to seeing.
The most common question I get asked when people find out what I do is: "So, what's the hot bag right now?" Of course I could tell them to just read my blog, but instead of being snarky, I opt to be helpful and rattle off a list of current bags that are the most relevant.
We know Victoria Beckham for one thing, first and foremost. (No, it's not for her RBF, of which I'm thoroughly simpatico. Nor is it for her hot husband. And of course it's not for her spicy past.) It's for her understatedly chic sensibility, which comes through in her own line as much as it does her personal style.
I love Tom Ford's version of the classic Hermès Kelly top-handle tote. A riff on the quintessential style, the Icon is still infused with his signature details, like an oversized zipper and well-placed, high-impact hardware.
Pushing the envelope is a must. As a designer, you should always strive to create something unique and personality-driven. But it's possible to push the envelope past the point of no return. And as a designer, you should also know when to stop.
Whether it's getting dressed to run a quick errand or doing it up with just enough drama for a major event, there are a select few out there who always make it look effortless. One of them is undeniably Alexa Chung.
If you're looking for that bag to carry now and wear more later, I've found it for you. Distinctly feminine and discreetly multi-hued, Nina Ricci's Le Marché shoulder style is the one to act as your great segue into fall.