Shoulder Bag
Still on the fence about mini bags that hold nothing and are perhaps better suited for fourth graders? Not to fret. We are headed without hesitation back to bigger bag territory, if Victoria Beckham has anything to do with it. But don't think larger means more somber and serious.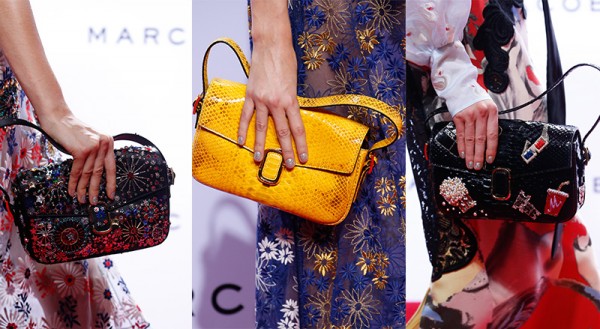 In a collection that shut down New York Fashion Week with a dazzling bang, Marc Jacob reminded us once again that he never disappoints in the dramatics department. New York's famed Ziegfeld Theatre set the scene for Marc's trademark genius theatrics.
Love Tom Ford but hate the hefty price and weight of his bags? The Jennifer is one of his most iconic styles, but the earlier version featuring a giant zipper-trimmed flap adds so much heft, you have no choice but to wear it crossbody if you want to walk straight.
We all carefully plan what we wear on a date because we know choice of dress (or pants, for that matter) and shoes determines the signals we give off. But it's your bag that shows your real feelings.
The simplest shoulder bag shape gets a major kick with some unexpected stylistic details, courtesy of Bottega Veneta. As a brand especially known for their unyielding attention to fine detail, that's no surprise.
Say hello to stripes done right. Proenza Schouler is a label that's never shy about experimenting with unapologetic and unexpected mélanges of textures, elements, and references. That bold mentality even translates to their bucket bags, like this heady little statement-maker. The only thing neutral about it is the clean black and white color palette – and I mean that in the most positive way possible.
Now is the time to embrace some major texture changes! If fur is too extreme for you as a winter bag, then felt is definitely right. Think of it as the perfect frigid-weather compromise. Soft and not too-in-your face, it's the more practical choice.