Snob Sales
…and already we've seen four great sales! First there was NET-A-PORTER's, then Neiman Marcus', and now Shopbop and Saks Fifth Avenue have taken up the cause to help melt away your mid-week blues with deals at up to 40% off. The former's discounts will be available through Friday, while Saks' will last through the whole weekend. The way things are going, I bet there will be more sales to come next week, but in the meantime, make sure you check out these personality-packed steals.
Featured Items
A sale on summer essentials before spring is even over? That's a rare and special event – and one going on today at Neiman Marcus! Now through Thursday, shop thousands of select items, all discounted at a lovely 25% off…
Featured Items
To anyone who questions the frequency with which you show up to lunch carrying a new bag, guess what? It pays to shop. If you've been as addicted to NET-A-PORTER as we have, then you received an e-mail this morning offering you a pretty 25% off discount that's valid now through Sunday on the US site (to save some potential disappointment, note that this excludes items marked "New Season," "Essentials," or "Fine Jewelry"). The deduction is automatically applied at checkout, so just log in here and start shopping!
Featured Items
Sure, we feel refreshed and renewed at the start of the week, but there's still that sense of dread knowing that the beginning of another five days of work has just begun. Thankfully, we have the good people at Shopbop trying to make your afternoon break just a little better, courtesy of early access to their Friends & Family sale. With the code INTHEFAM, you can get 25% off full-price or sale items, ranging from a summery clutch to colorfully beaded sandals to an on-trend velvet choker (long live the '90s!).
Featured Items
When it comes to Fashion Month street style, you see a lot of clown couture; sensible bags are typically kept at home, with front row attendees favoring the tiniest, flashiest, and often most controversial clutches and top handles on the market. Which is why I was so surprised to see that one of the biggest trends so far this season has been the oversized saddle bag…
Featured Items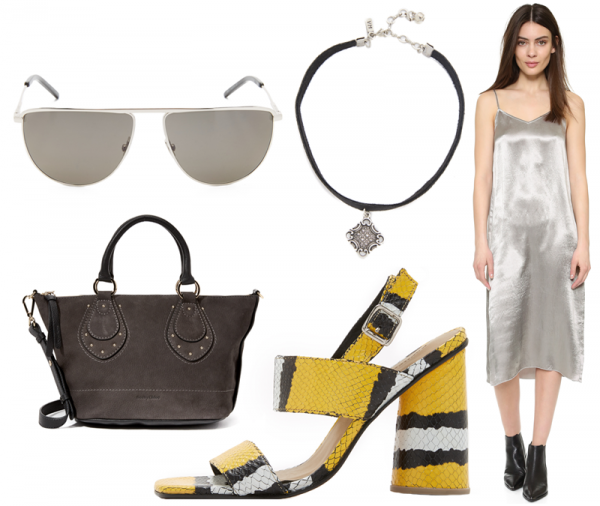 I've done my spring cleaning, so now I'm on to wardrobe restocking! This may seem counterproductive, but when you take into account the appearance of new trends each season, it's really more like a fun necessity. '90s-era slip dresses and chokers are experiencing a resurgence, and while it seems like 1995 was just yesterday, odds are you may not have saved your best crop tops and Doc Martens. Fortunately, Shopbop is here to help you get back on trend.
Featured Items
Every online retailer from NET-A-PORTER to Farfetch is offering an extra discount on their sale inventory right now, but it's worth noting that Shopbop is applying its 25% off to items in the high-end Designer Boutique.
Featured Items
The sales just keep on coming! And I am more than ready to continue shopping, especially when the discounts are on pieces as unique as these…
Featured Items
There's something so exciting about waiting to buy an item until it's as discounted as it gets. Sure, this is not a game you can play with just any piece. Things could sell out at any time, and the retail season is long. Good news, though; now is finally the time to buy!
Featured Items