Suede
From Stella to Proenza to The Row, it is all about the backpack as a fashion item. But you don't need to go to the top of the line to get a topnotch style. Actually, you just need to go to Topshop.
Colorblocking combined with texture-mixing: Sounds disastrous, right? And the blocking of not two but five shades sounds like a train wreck, I know. But somehow, against all common sense and logic, the Johan bag works. It works really well. Jérôme Dreyfuss has put his quirky-casual aesthetic to good use, executing a lighthearted a day bag that feels fun and fresh.
Not too big and not too small, structured but not overly so, and neutral enough to go with all your favorite staples: You can count on a daily bag to be practical, but rarely do they inspire excitement. Not these five. More than just an afterthought, these daily bags have great designs and details to spare, so you won't find yourself making a compromise while following the KISS rule: Keep It Simple and Stylish.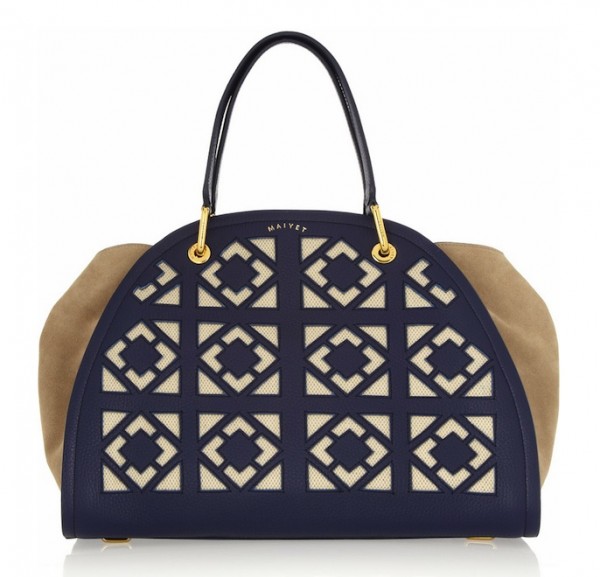 Bold lattice designs usually make me think of 1970s Palm Springs décor, a little tacky and over-the-top. But my new obsession with interior designer Tom Scheerer has me changing my tune.
We may have questioned the originality of Stella McCartney's Beckett bag, but the Beckett hobo? It's in a league all its own! This comes down to the Brit designer's incomparable use of faux leather. A great hobo is hard to find. A vegan one? Even harder.
Emphasis on the word "off." Simply put, Tod's has gone off the rails for me. What was once a classic brand that offered me timeless investments (take this python beauty back from 2011, for example) appears to have run off and joined the circus. Or the horse show.
Forget what the TV show says – graphite is the new black. The hue is softer yet just as sophisticated and edgy, especially when you take the all black everything philosophy and remix it with this dark gray.
Have you heard? Pantone has revealed the color of the year for 2014 – radiant orchid! We already saw it on quite a few Spring 2014 runways, but before you can get your hands on those looks, I've rounded up a few to get you through winter.