The Holy Grail of Bags
Accessory designers are always looking to create the "next Birkin." As someone who's reviewed tens of thousands of bags over the years, though, I can tell you, it ain't gonna happen. There will never be a bag as iconic as Hermès' holy grail. It's a true investment piece…
Obsessed with Jane Birkin? I'm talking the person, not the bag. I am, and there's no shame in it. You can have your Kardashians and Jenners, but I will forever revere the style of the one and only Jane Birkin. For over half a century, she's dressed to please herself…
While the past year proved to be a tumultuous one in many ways, 2014 was undeniably a year of great bags.
Online vintage mecca Bella Bag has generously sponsored the giveaway of this gorgeous Hermes Birkin. Have you entered to win yet? There's just a week and a half left to throw your hat in the ring!
To kick off the holiday season, we'll be offering one of our best giveaways to date – an Hermès Birkin! What better way to begin the New Year than with the world's most coveted accessory? This is truly the Holy Grail for us Bag Snobs.
Are you excited for FNO tonight? I will be working in NYC (filming for the massive China site– Sina.com.cn)but plan to shop online on MyHabit.com before I brave the city streets (internet shopping on FNO is an excellent idea if you're not into crazy crowds!) For FNO, the addictive shopping site is hosting a special … Continue reading MYHABIT.COM- Fashion's Night Out Vintage Bag Sale
No words necessary. I woke up and could not get this gorgeous blue alligator clutch out of my mind. It's one of my ultimate dream bags. It's good to have dreams, keeps you focused and harder working. I love the Hermes Medor clutch, but I wish they never discontinued size 29cm (only available now in … Continue reading Weekend Bag Dreamin': Hermes Medor Clutch in Alligator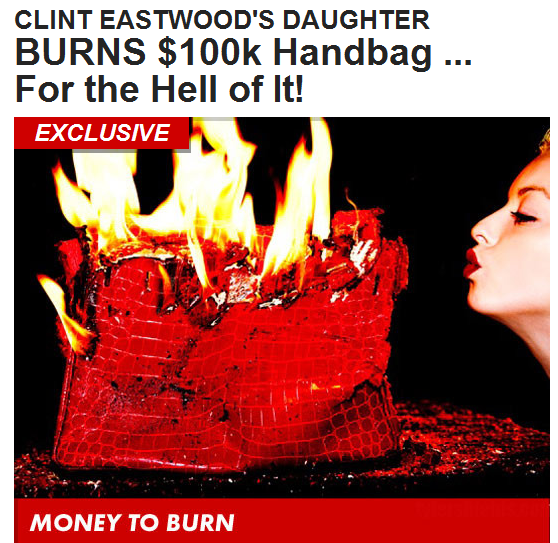 My friend the Recessionista on Twitter sent me this link of Clint Eastwood's fame seeking 19 year old daughter burning a crocodile birkin on TMZ and it was all I could do not to scream. I get the shock factor, I get that money can buy you anything (except, apparently, CLASS). But this is ridiculous! … Continue reading Burn, Birkin, Burn…?! Francesca Eastwood Burns Birkin