The Latest "Snob" Bags
Thu 03.06
I have complained that Anya Hindmarch veered too far off into Novelty Land with her Capri Sun-lookalike foil-pouch clutch, but her sense of adventure isn't all bad. Actually, she's proven she has a real sense of savvy and even outright originality for the spring season.
Thu 03.06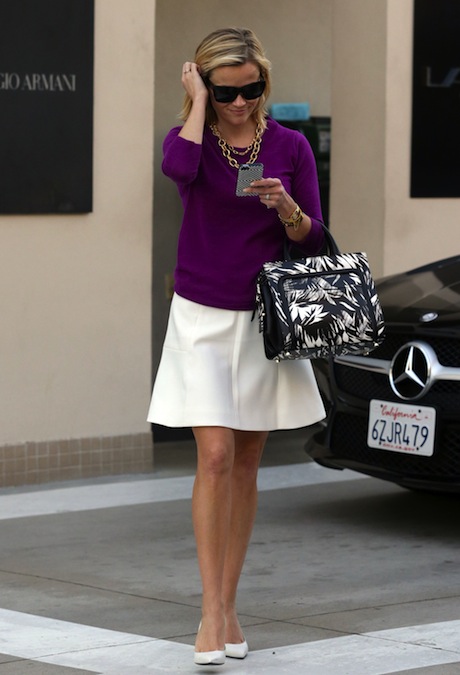 Another week, another set of swoon-worthy celebrity bags! Let us know who's carrying your favorite in the poll…
Wed 03.05
No pressure or anything for Nicolas Ghesquière. He was only granted the task of taking the reins at one of the most prestigious French houses in the world, in time for Fall 2014. Not that the beloved Ghesquière, he of much-praised Balenciaga fame, doesn't come with quite a pedigree. But any time there's a shift in power and a change in creative direction, one must tread carefully.
Wed 03.05
At first glance, I quite liked this bag. How perfect for summer, I thought. The structure, polished lock, and rolled leather top handle add sophistication to seasonal favorite rattan. It's not some slouchy straw bag you'll take to the beach, but it does evoke the look and feel of summer that we all love.
Wed 03.05
…And tulips and daisies and lilies. Some people say the first day of spring is March 21st (and technically, they are right). Others say it's when new buds have returned to the trees. But I say it's when a fresh crop of blossoms hits the shelves by way of my favorite accessory.
Tue 03.04
I say this with confidence: When it comes to mastery of the craft and virtuosity of divine execution, Maria Grazia and Pierpaolo are unparalleled. In a most emotional Fall 2014 show, the pair made their inspiration felt by each and every onlooker: unconventional women deeply rooted in a moment of change.
Tue 03.04
Nobody understands the importance of showmanship as well as Karl Lagerfeld. For Fall 2014, he took us to market, and the once-in-a-lifetime Chanel Shopping Center experience was one that left all attendees reeling. Strolling into the Costco-sized big-box market made for a surreal moment, one that made me wonder to myself (and I was not alone!), "Where am I?"
Tue 03.04
Fall 2014 marked a most beautiful show from the duo – and one of Viktor Horsting's and Rolf Snoeren's most wearable to date! Last season's flirty schoolgirl-inspired collection gave way to a more somber, studied Fall.
Mon 03.03
Who says you need to be decked out in camouflage to inject a little bit of boot camp chic into your look? Sometimes subtle is the way to go, and sticking with a neutral palette of lush olive, earthy brown, rich hunter green, and all-grown-up mahogany will leave you anything but fatigued.