The Latest "Snob" Bags
Wed 12.17
This one's for all the mall warriors and department store troopers braving the last-minute holiday crowds.
Wed 12.17
Are you regretting not taking advantage of those great Cyber Monday sales? No need to fret because Shopbop has your lazy butt covered! Instead of trekking out in the cold to crowded stores filled with frantic, last-minute shoppers, curl up on the couch and check out Shopbop for additional 20% discounts off already marked-down items.
Tue 12.16
Anna Kendrick looked lush and lovely in Oscar de la Renta's burgundy dress at the photo call for Into the Woods in London on December 11th. Cara Delevingne went seductively minimal in her midnight-blue tuxedo jacket from Emilio Pucci's Fall '14 collection at a Vogue and J. Crew dinner just a couple months prior.
Tue 12.16
If there is one topic that fascinates me more than bags and fashion, it's cosmology. Based on the Greek word for "world," it's the study of the beginning (and end) of the universe, and it intrigues me to no end. So when you add two of my favorite things together, you've got something that really has my attention!
Mon 12.15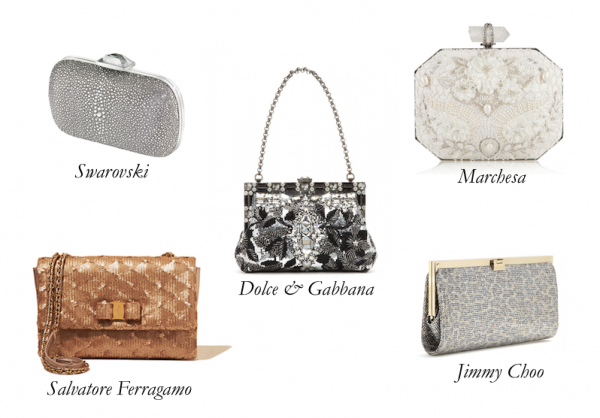 The Chinese aren't ones to skimp when it comes to celebrations. They ring in every new year with explosive firecrackers and countless sparklers. That's why I'm encouraging you to close off the Year of the Horse with sparkle and shine!
Mon 12.15
Valentine's Day must be coming early this year. How else can you explain the sudden influx of bags that are wearing the symbol of love loud and proud? Cute and quintessential, hearts never go out of style, and they will just about always make you happy.
Fri 12.12
When we think of holiday dressing, we think of tinsel-like metallics, the kitschiest of embellishments, and colors as warm as a crackling yule log. Today I'm making a case for something different, yet just as appropriate for the season – winter white and silver bells!
Fri 12.12
In a pre-show interview, the designing force behind the House of Valentino told me white is the color of Haute Couture. Pure, unadulterated, clean, and effortlessly distinctive, the shade's power lies in its uncorrupted connotation and lack of pretense.
Fri 12.12
Do you ever feel like you're being watched? Maybe it's because there are suddenly too many bags to count out there with eyes of their own! From the subtle and sophisticated to the unapologetically campy, I've narrowed it down to just five gaze-worthy bags. But even with five, I can promise you'll still get an eyeful.