The Latest "Snob" Bags
Fri 10.31
I was never that kid who dreamed of being the princess in a fancy wedding gown and castle. Not me. I wanted to be the superhero! When I immigrated to the States in the third grade, I decided to be Batman for Halloween. It didn't occur to me that only boys were supposed to be Batman.
Thu 10.30
Unlike most celebrities, RiRi isn't one to follow style rules. She wears bras as tops, doesn't wear bras with tops, and if she loves a bag, she will carry it over and over again.
Thu 10.30
Calling all croc Snobs! Creative Director Santiago Gonzalez will be at Bergdorf Goodman today until 5 pm to offer an exclusive preview of Nancy's Resort 2015 collection, and in case you can't tell from the meticulously crafted rainbow weave above, it is GOOD.
Thu 10.30
I give Valentino a lot of love because honestly, Maria Grazia and Pierpaolo aren't doing much wrong these days. This latest confection only further solidifies my obsession. Hello, happiness! They've unleashed one of the most upbeat and perfectly irreverent bags you've ever seen, in time for the spring season.
Wed 10.29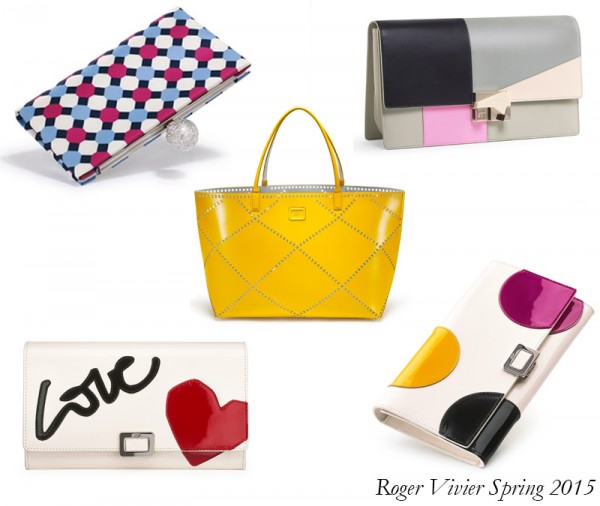 Next spring, Roger Vivier is taking us on a "stroll through the heat of summer," and I couldn't be happier to oblige early. Inspiration from the hot sun and cool evening breeze translates to pop art-heavy pieces that snap, crackle, and yes, pop.
Tue 10.28
Lately, I've been shifting into neutral when it comes to my bags. White may not seem like the most audacious color (or technically, even be a color), but set against rich, autumnal reds, oranges, and yellows, there's no better way to set yourself apart.
Tue 10.28
The look is youthful, playful, and on trend. Whether you go for the polish of Valextra or the whimsy of our Circle Daily in cobalt blue, a perfectly round bag is a must right now.
Tue 10.28
We all love carrying a good doctor's bag every once in a while, but some real differentiation is a must when I'm getting a new one. Tyler Alexandra's take on the classic style fits the bill. The fully structured yet soft, light feel is appealing on many levels.
Mon 10.27
Roland Mouret's, also known as the master of chic dresses, foray into handbags has been one of the most exciting launches in recent designer history. From his origami-inspired folds and focus on sleek geometry to his cool graphic prints and art-inspired graffiti, his aesthetic continues to be spot on, each and every time.