The Latest "Snob" Bags
Tue 03.31
There is nothing better than the annual spring bloom. You know what I mean: that first sunny day when you look around and see colorful blossoms have sprung and the foliage is suddenly verdant again.
Mon 03.30
There is nothing like a crisp white bag for summer. But I tend to like my bags with some kind of twist, and black trim doesn't just make for a high sense of contrast. Done right, it adds the right amount of urban edge to classic, polished white.
Mon 03.30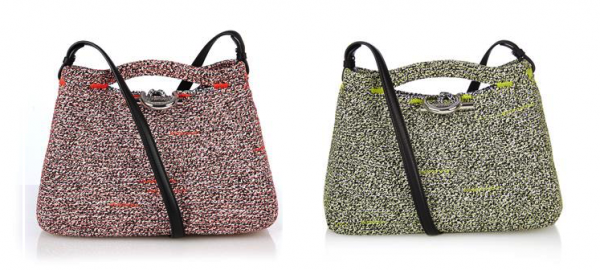 As groundbreaking as it is likely to remind you of your favorite sweater, I have mixed feelings about Alexander Wang's latest release for Balenciaga…
Fri 03.27
You may be taking a cute, little clutch out on the town tonight, but come tomorrow, you're going to want a bag with function and the latest from 3.1 Phillip Lim offers all the ease and space you need on top of a look that you would normally never associate with utility.
Fri 03.27
Mark my words: this is the shoulder bag of the season! Meet the Diane by Jason Wu, a bag that's every part as feminine and beautiful as its namesake, the preternaturally stylish Diane Kruger.
Fri 03.27
It's been a minute since we've seen a bona fide winner that's fit for constant use from Saint Laurent, so it feels especially satisfying to say I love this new daily shoulder bag.
Thu 03.26
I'm so excited to tell you about Nancy Gonzalez's latest innovation in luxurious exotic design, one that comes with true meaning behind it. The Graffiti customization series just launched at Neiman Marcus, as part of a mutual partnership with Two x Two for AIDS and Art.
Thu 03.26
Sometimes it bothers me to see such lack of originality from a likable label that's successful on their own terms. Rebecca Minkoff heads one of such labels, and a bag designer with strong street cred need not go this route.
Wed 03.25
Key pieces in nude are essential for a well-rounded spring wardrobe. After months of all the heavy coats, weighty fabrics, and somber grays, I am ready for something (or a whole shopping spree's worth of things) light and refreshing.