The Latest "Snob" Bags
You might remember a similar variation of this new Marni bag that I fell for back in the spring. I loved the red trim, but I know red can get old. Now this, this is the must-have bag that won't get boring. No coincidence it's called the Every Day tote.
All it takes is a simple tweak (or two) to make an old bag brand-new again. Balenciaga's choice to outfit their Le Dix Cartable bag with white piping is more than enough to revive, refresh, and reinvigorate my interest in the style all over again.
There's something so timelessly sophisticated about one of fall's favorite fabrics, tweed.
I met Tyler and immediately, I knew: This is a girl who knows her bags. I love meeting designers whose passion is visceral. Her creations aren't just about bags and applying exotic skins; they're about life and all of her experiences.
If you didn't think it was a Manic Monday before now, then the additional 20% discount Luisa via Roma has applied to their sale selections will make you a believer!
How is it already Monday again? I'm not going to opine on why the weekend goes by in the blink of an eye, while a workday can feel like an eternity. Instead, I'm going to distract myself with a bunch of bags that have me all starry-eyed.
You might not have heard of this brand – that's perfectly fine; as far as I'm concerned, this bag is the first of theirs worthy of any attention – but take notice. A gently priced snakeskin bag, albeit one of watersnake realized with great styling, is always on-trend, no matter what you're wearing.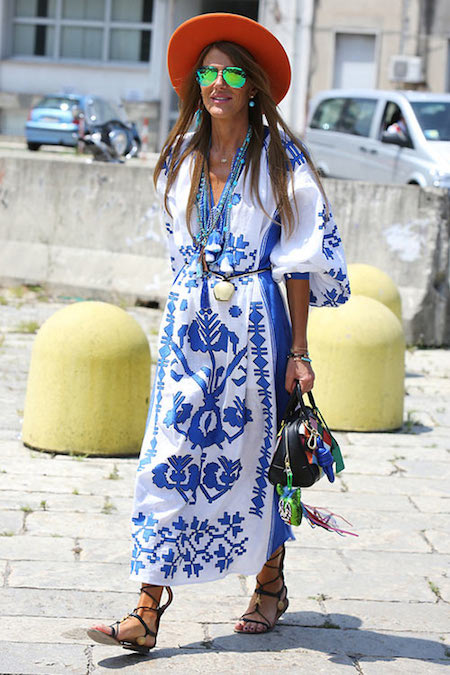 From fringe to hobo bags to exaggerated hoop earrings, the boho look is a fashion favorite at the moment, and none are doing it as well as Ukranian brand Vita Kinicon. For one thing, the style – vyshyvanka, the nation's traditional embroidered clothing – is a different take on boho than we're used to seeing.
The most common question I get asked when people find out what I do is: "So, what's the hot bag right now?" Of course I could tell them to just read my blog, but instead of being snarky, I opt to be helpful and rattle off a list of current bags that are the most relevant.