The Latest "Snob" Bags
Fri 11.29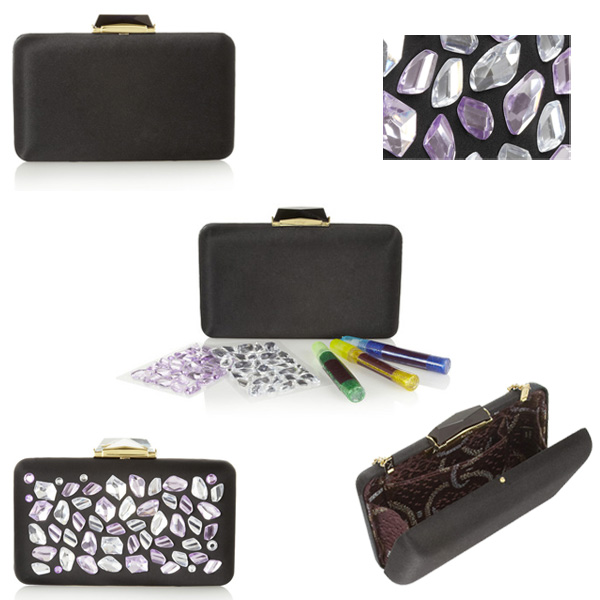 Immediately after stuffing myself with turkey, I start thinking about gifts. Suddenly, Christmas is less than a month away, and every year it seems to get harder and harder to find unique things for my snobby-chic friends. What do you get the girl who has everything? Something she can make herself, that's what!
Wed 11.27
This clutch marks a whole new direction for Valentino. While Maria Grazia's and Pierpaolo's love affair with the color red continues on (just look to their Shanghai collection), they are taking a pared-down approach, hardware-wise. It's refreshing (and comforting) to see they have a follow-up to their beloved rockstuds.
Tue 11.26
Hello, Jimmy Choo! It looks like the brand took a little sabbatical and has now returned to entice me with yet another lusty must-have. First the partially handcuffed Ally, then a gang of cocktail-loving clutches, and now this upgraded everyday bag: Jimmy Choo is on a winning streak.
Tue 11.26
I saw the Chloé Bronte at Barneys this past weekend, and I instantly fell in love with the straightforward simplicity of its design. I am always drawn to structured shoulder bags, but this one feels even more special than most. The emphatic yet not-chunky hardware doesn't infringe on the elemental effect of the bag – which is rare.
Mon 11.25
Color trends come and go, but at the end of the (increasingly short) day, there is nothing chicer than black on black. If you had any doubts about the power of monochrome ebony, look no further than Nancy Gonzalez. Her small flap shoulder bag captures the epitome of all-black appeal, in my opinion.
Mon 11.25
You might think this bag is nothing to write home about, but initial looks can be deceiving. This is Valextra we're talking about, which means the Sally is a timeless wonder you'll use for years, regardless of the season or trends.