Top Handle
Is your bag taste aligned with the art that inspires you? Let's put that to the test with a fun game. Pick the art that inspires you the most and see if its corresponding bag also touches you at the core. Your feelings towards art are so personal and emotional – just like how you feel about your bags! I can't wait to see everybody's results. Make sure to comment here or on Facebook.
Sometimes it's more entertaining to watch the show on the street than it is to watch the show on the runway. That's how I felt during Paris Fashion Week, especially any time I spotted a well-heeled attendee who hadn't been dressed by a brand (a trend that has gotten more and more common over the years). On the runways, we saw bags on chains at Nina Ricci and Valentino, oversized clutches at Balenciaga, and scarf-wrapped handles at Louis Vuitton…
Featured Items
The warm weather months are just around the corner, meaning it's time to stock up on summery totes, the kind you can only truly indulge in when the heat is on – or when you're on a tropical vacation. While shopping for these, though, it's good to know what you're looking at. Burlap and canvas are two common materials used in the construction of beachy bags, but they aren't the same…
Featured Items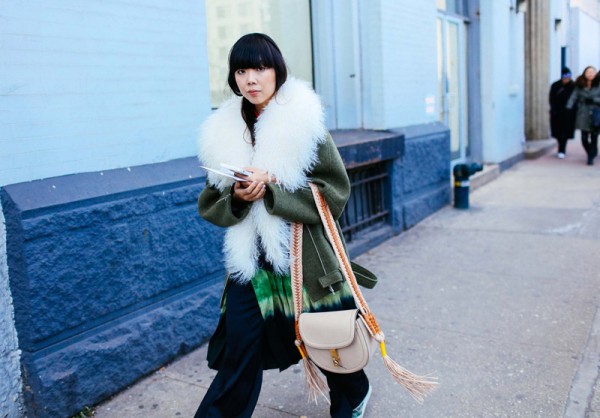 I'm flying to Paris tomorrow to complete the final leg of Fashion Month, and, as usual, I can't wait to see all of the bags – on both the runways and the street. So far I've noticed a couple of strong trends emerging, for the fashion crowd and celebrities alike: oversized saddle and top-handle bags. They cater to two different types of women (or at least two different sides of a woman)…
Featured Items
We love pastels, but they can be tricky. If the hue is even the slightest bit off or styled in the wrong way, you end up looking like you're a six-year-old out in the yard hunting for Easter eggs. That said, there's little that brings a greater sense of renewal than pulling out your lightest and brightest accessories for spring…
Featured Items
The business of re-commerce is bigger than ever, thanks to social media and technology. With so many sites around, it's hard to navigate and zero in on the best. I recently discovered LGS in Dallas (and Chicago!), founded by two childhood friends, Brielle Buchberg and Lindsay Segal. LGS is Brie and Lindsay's joint vision: A curated designer retail experience and consignment boutique rolled into one.
Okay, I'm trying not to harp on about this, as some people have told me to get over the fact that my bag was stolen, but wouldn't you be upset if you lost this gorgeous Ferragamoicon?? The striped Spring 2016 style is surprisingly easy to incorporate into your wardrobe, whether you're pairing it with red fur like I did or simply basic black. Plus, it was taken from an invite-only presentation, rather than a public event, which just makes you wonder all the more who took it…anyway, I intend to pick up another Ferragamo, and in the meantime, there are plenty of other bags to get me through the season.
Featured Items
I ended the most stressful New York Fashion Week (having my bag stolen and being stranded without ID and money accounted for most of the stress!) on a high note, literally. With the high-pitched sound of a pinging bell, to be exact. And another. With each chilling ping, I was blissfully liberated from the tribulations of the week and pulled further into Marc Jacobs' beautifully haunting, Tim Burton-esque world, with odes to Beetlejuice and Corpse Bride alike. Marc usually puts on a grand show: One season it was life-sized pink Barbie houses, another warranted a world premiere at the famed Ziegfeld Theater. Marc is, if nothing else, the greatest showman on earth. But he is much, much more, like one of the most creative and talented designers on the planet.