Top Handle
We love pastels, but they can be tricky. If the hue is even the slightest bit off or styled in the wrong way, you end up looking like you're a six-year-old out in the yard hunting for Easter eggs. That said, there's little that brings a greater sense of renewal than pulling out your lightest and brightest accessories for spring…
Featured Items
The business of re-commerce is bigger than ever, thanks to social media and technology. With so many sites around, it's hard to navigate and zero in on the best. I recently discovered LGS in Dallas (and Chicago!), founded by two childhood friends, Brielle Buchberg and Lindsay Segal. LGS is Brie and Lindsay's joint vision: A curated designer retail experience and consignment boutique rolled into one.
Okay, I'm trying not to harp on about this, as some people have told me to get over the fact that my bag was stolen, but wouldn't you be upset if you lost this gorgeous Ferragamoicon?? The striped Spring 2016 style is surprisingly easy to incorporate into your wardrobe, whether you're pairing it with red fur like I did or simply basic black. Plus, it was taken from an invite-only presentation, rather than a public event, which just makes you wonder all the more who took it…anyway, I intend to pick up another Ferragamo, and in the meantime, there are plenty of other bags to get me through the season.
Featured Items
I ended the most stressful New York Fashion Week (having my bag stolen and being stranded without ID and money accounted for most of the stress!) on a high note, literally. With the high-pitched sound of a pinging bell, to be exact. And another. With each chilling ping, I was blissfully liberated from the tribulations of the week and pulled further into Marc Jacobs' beautifully haunting, Tim Burton-esque world, with odes to Beetlejuice and Corpse Bride alike. Marc usually puts on a grand show: One season it was life-sized pink Barbie houses, another warranted a world premiere at the famed Ziegfeld Theater. Marc is, if nothing else, the greatest showman on earth. But he is much, much more, like one of the most creative and talented designers on the planet.
The girls behind Mansur have done it again with minimal elegance that mysteriously tugs at our hearts. As they've widened their scope far past their mega-hit bucket bag, which for months couldn't stay on the shelves, into multiple styles, along with a full range of footwear, you have to wonder: What's their secret? Power duo Rachel and Floriana have an uncanny knack for honing in on the details that make the biggest impact with the least amount of fuss, and they let their great quality say the rest. The result is a statement that's minimal yet potent, with pieces that let your personal style speak for itself.
Featured Items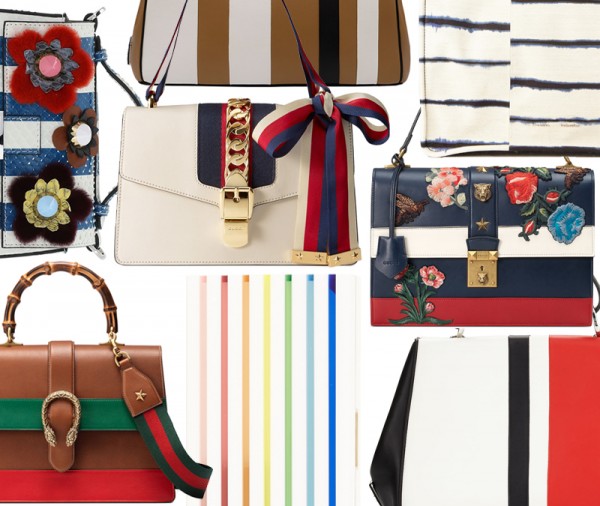 Stripes: No longer relegated to sports or prepsters, the fashion set has claimed them for our own. And trust we have really run with them. This season, almost every major designer has gone stripe-happy, but I can say with confidence that none have done it as well as Gucci. Can I just say Gucci, Gucci, Gucci is all I dream about? Every. Single. Day. Never would I ever think that stripes, chains, and bows could be so well-executed. But here they are, along with my other favorite stripes of the season!
Featured Items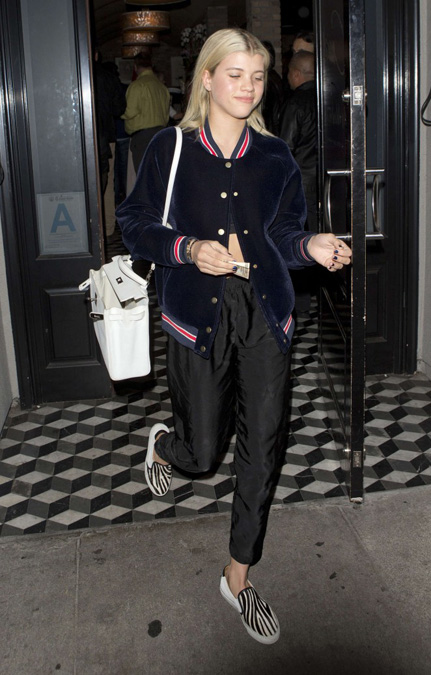 Yet another Insta-famous kid sibling is stealing the spotlight. Nicole Richie's 17-year-old sister, Sofia, was snapped leaving Craig's Restaurant in West Hollywood this past week, and I couldn't help but notice. The navy velvet Tommy Hilfiger bomber jacket, breezy cropped trousers and minimal top to match, zebra-striped slip-on kicks, and, of course, shrunken white Hermès Kelly, carelessly left wide open for maximal nonchalant appeal: I'm really digging her look.
Featured Items
Anne Hathaway's been out of the limelight lately, as she prepares for the arrival of her first baby, but all it takes is one stellar red carpet appearance to remind the world of just how chic and fabulous you really are – especially when pregnant. There's nothing wrong with plain old maternity wear for these occasions, but I love when women make non-maternity clothes work in spite of their growing bellies…
Featured Items