Tote
Wed 08.20
Who needs monogrammed logos and trademark signage when a singular detail is as universally and instantaneously recognized as Tom Ford's? Indeed, the man needs no introduction, and that includes his bags.
Tue 08.19
I need to make an amendment to my Friday post on burgundy bags – this is one of the top five! Namely because finding a sophisticated tote of this quality under $1,000 just doesn't happen. With an exterior flap pocket, expandable gussets, and a simple chain lock, Carven keeps the focus on subtle, functional details.
Fri 08.15
If there's one thing that makes leaving the summer sun behind more bearable, it's the rich hues of fall, and none is more tempting than aubergine (honestly, I think I like saying the word more than anything else!).
Wed 08.13
This glossy black MM6 Maison Martin Margiela tote has been going fast, and it's no mystery why – it has a special, hidden feature! I love the adjustable strap detailing, with holes lining the entire length of the straps, but the detachable pouch is what really got my attention.
Fri 08.08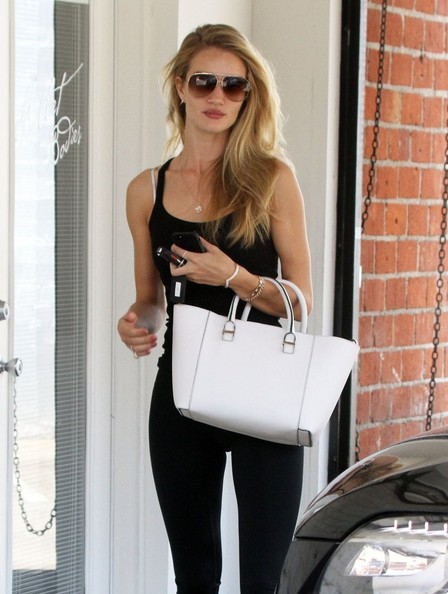 Suddenly, canvas totes and water-resistant nylon sacks aren't looking so hot for accompanying you to your next sweat session. Rosie Huntington-Whiteley showed us how to look super-posh for the gym on August 6th with her Victoria Beckham Quincy tote in tow. All it takes is a luxurious bag to upgrade standard monochrome-black exercise apparel.
Tue 08.05
Forget the Walk of Fame. Who needs a star on Hollywood Boulevard to prove she's a shining Snob?! I mean, these days if you have an active Instagram account, you are technically a star, no?
Fri 08.01
Well, August has arrived. We only have so much summertime left, but we intend to make the most of it! The month's birthstone is peridot, so in honor of those celebrating a birthday, we've partnered with bespoke ostrich bag designer Bernice Angelique to give away an exotic, light green-hued Doctress.
Thu 07.31
It might feel not quite right to be looking at shearling on the last day of July, but let's face it: Time moves fast and you can never be too prepared to make a smooth transition into fall. Enter Loeffler Randall's perfect transition piece: the updated Walker tote.
Mon 07.28
Calling all sci-fi fans and cartoon nerds! This kitschy bag trend is officially out of hand, but if there's any occasion where it's acceptable to whip out a Sponge Bob bag or an Archie and Veronica clutch, Comic-Con International is the place to do it.