Tote
Thu 04.17
Last year we had the black and white trend, and this year, things are taking a darker turn – in a good way! I'm obsessing over pastels right now just as much as the next girl, but there's nothing like a bag you can carry year-round.
Thu 04.17
Just another bucket bag? Not so fast. A basic black tote? It's not that simple! Marni presents a wise variation on the bucket style that we've been seeing so much of lately, yet again. But unlike the typical hard-to-access, hand-biting bucket (I'm not big on drawstrings), this one opens up like a friendly tote.
Wed 04.16
When it comes to certain snakes, the saying is, "red on black, venom lack; Red on yellow, killer fellow." Looking at this mini McQueen, though, I have to disagree. It's poisonous.
Tue 04.15
Sometimes the perfect handle is all it takes to make a simple tote feel special. It's the power of a detail, the potency of one great touch. And speaking of touches, it's looking like Alexander Wang still has one with some magic to it.
Mon 04.14
Fendi loves a good update, and this time they've amped up their highly successful 2Jours tote. The Trois-Jours unifies the elegantly structured, frame-top look of the 2Jours with the easy functionality of an open tote.
Fri 04.11
I've started writing a monthly column for HarpersBazaar.com that I hope you'll all be tuning in for! My first subject was spring cleaning, or rather, spring organizing (it's a lot easier to organize than to give away beloved bags!). At the start of a new season, I store the pieces I won't be wearing in boxes, and bring out all the others I've been waiting to carry.
Thu 04.10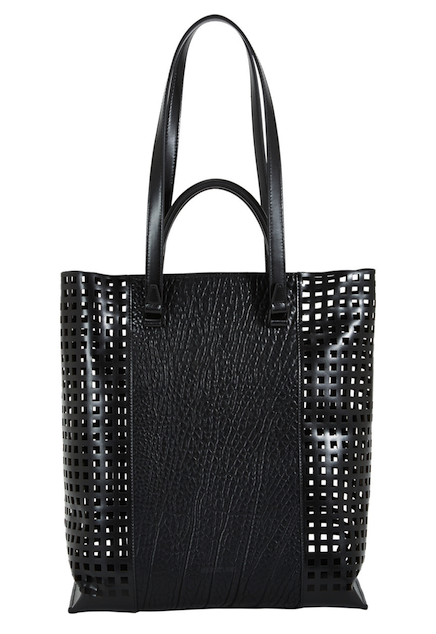 There's nothing like a good peek-a-boo bag for summer. Suddenly, you're showing a bit more skin, and it feels right that your bag gets in on the airy, revealing action, too. But like with your sundress and shorts, you don't want to show too much. The best bags merely hint at being bare, without giving it all away.
Thu 04.10
Did someone say beach? It was very likely me who uttered the magic word. I am so ready for the shore and sea after what very well has felt like the longest winter known to man (and Snob) since the Ice Age. I'm really not exaggerating – we had golf ball-sized hail strike Dallas in April!
Wed 04.09
What ever happened to good taste? Or at least functionality…? I can't entirely blame the people at Kate Spade New York for this absurd contraption. I actually fault Charlotte Olympia for paving the way for designers to unleash their tacky sides