Tote
Wed 04.01
Now if I'd really wanted to trick you, I would have made this a post on how fabulously chic these five bags are. While I love a good prank, I just can't let it come in the form of my bag. As for you Snobs who are brave enough to take a fashion-themed joke and run with it…
Tue 03.31
There is nothing better than the annual spring bloom. You know what I mean: that first sunny day when you look around and see colorful blossoms have sprung and the foliage is suddenly verdant again.
Mon 03.30
There is nothing like a crisp white bag for summer. But I tend to like my bags with some kind of twist, and black trim doesn't just make for a high sense of contrast. Done right, it adds the right amount of urban edge to classic, polished white.
Fri 03.27
You may be taking a cute, little clutch out on the town tonight, but come tomorrow, you're going to want a bag with function and the latest from 3.1 Phillip Lim offers all the ease and space you need on top of a look that you would normally never associate with utility.
Thu 03.26
Sometimes it bothers me to see such lack of originality from a likable label that's successful on their own terms. Rebecca Minkoff heads one of such labels, and a bag designer with strong street cred need not go this route.
Thu 03.19
When stark white feels like too much of a commitment, go for the vanilla-cream, the off-white, the milky, the ivory shades. Here's a case where "almost" most certainly counts. Whatever you call it, no color is more neutral.
Thu 03.19
Many a Snob has found herself longing for a Mansur Gavriel, only to find them sold out (as in, everything on the site is sold out), making today – restock day – pretty exciting! And the brand launched by a single bucket bag is not only restocking the usual suspects…
Mon 03.16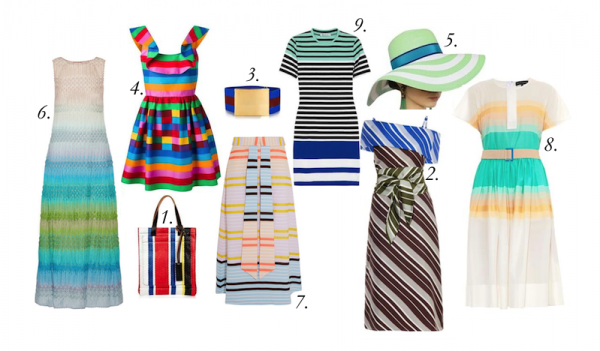 Nautical by nature, stripes are always a sign of warm weather, but those that feature the colors of the rainbow are the ones that turn up the heat. Casual days are instantly uplifted with colorful stripes, while black and white are too stark to bring high energy.
Fri 03.13
This new style from Adriana Castro is your new best all-day tote, one that will go to work, then travel and even play with you. Clean yet luxuriant, the Alys showcases a subtle design, and that's what I love about it.