Tote
Thu 04.03
The latest generation of Céline's "it" bag is none other than the plainly titled "Tie." Don't expect to see a total revamp of their sought-after (and now somewhat ubiquitous) Trapeze and Luggage totes; it's something of a hybrid of the two, thanks to its flamboyantly flared gusset and emphasized handle fasteners.
Fri 03.28
With the weather finally warming up just the tiniest bit, some us of may be getting back in touch with our sporty sides. Why not show that off in our wardrobes, too? Athletic stripes add a sense of sports club chic to bags from every price point, whether it be an already sleek clutch or an oversized tote.
Thu 03.27
Another day, another eye-popping ensemble from Gaga! This white queen look is so bizarre, and yet, I love everything about it. It's as if she's a ghostly vision from a Japanese manga. And true to her devotion to Donatella, Gaga's carrying a Versace Athena bag.
Thu 03.27
Some collaborations are nothing but a natural fit. Smythson's latest Panama Collection marks the second capsule partnership between the leather company and artist Quentin Jones. Best of all, I love Smythson and their clean, simple shapes readily lend themselves to artistic embellishment.
Mon 03.24
The age-old expression, "If it ain't broke, don't fix it," has never rang truer than when it comes to the iconic and famed Bottega Veneta weave. The beauty lies in the brand's unique magic: their signature intrecciato technique is instantly recognizable, no second guessing required, without a logo or nameplate to be found. Who needs it?
Thu 03.20
Spring has officially sprung and with it, a whole new crop of bags! I've recently discovered a love of gardening (okay, more like planting herbs, not actual flowers – I'll leave that to the professionals), placing Tory Burch's white laser-cut tote at the top of my list.
Wed 03.19
I am loving this cool new brand. BOYY, the brainchild of Jesse Dorey and Wannasiri Kongman, is exclusively at Bergdorf Goodman for now, but mark my words: this brand is going to blow up.
Mon 03.17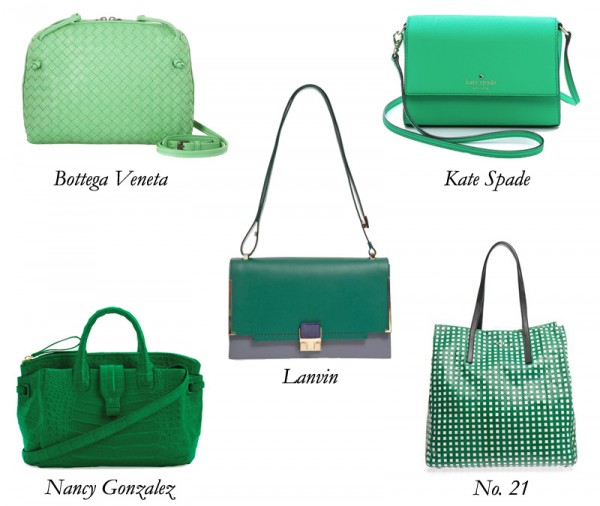 According to legend dating back to Boston in the 1700s, if leprechauns (or your prankster friends) see that you're not wearing green on March 17th, they'll pinch you! To avoid unsightly little bruises, I recommend one of the Emerald Isle-hued options below. My husband's maternal grandfather was 100% happy go lucky Irish, and his spirit has me in the mood to celebrate.