Tote
Thu 07.10
What could be more summery than a white, laser-cut tote?
Thu 07.10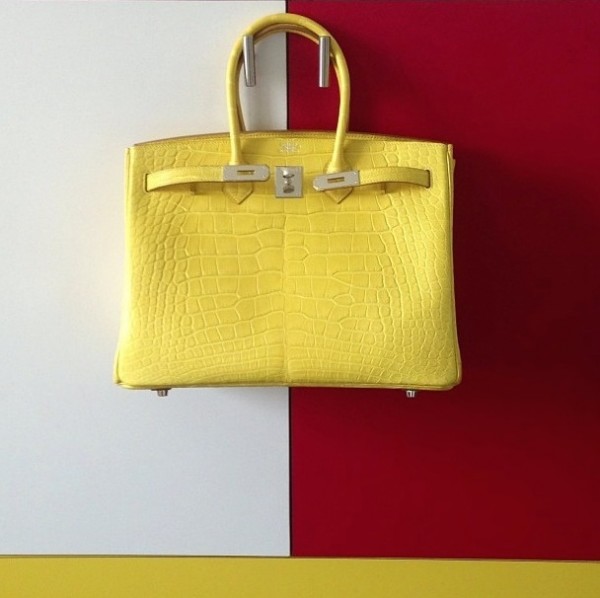 There is nothing worse than pulling out your most treasured exotic-skin bag to find it dry, cracked, or peeling – or worse yet, all three. A very wise woman once told me that our designer bags are like fine cars: they need tuning regularly.
Tue 07.08
Many of my close circle of friends are water signs (Cancer, Pisces, and Scorpio), which means I'm lucky enough to have a group of sensitive, caring, and loyal women around me. Since most Cancers have July birthdays, I thought we could celebrate the best way I know how – with bags! The month's birthstone is ruby, so in honor of all you summer babies, here are my favorite ruby reds…
Fri 07.04
I can't think of a better way to celebrate the ultimate all-American holiday than with a roundup of looks from some of my all-time favorite all-American designers!
Fri 07.04
While it's tempting to bring your favorite soft calfskin, luscious suede, and elaborate exotics to the beach or pool, you know tossing such skin on the sand or wet concrete goes against your better judgment. And really, at the end of a long, sweaty, sun-scorched, splash-soaked day by the water, it's not worth the worry.
Thu 07.03
What's more exciting than new Céline bags hitting the shelves? For Fall, Phoebe continues with her commitment to keen colorblocking. But as you know, these aren't flash-in-the-pan combinations; a muted array of shades ensure they're always more classic than trendy.
Wed 07.02
A center panel of contrasting color (or texture!) can take a bag from basic to the big leagues with the simplest of juxtapositions…
Fri 06.27
Between spearheading human rights initiatives and raising six tots, Angelina Jolie must also make time to promote her films, so it was off to Tokyo this week for the Jolie-Pitts! That kind of jet setting requires you to have every Mom Snob essential imaginable on-hand, and the best way to fit everything in is with a roomy tote like the Everlane Petra Portfolio.
Fri 06.27
Cult fashion brand Mansur Gavriel, best known for their nonchalantly elegant, streamlined approach to vegetable-tanned leather goods, has just gotten hotter – thanks to their newly launched e-commerce site.