Tote
Thu 10.24
Meet Marcus the cat, a.k.a. your new bag friend! It might seem odd to see him split in two across these white totes, but there's a good reason. First up, pick a side – heads or tails? I'm going with tails – I like that the design extends across most of the bag. Now here's why our kitty cat friend is divided.
Wed 10.23
Here's an homage to the most quintessential bag, the open, structured black tote that we all should have. Boring? Maybe. But useful? Very. I often find myself going for this most basic style, even though I choose to complicate my life by filling every storage space with such a variety of bags that I don't ever need the black tote.
Tue 10.22
Rupert Sanderson has been crafting fantastically unique high-heels for over a decade. Now the launch of his bag line marks an entirely new era for totes. And it marks a major milestone for the designer, who's not at all known for bags. We love him for his shoes, but that love is rapidly spreading. For me, these totes have instantly evoked hot passion.
Mon 10.21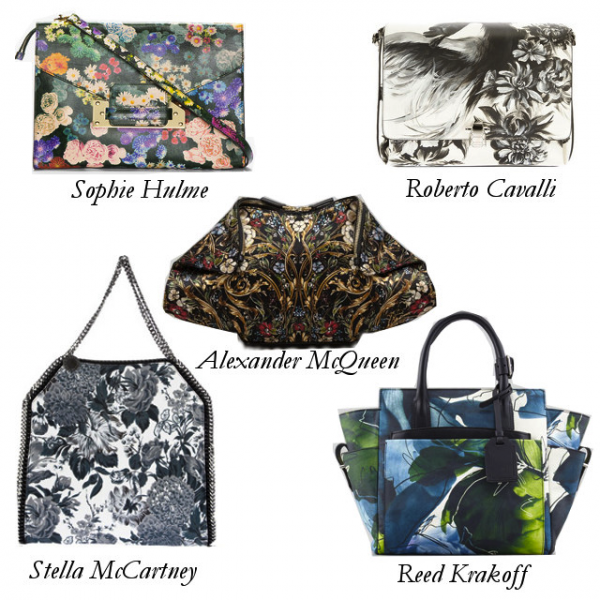 The flowers in our gardens may be withering this time of year, but they're in full bloom on bags! We saw florals all over the Spring 2014 runways, so the time to stock up is now. Save the over-the-top appliqués and embroidery for later, though – the best flowers this season are in print. From abstract watercolors to Baroque blossoms, here are the ones I'm looking to pick for fall….
Mon 10.21
Before we get too caught up with the Fall/Winter season's tweeds, wools, knits, dark leathers, and heavy textures, let's take a minute to appreciate the unconventional. There's something to be said for the element of surprise (got to keep 'em on their toes!), and nothing will catch onlookers off-guard like a bright, perky bag right about now.
Fri 10.18
In 2010 alone, 1.6 million new cases of breast cancer were discovered worldwide, and yet I have to admit that the disease was an abstract concept to me until a close friend was diagnosed last year. Watching her fight (and WIN!) has been one of the most inspiring experiences.