Tote
Mon 03.24
The age-old expression, "If it ain't broke, don't fix it," has never rang truer than when it comes to the iconic and famed Bottega Veneta weave. The beauty lies in the brand's unique magic: their signature intrecciato technique is instantly recognizable, no second guessing required, without a logo or nameplate to be found. Who needs it?
Thu 03.20
Spring has officially sprung and with it, a whole new crop of bags! I've recently discovered a love of gardening (okay, more like planting herbs, not actual flowers – I'll leave that to the professionals), placing Tory Burch's white laser-cut tote at the top of my list.
Wed 03.19
I am loving this cool new brand. BOYY, the brainchild of Jesse Dorey and Wannasiri Kongman, is exclusively at Bergdorf Goodman for now, but mark my words: this brand is going to blow up.
Mon 03.17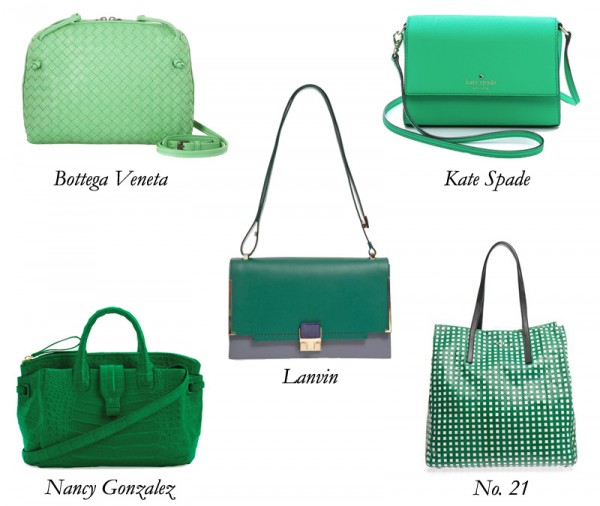 According to legend dating back to Boston in the 1700s, if leprechauns (or your prankster friends) see that you're not wearing green on March 17th, they'll pinch you! To avoid unsightly little bruises, I recommend one of the Emerald Isle-hued options below. My husband's maternal grandfather was 100% happy go lucky Irish, and his spirit has me in the mood to celebrate.
Thu 03.13
Both Tina and I are currently on a wicker kick (Tina's weave of choice is Dolce & Gabbana), and it's no coincidence. It's not even a matter of a new spring trend. It's all about the time of year. Nothing says summer quite like having a basket in your hand as you take a stroll in the sunshine.
Thu 03.13
Satchel or life organizer? What about a Bottega Veneta bag that's both?! While on the outside, this has the look of a quintessential day bag, it opens up to reveal a supremely innovative interior with compartments as detailed as those of a steamer trunk.
Wed 03.12
If you've been in search of a different day bag to make you stand out, this wildly printed shopper has it in spades…or should I say paisleys? There's nothing that explicitly says "Lanvin" about this tote (aside from the discreet label that, you know, says "Lanvin"), none of their ordinary ribbons or brass chain-links.
Tue 03.11
Here you go: a great Balenciaga classic without the signature Balenciaga fuss. Just good, clean, boxy-structured fun. Take a look at the proportions; this is a smaller bag than you might expect, which makes the overall effect so cute. Otherwise, in a big tote size, it would be a bit overwhelming.