Beauty Snob
Thu 04.24
As I write this blog post I'm sitting in the office in my apartment wearing my winter coat because the owner of my building is a cheap, cheap, cheap man who decided that it was OK to turn off the heat just because it's spring. Unfortunately it's also 30-something degrees in New York City…
Wed 04.23
I'm one of those people who only gets "tanned" when she misses a patch of skin and accidentally gets burned first. While I love the sun I always shield myself from it to prevent both wrinkles and burns. I wish I could tan; maybe it's because the grass is always greener on the other side, but tan people seem to have it so much easier than us pale girls!
Tue 04.22
Move over BB! There's a new cream in the beauty department – CC. It makes faking flawless skin easier than ever. No Photoshop or complexion perfecting apps required! In 25 years we'll probably have ZZ, but for now this is getting the job done well.
Mon 04.21
I have no fewer than ten products lining my tub right now. It's gotten so bad that when my husband and son shower, they have no idea what to use. I'm always trying new shampoos, conditioners, masks, and oils, but I just discovered something that covers all the bases – Transforming Hair Cleanser No. 724.
Fri 04.18
There's nothing like the look of just-colored hair – the vibrant color and slick shine are hard to replicate, to the point that you wish you could get it done on a regular basis! Of course that would damage your locks, which is why I'm loving the new John Frieda Colour Refreshing Gloss.
Thu 04.17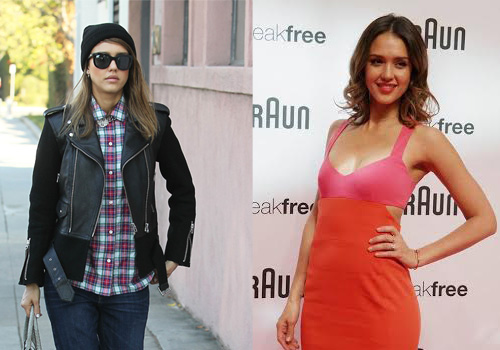 Short hair, don't care? I do! I've been thinking about going under the scissors for months now, but a shoulder length cut takes a certain hair texture to pull off – one that I don't have. With my stick straight and heavy locks, I would come out looking like a librarian (not a bad thing, just not what I'm in the mood for right now).
Wed 04.16
I'm awful about cleaning my brushes, which when you think about it is disgusting. I mean I use them all over my face! It's not even laziness that has kept me from properly washing them. It's that every time I have given them a deep cleanse they never seem to go back to quite their previous selves. Leave it to Sephora to come up with an answer.
Tue 04.15
Last year when I went to Thailand my friend Zoe (who works at the Plaza Athenee where there is a Valmont Spa), she could not stop talking my ear off about how great Valmont is. She said it would change my skin and that she swears by their facials (Plaza Athenee uses only Valmont products for their facials and I'm going to finally get one their next month!).
Mon 04.14
Don't get me wrong – sulfur and salicylic acid are miracle workers for treating acne, as is glycolic acid since exfoliating is key to preventing breakouts. But nothing has proven as effective as benzoyl peroxide when it comes to treating my own breakouts.