Beauty Snob
Tue 09.23
I recently made an upsetting discovery: hair ages. I'm not talking going gray (though there's that to worry about too!). I'm talking about how it thins, and dare I even jinx myself? Falls out! I'll be combating this proactively with the help of my hair stylist hero, Serge Normant.
Tue 09.23
Giorgio Armani launched his new limited edition beauty collection, Fade to Grey, on the Fall 2014 runwayicon. The products were all tested out backstage and while Armani has had a successful cosmetics line for awhile it was only recently that I started using his products. I was lured in by the gorgeous packaging.
Mon 09.22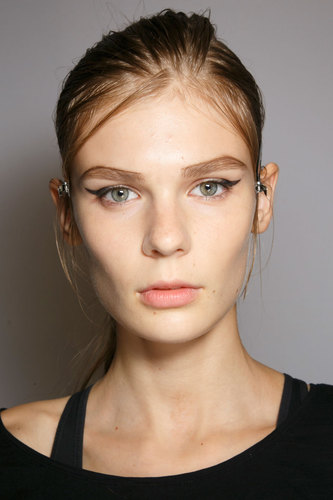 Textured hair was a big trend in Milan and it made for some very interesting looks. Here's a peek at some of the most memorable runway hair looks.
Mon 09.22
The natural trend that started in New York and continued in London was also prevalent in Milan, but it was mainly focused on the lips. A number of designers went with elaborate eye and/or hair looks, but kept the lips matte and neutral. Here's a look at some of the standouts!
Fri 09.19
A few weeks ago Barneys held a dinner, hosted by Maiyet co-founders Paul van Zyl and Kristy Caylor to fete their fragrance, which is part of an exclusive series that Barneys has been doing with various designers (the last one was with Greg Lauren).
Thu 09.18
Anti-aging is an eternal quest but if you find the right products that can halt the dreaded trauma in your life, it is a true miracle. I started preventing aging before I actually started aging. I am that obsessed. But once I turned 40, you can only imagine how that ramped up to a fever pitch.
Wed 09.17
Sure we're always going to see smokey, winged, and cat eye looks in black, but this season there were a number of colorful eye looks on the London runways. Here's to rocking something bold and colorful! And all the more reason to take great care of our skin…
Tue 09.16
The natural beauty trend we saw take over the runways in New York – taken to the extreme at Marc Jacobs where the designer sent out his models more or less completely au natural – re-appeared in London. Here's a look at some standouts.
Mon 09.15
Kyly White is one of the best in the biz when it comes to hair color. He has been singled out in New York Magazine's "Best of" issue multiple times, and has been featured in ELLE, Vogue, In Style, The New York Times, Allure, Glamour, Marie Claire, Cosmopolitan, Self, and countless other glossies – he's even appeared on Oprah.