Beauty Snob
Fri 04.18
There's nothing like the look of just-colored hair – the vibrant color and slick shine are hard to replicate, to the point that you wish you could get it done on a regular basis! Of course that would damage your locks, which is why I'm loving the new John Frieda Colour Refreshing Gloss.
Thu 04.17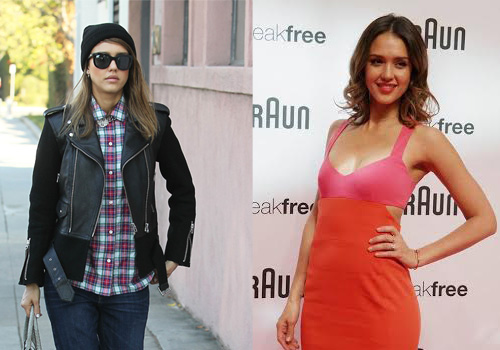 Short hair, don't care? I do! I've been thinking about going under the scissors for months now, but a shoulder length cut takes a certain hair texture to pull off – one that I don't have. With my stick straight and heavy locks, I would come out looking like a librarian (not a bad thing, just not what I'm in the mood for right now).
Wed 04.16
I'm awful about cleaning my brushes, which when you think about it is disgusting. I mean I use them all over my face! It's not even laziness that has kept me from properly washing them. It's that every time I have given them a deep cleanse they never seem to go back to quite their previous selves. Leave it to Sephora to come up with an answer.
Tue 04.15
Last year when I went to Thailand my friend Zoe (who works at the Plaza Athenee where there is a Valmont Spa), she could not stop talking my ear off about how great Valmont is. She said it would change my skin and that she swears by their facials (Plaza Athenee uses only Valmont products for their facials and I'm going to finally get one their next month!).
Mon 04.14
Don't get me wrong – sulfur and salicylic acid are miracle workers for treating acne, as is glycolic acid since exfoliating is key to preventing breakouts. But nothing has proven as effective as benzoyl peroxide when it comes to treating my own breakouts.
Fri 04.11
Recently I was preparing to leave for a trip to New York when I realized that my grays were showing (yes, that's my current reality!). Without time for a salon appointment, I popped on over to Duane Reade to pick up the TouchBack pen. This is a temporary solution just like dry shampoo, but sometimes you've gotta do what you've gotta do!
Thu 04.10
A friend of mine recently removed her lash extensions only to find her own lashes greatly reduced in thickness and length. Rather than turn to a lash growth product like Latisse that might discolor eyelids or her blue irises, she tried a peptide-infused mascara.
Wed 04.09
I've been using Bobbi Brown gel eyeliner ($24) for years. The black-as-can-be formula always stays put throughout the day, even out in the Texas heat. I like to layer my liner, and this is the first layer. The gel glides on, making for an easy application that will define eyes without pulling at the delicate skin and rubbing off lashes.
Tue 04.08
I've been traveling a ton lately – Puerto Rico, South Beach, London, Tokyo. It's so important for me to have multi-duty products on hand (you think NYC TSA is annoying…they are nothing compared to some of the other ones!). It's also not a secret that airplanes zap your skin's moisture so having a product like AERIN Beauty Rose Balm ($58) is imperative.