Brows
I'm sitting here eating a basket full of leftover Godiva Easter bunny chocolate wishing sugar wasn't pure bliss and trying to block out that my boyfriend keeps reminding me that he wants me to toss my one-piece bathing suits in favor of bikinis (What can I say? Some chocolate is just worth it.). Transitioning into spring from the winter isn't always easy! While there are countless beauty trends being hailed as "musts" for the season, I've rounded up four of the ones that, in my opinion, are the most versatile…
Featured Items
If I can dish one bit of beauty advice, it's NEVER get your brows tinted. And definitely NEVER get them bleached. About two years ago after getting my hair colored, I asked the colorist at Oscar Blandi to lighten my brows – biggest mistake ever. They turned orange within a few hours, and I've been dealing with the repercussions ever since.
Featured Items
A brewing trend thanks to runways and celebrities is ombré eyebrows. Don't worry; it's not like the ombré hair trend whereby there's a clear color fade. It's way more subtle – and for good reason. As someone who has made the mistake of lightening her brows only to spend YEARS living with the consequences I can't stress enough how important it is to NEVER, ever lighten your brows via bleach.
Featured Items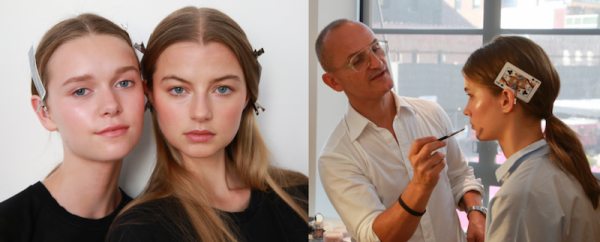 NYFW had some crazy looks this season, especially Hood by Air's un-blended contoured faces (read: clown makeup). One place where we saw beauty that can actually inspire real women was at Theory's show where La Prairie and makeup artist Mark Carrasquillo led the team.
Brows are tough as evidenced by the fact that I live in NYC where there's a brow salon every few blocks and yet, more often than not, mine will end up a disaster – even at top salons like Oscar Blandi.
Fashion Week has wrapped! But sadly not before another few inches of snow was dropped on us. Luckily designers showed some worthy looks on the runway, including killers brows and bird nest-inspired hair.
Nothing says "youthful" better than a set of thick and beautiful brows. While many have tried (and few have succeeded), Chantecaille has perfected the technique with their Perfect Brow trio. Aside from perhaps a pair of tweezers for the renegade stray hair, these are the only three products you need to achieve the ideal arch.
I don't even know exactly how many months ago, but at least a solid eight, I had my brows bleached. I had no idea that the odds were they would turn orange and it's been somewhat of a nightmare ever since…
You can amp up brows with incredible makeup these days, but we all know that the real thing is best, and with this new oil, you'll actually have that! Rozgé Cosmeceutical's all-natural serum gives brows some extra fullness, which is the look I'm going for these days.