Diet and Exercise
Jonny Bowden, PhD, CNS is a nationally known expert on weight loss, nutrition, and health. Not only is he a board-certified nutritionist with a master's degree in psychology, but he's also the author of fourteen books on health, healing, food, and longevity! His new book, Smart Fat, just came out, so I thought it was the perfect time to turn to him to reveal the five things we probably didn't know about fat. Fittingly, his book has the fatty green of the moment, avocado, on its cover.
Featured Items
If you eat a balanced, whole-food diet, you're probably getting adequate amounts of the vitamins and minerals your body needs to function. But if not (and this applies to the majority of the U.S. population), there's a good chance you may be lacking important nutrients. "Even if you put the cleanest ingredients into your body, chances are that life forces get in the way of being on point every day," says Kelly Boyer, founder of farm-to-table meal delivery service PALETA. "There are also environmental forces that get in the way; consider how and where your food was grown, which can also influence your nutritional intake. Soil quality, storage time, and processing can affect the levels of certain nutrients in your food. Additionally, your age and own health issues impact your body's ability to absorb the nutrients in your food." Unfortunately, in many cases, nutrient deficiencies can be difficult to assess, making it easy not to notice that you are developing symptoms until the deficiency has become pronounced.
If you regularly scroll through wellness, fitness, or beauty Instagram accounts, you're very likely to have come across so-called experts lauding the benefits of various teatoxs, but I wondered how safe these really are after reading that many of them contain laxatives and can have detrimental effects if used for more than two weeks. They are also not regulated, so brands pretty much have free reign to make whatever claims they like. When it comes to weight loss, there really aren't any shortcuts, and anything that sounds too good to be true…is! Otherwise we'd all look like Gisele! That said, there are seriously real benefits to drinking "regular" antioxidant-rich tea. Take for example Republic of Tea's SuperGreen collection, which blends organic matcha, green tea leaves, and functional herbs. It includes Immunity, Serenity, Lean Green, and Brain Boost. The blends taste amazing, and while I can't say they soothe my taste buds when I'm dying for a big piece of chocolate fudge cake, they do soothe my stomach after I've eaten three jumbo pieces!
Featured Items
"You know what I find pretty funny? People on juice fasts that are angry and stressed. I don't find this funny like…ha ha ha…look at those nuts! But rather funny as in Alanis Morissette's 'Isn't it Ironic…don't you think' funny…which is why I had to write RETOX," explains I.AM.YOU Studio founder and author of RETOX, Lauren Imparato. "Retox is the new detox because quite frankly, detoxing and deprivation are so over. And your body already knows why…"
Featured Items
I've written about Wellness Tribe before. It's a subscription box that curates a variety of healthy products, including snacks and fitness-related items. Founder and Eastern medicine physician, Taylor J. Winn, picks all the products herself, and given that it has now been a few months since the company's launch, I thought I'd reach out to her and get the lowdown on the 10 products she thinks everyone looking to lead a more healthy life should own. It can be hard to cut through the clutter, even for someone who is wellness-obsessed, and it's annoying to waste time and money on things that don't work (or worse, leave you with extra weight and fat because you think you're eating something healthy when it's actually anything but!). With all that said, here's a look at Winn's picks…
Featured Items
I'm not much of cook, which is unfortunate because I'm paranoid about everything from pesticides to GMOs (I need this portable molecular sensor already!). Like most people, I'm left hoping that what's labeled "organic" or "grass-fed" actually is (though I've read countless stories about how that is far too often not the case). While I clearly can't grow all my produce in my NYC apartment or go out fishing for my salmon, there are small things that we all can do to not only improve our health and nutrition, but our overall wellbeing. One of the easiest things we can do is grow an indoor herb garden; yes, even without sunlight or rain, it can be easy!
With little to no regulation in this country, many big food companies label their products as "healthy" and "natural," leading people to think what they're consuming is healthy when it's anything but. Remember, if it sounds too good to be true, it probably is! Just because your Oreo-like cookie is organic doesn't make it a health food. To find out more, I turned to senior registered dietitian at Selvera Wellness, Amanda Foti, and asked her to bust what she considers to be the most common healthy food myths.
Athletic Propulsion Labs founders Adam and Ryan Goldston give us the exclusive on how they stay in shape while traveling…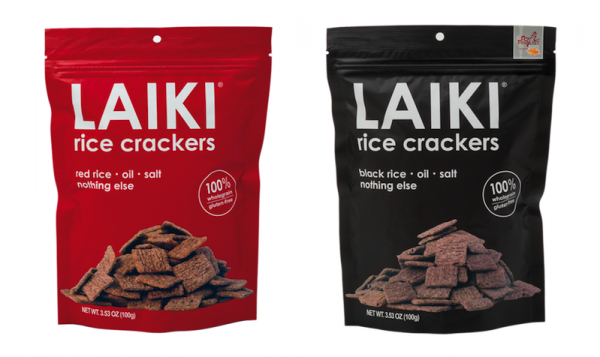 I recently got hooked on rice crackers called Laiki Crackers. They're 100% wholegrain rice crackers that are gluten-free and made with black or red rice, a little oil, a little salt and nothing else.