Foundation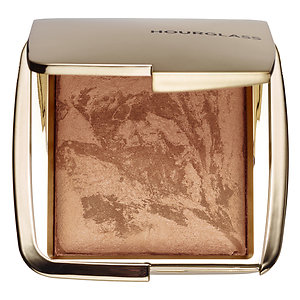 Are you a fan of Hourglass Ambient Lighting Powder? If you've tried it, you probably are. The whole Ambient line is awesome. It's one of the few where any product can be applied fairly haphazardly, and you won't end up looking like a clown.
Right at the top of my Beauty Bucket List is having Charlotte Tilbury do my makeup. This weekend, I came one step closer when her right hand, Nelson Catarino, worked his special Tilbury magic and gave me her signature Rocker Chick face.
I stopped by Chantecaille's glossy Soho headquarters a few days ago to meet with Kristen Ott, who handles the brand's public relations and Eddie Hernandez who is the brand's in-house makeup pro (that's his tattoo and arm above!).
Ladies! Get yourself to your nearest Tom Ford counter next time you're out shopping! The brand just launched a number of new products and they really work best when a professional guides you through using them.
I switch up beauty routines each season to challenge my skin, testing out new products while also keeping tried-and-true must-haves in the rotation. For over a decade, I've hoped that one of these regimens would give me the perfect dewy glow, and with the latest, I've finally cracked the code!
Amanda Seyfried showed up to the world premiere of her new film A Million Ways to Die in the West in a butterfly-embellished Givenchy LBD. An eye-catching ensemble for sure, but I was even more taken by her flawless beauty look!
When it comes to organic and natural beauty products it's pretty hard to top Kirsten Kjaer Weis' line. Called Kjaer Weis, all of the products are not only certified natural or organic, made with carefully selected ingredients, and offered in complexion-flattering shades, but the line is also beautifully packaged.
When it comes to body care, Rodial and their Frugal Snob spinoff, Nip+Fab, are among my favorites and now the brand has not only launched new packaging for their body products, but new makeup.
Sure you can buy L'Oreal products on pretty much every street corner in New York City, but now through December 30th, you can also buy them underground. That's right…you can buy your eye shadow and foundation when you're on the go now that L'Oreal has unveiled the first ever "intelligent vending experience" in the Bryant Park subway station.