Styling Products
Wed 12.03
I'm pretty sure Kérastase has opened a whole new product category with the launch of their Carré Lissant ($28), which are basically blotting papers for your hair. The timing couldn't be more perfect as I'm getting ready to head to Israel and would like to keep my airport experience as seamless as possible.
Mon 11.17
A Warren-Tricomi vet recently opened a unique salon concept. Called The Ammon Carver Salon & Studio, it's a hybrid photo studio and hair salon founded by Ammon Carver (don't be intimated by his good looks; he's exceedingly friendly!).
Wed 09.24
Luca Blandi, a celeb stylist at the Oscar Blandi salon who has worked with stars like Sarah Jessica Parker, Jessica Biel, Sarah Michelle Gellar, Kate Winslet and Michael J. Fox, knows a thing or two about hair.
Tue 09.23
I recently made an upsetting discovery: hair ages. I'm not talking going gray (though there's that to worry about too!). I'm talking about how it thins, and dare I even jinx myself? Falls out! I'll be combating this proactively with the help of my hair stylist hero, Serge Normant.
Mon 09.22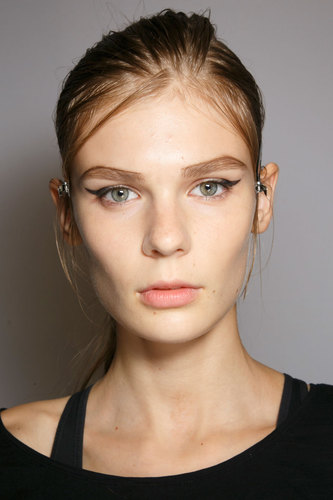 Textured hair was a big trend in Milan and it made for some very interesting looks. Here's a peek at some of the most memorable runway hair looks.
Thu 09.11
In keeping with the sportswear trend that continues to be strong on the runway (Charlotte Ronson gave her models Tevas to wear!), a good chunk of the designers this season opted to have their models styled with low ponytails.
Mon 09.08
I'm a sucker for a good braid – blame the German in me but the whole Heidi look? I'm totally into it. While I haven't seen Heidi braids on the runway just yet, braids have been a major runway beauty trend in plenty of other iterations this season.
Tue 08.19
Oscar Blandi just launched two great products – just don't make the same mistake I did and use them together unless you have very thick hair!
Tue 07.15
I've been obsessed with side braids for years now, especially during the hot summer months when you want to keep your hair off your neck as often as possible. Emma Stone makes the style seem effortless, but the relaxed, "undone" look actually requires a bit more doing than you'd expect so I'm turning to the professionals!