Gloss
Launched this fall, Lucie and Pompette is a French-inspired line created by Eric Sakas, who helped develop Kevyn Aucoin's product line…needless to say, this is a woman who knows a thing or two about beauty.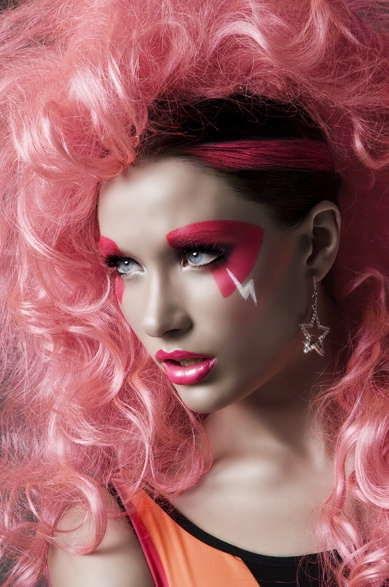 Ricky's NYC is Mecca for Halloween costumes, makeup, and accessories so I turned to their beauty pros to get some inspiration for a tastefully garish look. I don't know about you, but I'm ready to wear a pink wig…
Featured Items
A dozen beauty products! If you love the beauty-in-a-box genius of brands like Glossy Box and Birchbox, then you're going to love the luxe offerings of NET-A-PORTER Beauty's Summer Kit, a collection of the retailer's bestsellers. It's perfect for those who can't commit to full-size summer goodies…
Young women have it made in more ways than one. With their perfectly smooth lips, it's a simple matter for them to apply even the darkest of goth lip colors in a nano-second, and run out of the house confident that their lipstick will not seep into the nether regions beyond their vermillion border.
A full pout is undeniably alluring (see: Angelina Jolie), but we weren't all born with one and as we age, a loss of volume thins out the lips that we do have. No matter! With this set of products, you can fake the look and it's all possible in just three short minutes…
Right at the top of my Beauty Bucket List is having Charlotte Tilbury do my makeup. This weekend, I came one step closer when her right hand, Nelson Catarino, worked his special Tilbury magic and gave me her signature Rocker Chick face.
I never really got into the box trend or the Beach Mint, Shoe Mint, etc trend, but Memebox has changed my mind – and there is no monthly commitment…just adorable Korean products in a box!
Giorgio Armani launched his new limited edition beauty collection, Fade to Grey, on the Fall 2014 runwayicon. The products were all tested out backstage and while Armani has had a successful cosmetics line for awhile it was only recently that I started using his products. I was lured in by the gorgeous packaging.
Remember those pastel – or I should say, pasty – lipsticks we wore in the ninth grade? We all looked like defective Barbies with our frosty blue eye shadow and pale pink lips. Fortunately, the science behind our makeup has only improved since then, as have the trends! Today's pastels involve just a glimmer of shimmer, rather than a chalky, unflattering consistency.