Perfume
There's nothing that will affect my mood quite the way the weather will. When it's sunny, minor annoyances just roll off my shoulder; when it's cold or stormy, I'm just PISSED.ALL.THE.TIME. To this day, I question how I survived four years at Cornell…though, truth be told, I didn't go to class all that much because of my issues with the weather
My go-to perfume is Gaye Straza's Kai oil, but otherwise, I've never been able to find a gardenia blend that wasn't sickly sweet or too musky. Well, when you can't find what you're looking for, you make it! At Le Labo, I was able to get a personalized fragrance that was the perfect balance of sweet and citrusy.
I never leave the house without a spray or six of my favorite fragrance. Even if I'm running off to spin class, the gym or pilates, I douse myself and my soon-to-be dripping wet, workout outfit with one of my beloved perfumes. Somehow it makes me feel pulled together…
Father's Day, Mother's Day…or don't wait! Beeline for Bergdorf Goodman if you can afford a small splurge because even the most jaded will have a hard time not getting excited to start playing with Tom Ford's new launches.
I've been eyeing a studded crossbody Valentino bag for a solid three years now. Every time I'm looking to splurge I go to the Valentino store to scope it out.
Jan Moran, author of the new book Scent of Triumph, is a recognized expert in the world of fragrance and perfume. She's been featured in countless glossies…
I'm a die-hard fan of Tom Ford's White Suede…like next level-obsessed. I had a near anxiety attack when I was trying to re-order it and saw that it was unavailable on every major online site…
We're always hearing about essential oils and their benefits, but you might have found yourself wondering how exactly they should be used and perhaps even what the heck they are!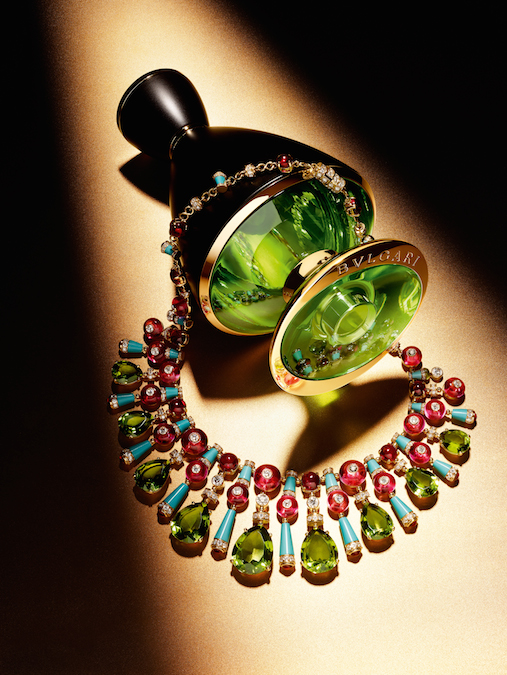 Bulgari crafts some of the most luxurious fragrances out there, and their newest six-piece collection just raises that bar even higher. Master perfumer Daniela Andrier created each of these sensual scents with a beloved Bulgari gem in mind. The bottles even look like jewels!