Couture Snob
Thu 11.20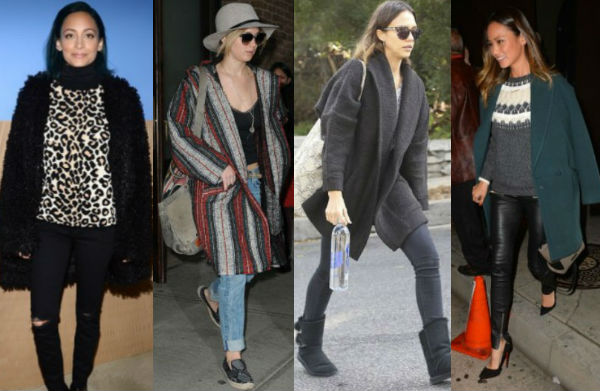 Given most of the US is being hit with cold weather, it seems there's no better time to do a celebrity coat round-up to get you thinking of what to put on your Christmas list. There are many styles to choose from and layers to work with. Depending on where you live, you may want to go with a little or a lot…
Wed 11.19
Taylor Swift looked Topshop chic as the weather turned in New York this past weekend…
Mon 11.17
I've been heavy into neutrals lately, and if street style trends are any indication, I'm not the only one! Peruse the season's best camel coats in every price range with our first ever Snob Shopping Guide…
Thu 11.13
The idea that you should only get one new coat per season no longer applies. I say one per day! Okay, maybe not quite that many. When the outerwear in question is under $200, it's certainly more doable, though.
Tue 11.11
While we're on a '90s kick, let me mention yet another of the decade's most beloved looks – the checked skirt. This pattern has got to be the biggest street style trend of the season.
Fri 11.07
Sometimes, less is more. On the subject of color, this can be true, especially this time of year when everything is being toned down from the brights of summer. Fall/winter is the perfect time to go all in with a simple shade to pack a coordinated punch from head to toe.
Fri 11.07
When you think feathers, you think formalwear. Such decadent accents have long been reserved for special nights out when evening gowns and glittering minaudières take the place of your comfy sweats and relaxed tees…but that's all changing.
Mon 11.03
Life seems pretty drab filtered through dreary winter weather. Look at how much gloomier afternoons in the U.S. feel now that the sun is setting at 4:30 pm; most people aren't even out of work by then! The little things are what will keep us sane…little fur ears, to be more specific. That's Eugenia Kim's approach.
Mon 10.27
There's something for every shopper in the new DKNY x Cara Delevingne collection, ranging from beanie hats and t-shirts to pink shearling coats. Style-wise, it leaps all over the place, much like the jet setter herself.