Couture Snob
Tue 08.26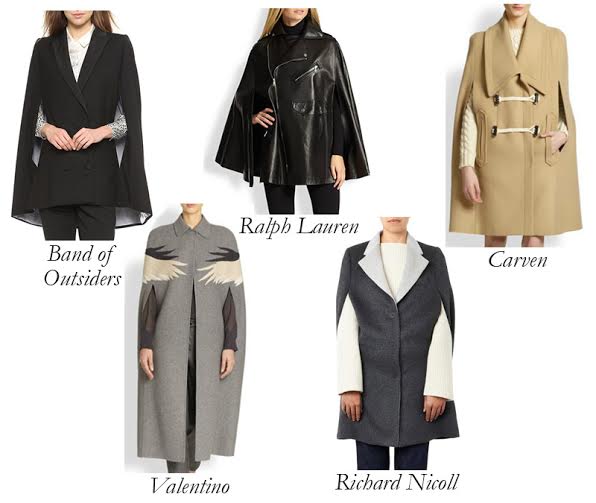 Capes are for superheroes. And of course, all women qualify as those. The cape has been a thing for a few seasons now but this Fall, it is a must. The best thing about the style is, it doesn't matter what you wear underneath. Well, at least it doesn't matter as much…
Wed 08.20
The last few seasons have been all about the skirt, particularly the ultra-feminine midi. Now I'm in the mood for the stark opposite – menswear-inspired pants.
Mon 08.18
Most men are perplexed by the ordeal of buying a suit. What looks good? What is appropriate? How formal should it be? What's a vent? If my husband is any indication, these quandaries paralyze the process to the point they that make most men avoid it all together.
Fri 08.15
You probably already have a black leather jacket that you love and wear to death. It's a basic worth investing in that you'll have for the rest of your life, a piece you can throw on with just about anything! With fall soon upon us, though, I'm looking for something a little different – a leather jacket with unexpected flair.
Thu 08.14
For his mere 30 years, Joseph Altuzarra isn't just an especially precocious designer. He makes elevated clothes for the fully realized, fully grown woman. Happily, his latest venture is no exception. Runway versus real life? Where many designers have trouble bridging the gap, Joseph has effortlessly solved the equation with his highly covetable, entirely wearable collection for Target.
Thu 08.14
We're used to Cate Blanchett looking glamorous and sophisticated, and while this is really no different, it is nice to see her let her hair down a little bit and have some fun!
Mon 08.11
Circles, squares, pentagons, hexagons…there's a shape to flatter every face in Miu Miu's lighthearted sunglasses collection.
Fri 08.08
The leather legging has reigned supreme for many a season. It's time for something new!
Thu 08.07
You may think that with each passing season, you have to go out a buy a completely new wardrobe. Not so! All you need are a few key accessories to update your closet.