Couture Snob
What do Rihanna and Madonna have in common other an affinity for French kissing their BFFs? Cutler and Gross! The British eyewear brand has quickly become a celebrity favorite, and with their sophisticated, lightweight glasses, it's no big surprise.
Featured Items
Some fashion collaborations prove when you dream big and work even bigger, anything can happen. The unexpected yet totally logical union between Who What Wear (yes, the world-famous style blog that documents anything and everything women, famous and otherwise, are wearing, or should be wearing) and superstore Target is one of those unique few.
Like so many of my lifelong fashion dependencies, my motorcycle jacket addiction began in the '90s. I now have more moto jackets in my closet than I can count. From classic leather to unexpected tweed to more relaxed denim, in each and every color imaginable, I have one for every occasion. But there's always room for one, or three, more. Guaranteed to complete your outfit, it's the easiest thing to pull on without any thought.
Featured Items
Can we all just agree that Jennifer Lopez was the best-dressed at the Globes? That dazzlingly bright marigold Giambattista Valli gown with the cape was everything. The caped-crusader trend definitely didn't start with the always-flawless star (remember Gwyneth Paltrow in Tom Ford at the 2012 Academy Awards?), but there's no doubt she'll be the one to mainstream it. Be prepared to see cape everything, starting now.
Featured Items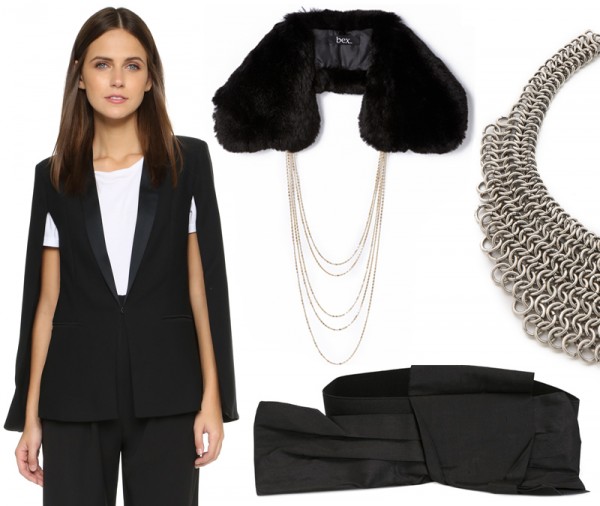 LBDs are sleek and sexy, but if you're wearing them right, they're just backdrops for accessorizing, canvases to be adorned. In honor of New Year's Eve, don't merely pull out your usual jewels and bag; there are ways to completely revamp and up your LBD game, and I'm sharing a few of my favorites here. With any of these embellishments, no one will even be looking at your dress!
Featured Items
The weather may be (almost disturbingly) warm this winter, but there have certainly been cold days – and there will be more to come. Pea coats, trenches, and other more formal styles simply won't cut it when you're going toe to toe with Jack Frost. For that reason, the shape of the season is none other than the fur-trimmed anorak. Casual and easy, it's the perfect everyday go-to, with the ideal blend of comfort and sophistication.
Featured Items
Some sales this time of year tempt you with pieces that you want, but don't need; fortunately, outerwear falls into the latter category, so there's no buyer's remorse creeping around the corner. And even better yet, it's actually the time of year when you need a coat!
Featured Items
New York scenesters Dee and Ricky have collaborated with everyone from Marc Jacobs to Casio on artfully-unique items and while they've been widely sold in Japan for years, their pieces haven't been all that easy to get in the States.
Featured Items
When it comes to basics, I do a lot of my shopping at Zara, but there's nothing worse than wearing something and then seeing someone else wearing that exact same piece – and this is a common problem with Zara.