Couture Snob
Mon 03.30
The strongest denim trend of the moment isn't about fit or flare (though a good bell bottom is certainly in thanks to the '70s revival); it's about patchwork! Yes, designers from Hedi Slimane to Marc Jacobs are embracing the boho style…
Thu 03.26
If there's one item that never goes out of style, it's the blazer. There are many different kinds to choose from, though, and the trendiest at the moment is one with a sleek shawl collar.
Wed 03.25
It's no easy feat taking your work wardrobe into the night, but if you're going to do it with any suit, it'll be a hot pink one! Pallas chose this bright hue is in honor of Schiaparelli, the famed Italian designer known to reference Surrealism as one of her greatest sources of inspiration.
Tue 03.24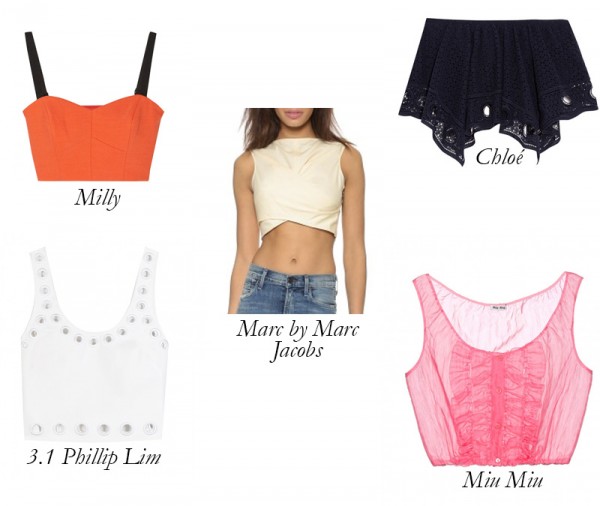 I'm here to say don't dismiss the crop top just yet! It's a trend no more, having evolved into a contemporary staple, especially as trouser and jean waists stay high.
Mon 03.23
Sarah Hyland bloomed in her spring crops recently wearing a top by ALC, a flirty white skirt and Bionda Castana pumps. This outfit is perfectly pretty and hits all the basics for the season…
Fri 03.20
Reese is always a breath of fresh air, and this look is no exception. Carrying the Row Satchel 12 tote and wearing Thierry Lasry Sexxxy sunglasses, she stepped out recently looking like a spring day.
Thu 03.19
You know when you look back at old photos of yourself as a kid and cringe at your taste (or rather, lack thereof?). When I was eight years old, I had denim overalls exactly like Frame's Le High pair.
Wed 03.18
It's just about time to put those chunky knit scarves away, but that doesn't mean you need to abandon scarves altogether. These light, airy strips of silk and crystal-embellished organza will give you the look without the winter weather bulk
Fri 03.13
Ohm K is a new Brooklyn-based yoga wellness brand launched a few months ago by a yogi and a cycling instructor.