Couture Snob
Personally, I can't get enough of the cape trend. I understand that for the reluctant fashionista, a design this bold can be quite daunting, but give it a try. The look has been up and down the runways this Fashion Month, so as you see more and more styles making their way onto the street…
Years ago, we fell in love with DL1961 denim and went on to collaborate with the company on a half a dozen stretchy styles, so when the time came to curate our 10th anniversary collection, the decision to work with DL again was a no-brainer. They make the best distressed jeans in the world.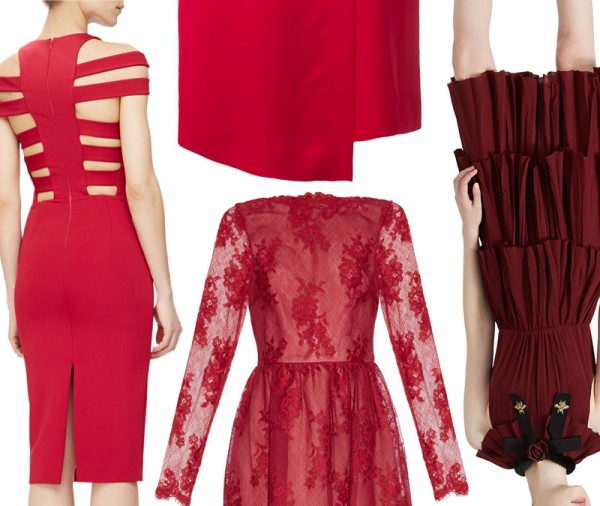 I'm sure you have LBDs stockpiled from here to the next century, but what about LRDs? Red is one of my favorite colors. It's empowering – and also actually a neutral – so I'm pleased to see it taking center stage this season. Which one will have you going rouge?
Unlike most pop stars, Selena Gomez has staying power, for her sense of style (or choice of stylist!) at the very least. Stepping out in London wearing this black Driver dress from A.L.C.'s Holiday 2015 collection, she was pure class and sophistication – but not in a dated way. We saw the slit skirt style going up and down the runways at NYFW, and the cutout in the back is equally on-trend.
I'm in the middle of a heat wave, but what am I shopping for? Fur, cashmere, and wool! I guess you could say I like to plan ahead. To be honest, though, once the winter chill hits, it's easy to get lazy with your look – specifically with outerwear.
Now that Marc Jacobs has closed New York and the fashion crowd has moved on across the Atlantic, it's time to reflect on the latter batch of Spring '16 trends.
Here we are again! Back in New York City and the energy is palpable, from the searing late-summer sun to the mad dash between Lincoln Center and Milk Studios (and everywhere in between). But it's what's going on inside that's really stirring up our spirits…
I've lived in LA for most of my life; no one here owns umbrellas, but it's El Nino this year so you'd better gear up. As for the rest of the world, you know the drill!
It's back-to-school-shopping time! Okay, so you may not be in school, but why let kids have all the fun? Now through September 1st at 6 am EST, BergdorfGoodman.com is offering 40% off select items, giving you the perfect price point at which to update your wardrobe for fall.