Alexander McQueen
While we're on a '90s kick, let me mention yet another of the decade's most beloved looks – the checked skirt. This pattern has got to be the biggest street style trend of the season.
The sensible wedge gets a stylish update for fall. Sure, these aren't all that attention-grabbing, but they're flattering, easy for any occasion, and best of all, incredibly comfortable. As in, house slippers comfortable. As much as I'd love to wear my most seductive stiletto from sunup to sundown, it's just not feasible…
Red is the color of love, sex, and fire; to sum it up in one word – passion! Wield this power wisely as we head into fall by painting your wardrobe with the richest of scarlet hues. It's the season's chicest shade. Usually, I try to mix it up, but I'll go so far as to say that I'd wear red from head to toe. Why not?
The last few seasons have been all about the skirt, particularly the ultra-feminine midi. Now I'm in the mood for the stark opposite – menswear-inspired pants.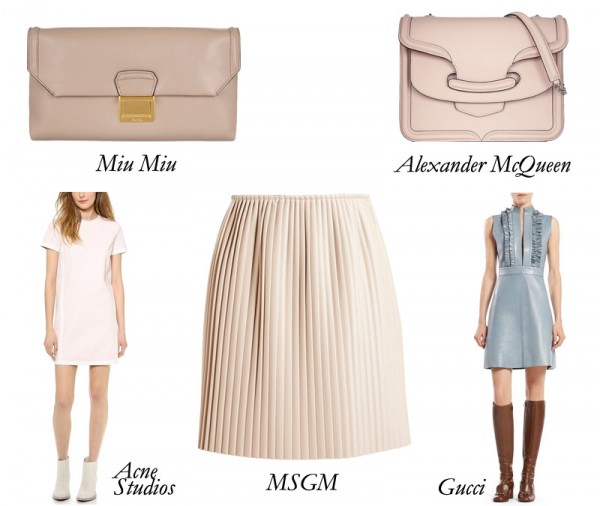 Pastels are for spring, you say? Not anymore! Or at least, not only for spring. Sooner or later, we must accept that fall will be here soon. I know, I know…the summer just started! It's okay, though, because we can keep the color palette going through autumn…
I always find it intriguing to see the inclusion of wood on a bag, and in this case, more than just a touch does the trick. In fact, more is better…
While a lot of what's going on here is amazingly cool, a perfect bag this is not…
Many of my close circle of friends are water signs (Cancer, Pisces, and Scorpio), which means I'm lucky enough to have a group of sensitive, caring, and loyal women around me. Since most Cancers have July birthdays, I thought we could celebrate the best way I know how – with bags! The month's birthstone is ruby, so in honor of all you summer babies, here are my favorite ruby reds…