Alexander McQueen
Thu 08.29
Lately I've been taking my couture with a twist. Your must-have LBDs shouldn't be basic and neither should black skirts. And it's all about the skirt this season, so choose wisely. Start with a pencil shape – this is an essential that will serve you well for years and years. Just make sure it's not the same one every other woman in the office is wearing!
Tue 08.27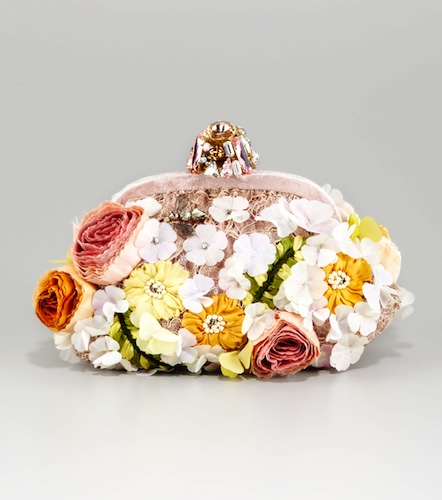 It was my birthday last week, and one of my friends sent me a most decadent bouquet of vintage pink roses (over 100 of them!). I stop and smell them daily and now have florals on my mind. My mother-in-law hated getting flowers – she said all flowers inevitably die and that depressed her. Me? I love flowers! The more, the better.
Tue 08.20
According to my dear friend Ken Downing, a.k.a. the Fashion Oracle of Neiman Marcus, violet is going to be all the rage this season. And since I do whatever he tells me regarding fashion and music (and have for almost a decade), I'm ready to plunge bag first into the trend!
Fri 08.16
Just because studs aren't going anywhere doesn't mean they aren't still experiencing new incarnations. The latest stud that's got us panting doesn't bear a six-pack, though it is perfectly in shape. I still love chunky pyramid studs, but there's something to be said for a subtler message. Small-scale and more refined, these bits of hardware know there's safety in numbers.t
Fri 08.16
Fashion always seems to take a serious turn come fall – the hemlines go down, the colors darken…you know the drill. Why not inject a little whimsy into the mix? Summer's ending – that doesn't mean the fun is, too! Indulge in the boldest colors, most playful prints, and cheekiest imagery with these quirky picks…
Thu 08.15
Don't be fooled by our talk about It-bags, Treasure bags, unapologetically impractical (and irresistible) tiny minaudières, and anything sporting feathers, neon, and dare-to-carry-them exotic skins.