Alexander McQueen
Fri 11.29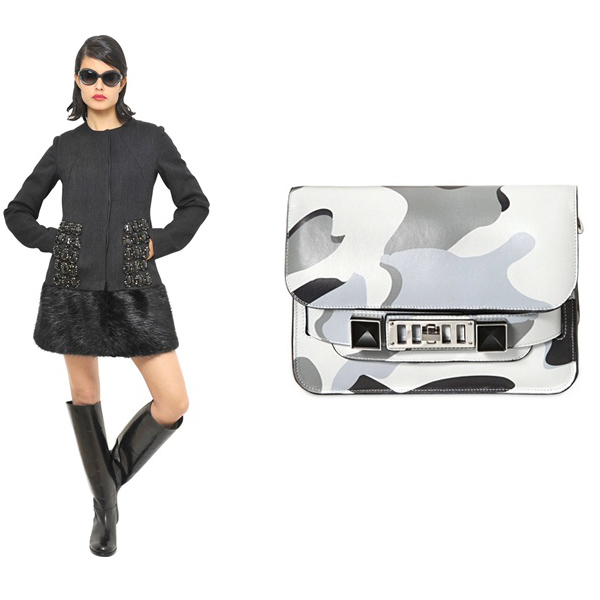 All stuffed with turkey? Time to shop! My first stop is Luisa via Roma. I already have a gift list prepared, and with the launch of the annual winter sale offering up to 50% off (plus an additional 10% off with the promo code CJ10E), the time to buy is now.
Mon 11.18
Some Snobs hate winter because it means covering up a season's worth of glittering outfits, and while I understand the frustration, there is a way to stay chic in the snow – by making your coat a part of the look!
Fri 11.15
The Spring 2014 runways were coated with jewels – at least the leg wear was! The sparkle came in all shapes and sizes from Simone Rocha's pearl-embellished knee-highs to Tom Ford's full-body crystallization. Admittedly, these are looks that require a grand forum, so I've picked out some pieces that are less editorial and more everyday.
Wed 11.13
Studs on bags are nothing new, and neither are prints and patterns. While the combination of the two may not be brand-new, per se, there's something about a bag that sports a deliberate arrangement of studs that feels deeply cool and refreshing right now.
Wed 11.13
The holiday season is all about decadence – bright lights, rich colors, and of course, lush textures. The best way to celebrate in style is with some soft, chic velvet. The drama ends there, though, because the keys to pulling off the slinky fabric are muted colors, impeccable tailoring, and minimalism (Multiple pieces at once? A definite no!).
Mon 10.21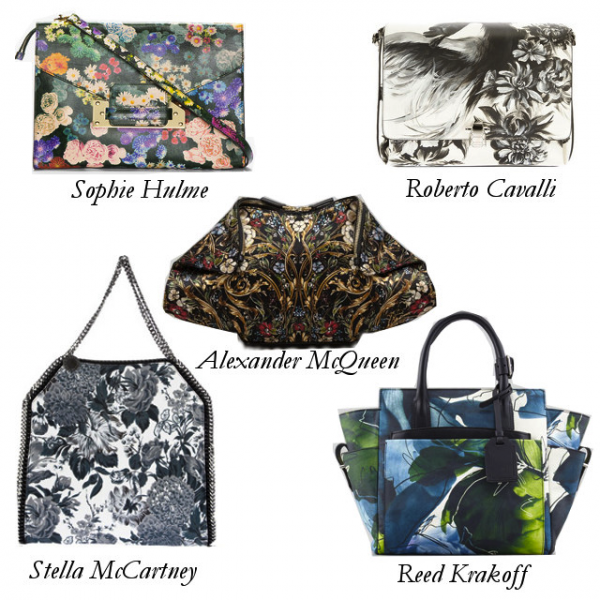 The flowers in our gardens may be withering this time of year, but they're in full bloom on bags! We saw florals all over the Spring 2014 runways, so the time to stock up is now. Save the over-the-top appliqués and embroidery for later, though – the best flowers this season are in print. From abstract watercolors to Baroque blossoms, here are the ones I'm looking to pick for fall….
Mon 10.21
Before we get too caught up with the Fall/Winter season's tweeds, wools, knits, dark leathers, and heavy textures, let's take a minute to appreciate the unconventional. There's something to be said for the element of surprise (got to keep 'em on their toes!), and nothing will catch onlookers off-guard like a bright, perky bag right about now.
Thu 10.17
While black and white may be on trend, it's their middle ground that I'm finding even more versatile. Just look to Saint Laurent's suede Lulu bag (on Farfetch for $2,141.48) for proof. You could wear this to work with fall burgundies and cobalts, then break it out come springtime with a green party dress.