Alexander McQueen
Mon 03.10
It feels great to strike out at night with a flashy clutch; it's that extra sparkle (literally and figuratively) that makes you feel special – and like a special night is in store. But make sure your awe-inspiring accessory is tasteful.
Wed 03.05
Here's a peek at some of the most unforgettable beauty looks that made their way onto Paris' runways.
Wed 02.19
At 40 years old, Kate Moss still is the world's reigning queen of style for me. Forget pubescent girls, of-the-moment amateurs, and so-called street style stars…What exactly does that term mean, anyway? Getting dressed up just to roam the streets during Fashion Week with no purpose other than the hope of getting your photo snapped?!
Thu 02.13
We're never surprised to see fur grace the Fall runways, but the number of fur bags this season is off the charts. From Donna Karan's shaggy style (her 30th anniversary collection was all about movement) to DVF's trim shoulder bags, black seemed to be the shade of choice, with Vera Wang also throwing her noir beaver shopping bag into the ring.
Mon 02.10
Another week, another set of celebrity bags! Let us know whose is your favorite in the poll…
Wed 01.29
Spring is the time to come out of your shell (or more likely, your cocoon of coats), leaving your shyness behind, and there is nothing shy about these crystal-encrusted shoes. Certainly nothing comfortable either, but the girl who wears these couldn't care less about that. They're hefty in weight and in price.
Wed 01.29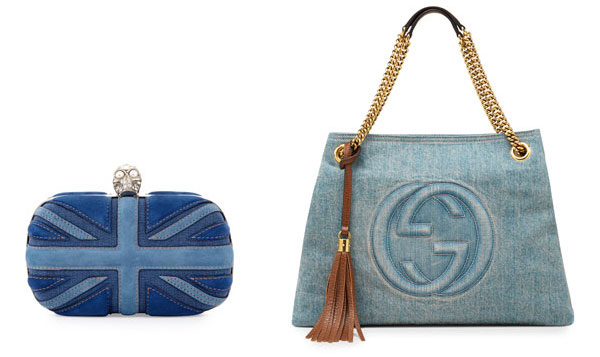 So how do we feel about denim bags? I love a great pair of jeans or a tailored denim shirt, but my appreciation for America's most quintessential item of clothing has never successfully translated to bags.
Wed 01.22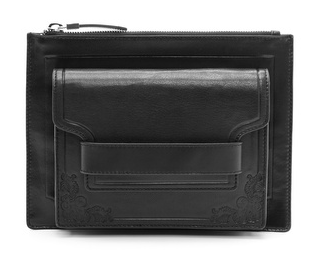 This is one of those uniquely subtle bags that could be the work of a new and still-unknown designer – or the creation of one of your favorite design house's chic little sister. Don't let the good looks of McQ Alexander McQueen's black leather clutch fool you: this one's all about function (but obviously not without style and edge).
Tue 01.21
Between all of the massive coats and boots we wear to stay warm, it's clear that winter is the season of zippers. And while there's definitely nothing fun about shimmying in and out of these oversized pieces everyday, I've found a few zipper embellishments that will revive your appreciation for the edgy sense of style that one (or 10!) of them can add to an outfit.