Alexander McQueen
Wed 04.30
Yesterday I got the tiniest, most adorable micro bag from Tod's, and since then, my mini obsession has gone off the charts. In that way, bags are like cats. Sure, you love them when they're fully-grown, but they're even cuter when they're tiny enough to fit in the palm of your hand!
Wed 04.16
When it comes to certain snakes, the saying is, "red on black, venom lack; Red on yellow, killer fellow." Looking at this mini McQueen, though, I have to disagree. It's poisonous.
Fri 04.11
Fashion jewelry is where we turn when our outfit feels like it's missing something – an oversized collar, dramatic drop earrings, a cocktail ring…To finish off your look, check out our favorite pieces here! #followitfindit
Thu 03.20
The higher the heel, the closer to god? Absolutely! Just don't tell your chiropractor I said that (tip: Pilates and yoga strengthen your core and back, making heels easier to maneuver). I've been wearing them since I was 17. When I graduated from high school, I tossed my flats and never looked back. Pumps were a part of my daily uniform at USC and continue to be today.
Mon 03.17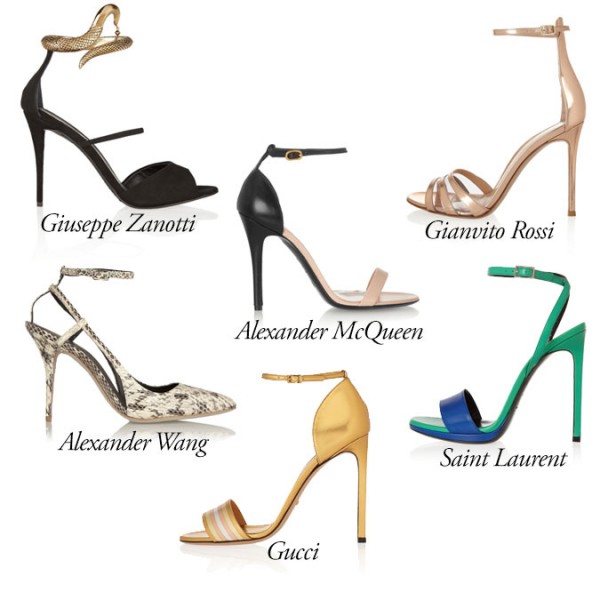 Ankle straps were once thought to be unflattering, especially for those with thicker ankles. Not to mention the fact that they're assumed to shorten the appearance of the leg, but I have actually found the opposite to be true.
Mon 03.10
It feels great to strike out at night with a flashy clutch; it's that extra sparkle (literally and figuratively) that makes you feel special – and like a special night is in store. But make sure your awe-inspiring accessory is tasteful.
Wed 03.05
Here's a peek at some of the most unforgettable beauty looks that made their way onto Paris' runways.
Wed 02.19
At 40 years old, Kate Moss still is the world's reigning queen of style for me. Forget pubescent girls, of-the-moment amateurs, and so-called street style stars…What exactly does that term mean, anyway? Getting dressed up just to roam the streets during Fashion Week with no purpose other than the hope of getting your photo snapped?!
Thu 02.13
We're never surprised to see fur grace the Fall runways, but the number of fur bags this season is off the charts. From Donna Karan's shaggy style (her 30th anniversary collection was all about movement) to DVF's trim shoulder bags, black seemed to be the shade of choice, with Vera Wang also throwing her noir beaver shopping bag into the ring.