Alexander McQueen
Wed 11.13
The holiday season is all about decadence – bright lights, rich colors, and of course, lush textures. The best way to celebrate in style is with some soft, chic velvet. The drama ends there, though, because the keys to pulling off the slinky fabric are muted colors, impeccable tailoring, and minimalism (Multiple pieces at once? A definite no!).
Mon 10.21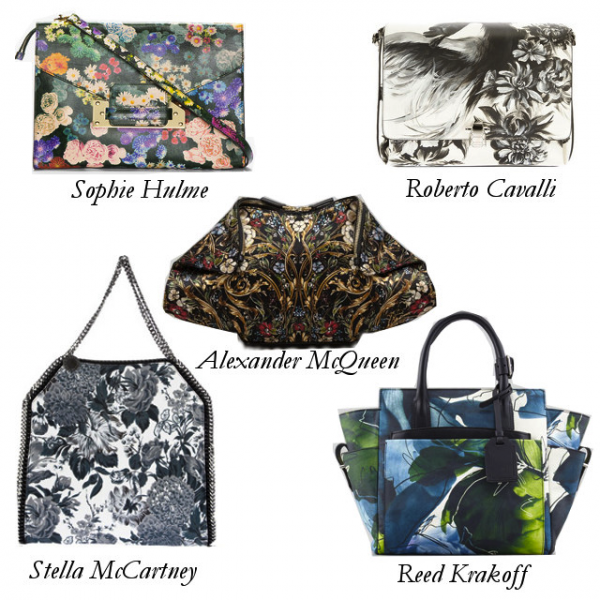 The flowers in our gardens may be withering this time of year, but they're in full bloom on bags! We saw florals all over the Spring 2014 runways, so the time to stock up is now. Save the over-the-top appliqués and embroidery for later, though – the best flowers this season are in print. From abstract watercolors to Baroque blossoms, here are the ones I'm looking to pick for fall….
Mon 10.21
Before we get too caught up with the Fall/Winter season's tweeds, wools, knits, dark leathers, and heavy textures, let's take a minute to appreciate the unconventional. There's something to be said for the element of surprise (got to keep 'em on their toes!), and nothing will catch onlookers off-guard like a bright, perky bag right about now.
Thu 10.17
While black and white may be on trend, it's their middle ground that I'm finding even more versatile. Just look to Saint Laurent's suede Lulu bag (on Farfetch for $2,141.48) for proof. You could wear this to work with fall burgundies and cobalts, then break it out come springtime with a green party dress.
Mon 09.30
As we make our way into fall, we leave the flowy silhouettes of summer behind and embrace structure. What better to do this with than the caged trend? While it's been around for a while, we're starting to see this manifest itself more and more on everything from booties to sexy peplum skirts.
Fri 09.27
Halloween and costumes go hand-in-hand, but that doesn't mean your jewelry has to follow suit. Have fun with the holiday's themes – just do it with pieces that you can also wear outside the month of October! Orange and black, skulls (of the McQueen variety), and creepy crawlies are all on the table. Which will you be sporting for the witching hour?
Thu 09.26
The rich texture of calf hair makes it the perfect addition to fall accessories, and we're seeing plenty of it with the animal print trend. But what about colorful calf hair? There was a time when I thought a blue fur bag was unequivocally tacky and belonged on Sesame Street. But tastes change…