Alexander McQueen
The last few seasons have been all about the skirt, particularly the ultra-feminine midi. Now I'm in the mood for the stark opposite – menswear-inspired pants.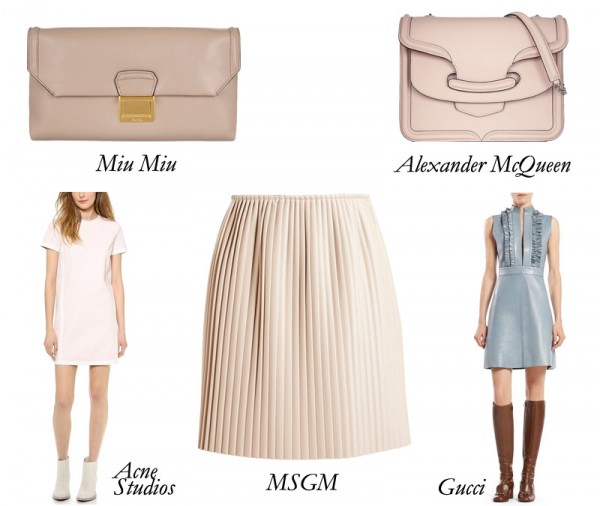 Pastels are for spring, you say? Not anymore! Or at least, not only for spring. Sooner or later, we must accept that fall will be here soon. I know, I know…the summer just started! It's okay, though, because we can keep the color palette going through autumn…
I always find it intriguing to see the inclusion of wood on a bag, and in this case, more than just a touch does the trick. In fact, more is better…
While a lot of what's going on here is amazingly cool, a perfect bag this is not…
Many of my close circle of friends are water signs (Cancer, Pisces, and Scorpio), which means I'm lucky enough to have a group of sensitive, caring, and loyal women around me. Since most Cancers have July birthdays, I thought we could celebrate the best way I know how – with bags! The month's birthstone is ruby, so in honor of all you summer babies, here are my favorite ruby reds…
You know those moments when you find yourself craving something like a banana split with a cherry on top?! (Yes, my cravings are very specific. Sometimes it's a pair of 6″ sparkly pink heels, but that's a hankering for another entry.) And then a bag, not a delicious dairy dessert, shows up on your doorstep, and you realize it's what you really needed?
Yesterday I got the tiniest, most adorable micro bag from Tod's, and since then, my mini obsession has gone off the charts. In that way, bags are like cats. Sure, you love them when they're fully-grown, but they're even cuter when they're tiny enough to fit in the palm of your hand!
When it comes to certain snakes, the saying is, "red on black, venom lack; Red on yellow, killer fellow." Looking at this mini McQueen, though, I have to disagree. It's poisonous.