Alexander Wang
Fri 12.13
My latest obsession is texture blocking. First, it was all about the bags (what's new?), then after seeing Mad Men's Jessica Pare in a quilted Holmes & Yang leather bomber with elbow patch detailing, I decided to take it to jackets as well. Which is your favorite?
Tue 12.10
In case you'd forgotten, here's when Alexander Wang is at his invaluable best: when he makes practical basics for the girl who likes to keep her cool. It's difficult to find something that speaks to your personal style when something truly practical is required, but leave it to Alex to take on the task and serve up satisfaction.
Thu 11.14
Walking around the NYU campus provides you with a lot of hilarious, insightful, or plain quintessential college conversations. Lately though, internships and jobs have been a popular topic – and more importantly, what to wear to an interview.
Wed 10.30
I love saddle bags, but I still have yet to find a version that actually reflects the easy, graceful lines of a beautifully made horse saddle. For me, there is nothing more effortlessly chic than the breezy spirit of a saddle bag.
Fri 10.25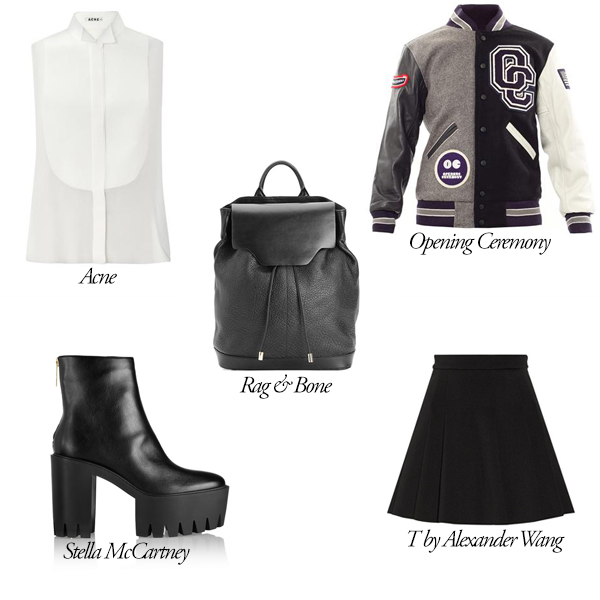 The chic backpack is gradually becoming less of an anomaly (just look at Marni's minimalist version) and more of a mainstay in the bag world. Rag & Bone is the latest to hop on board, and their casual-cool sensibility brings the perfect treatment to a streetwise rucksack.
Mon 09.16
After a whirlwind week in NYC, I finally have some time to sit down and collect my thoughts. First I prepared a mental checklist of everything on my wish list, but now it's on to the trends! Which ones stuck out to you? Here are the styles I expect to see hitting the streets come spring…
Mon 09.16
Is it just me or are Alexander Wang bags better than ever? Ever since he seized the reigns at Balenciaga, his own line's bags have emerged with a newfound maturity and sophistication. His Spring 2014 ready-to-wear collection, as casual and youthful than ever, welcomes the aesthetic that made him famous (think cleaned-up bad girls), but his bags are refined, tailored, and clean.
Thu 08.22
Alex Wang has teamed up with Samsung to create a limited-edition gym bag – the Wallie. Why did he partner with an electronics company, you ask? Well, the abstract design was inspired by crowd-sourced sketches and images created on the Galaxy Note II.
Mon 08.19
Alex Wang will be holding one of his epic sample sales this Tuesday through Saturday in NYC. Doors open at 9 a.m. and won't close 'till 8 p.m. (except for Saturday, when the fun ends at 6 – you know all of the clothes will be gone by then, anyway!) giving all of you Snobs the chance to snatch up some great deals.