Alexander Wang
Fri 11.07
Who says winter means you've got to ditch bright colors? You don't have to abandon the fun neon trend just because temperatures have dropped. The '80s girl in me wants it all year long!
Thu 10.16
Between Target and H&M collaborations, designer fashion is more accessible than ever, and those collections are just getting better all the time. If you thought Isabel Marant's H&M tour de force was highly anticipated, then there's not even a word to describe the mania that's about to ensue for Alex Wang.
Tue 10.14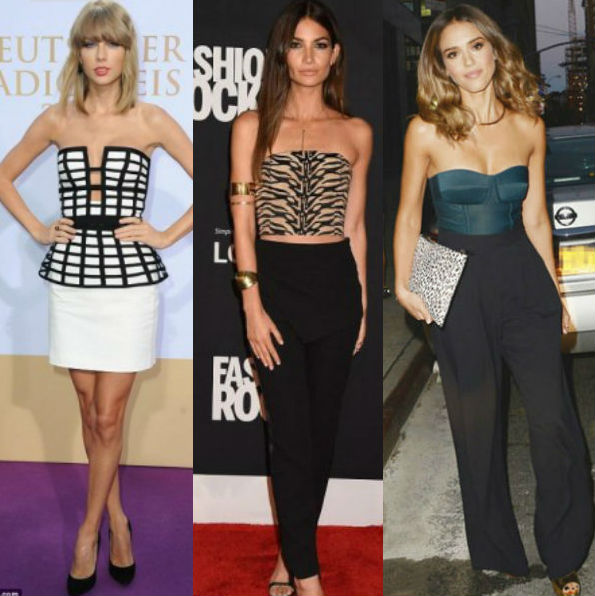 Bustier tops were spotted all over the runways at NYFW this year, and stars have already been spotted sporting this trend in all shapes and patterns.
Wed 10.01
From demure blush tones to innocent garden hues to quintessential Barbie pinks to searing fuchsias and bold magentas to the perfect shade of lipstick pink: October is the best month to show off your best pinks, in support of Breast Cancer Awareness.
Thu 09.25
When it comes to sexy with a dash of athleticism, nothing beats neoprene. Every season we see more and more of the flexible fabric, on both dresses that mold flawlessly to your body and shoes that, as Balenciaga points out, fit like a glove.
Wed 09.24
Have you ever fallen in love with a pair of shoes, only to realize they didn't look good on you once you tried them on? We worry about being able to find the right size, but choosing the right style for your shape of foot is essentially just as important
Wed 09.17
The word "utilitarian" gets thrown around a lot when talking bags, but Alexander Wang is taking it literally this season.
Mon 09.08
Sporty, sexy, cool: Alexander Wang for Spring 2015 is the Alex I initially fell in love with years ago. While I adore the bundled, androgynous look that comes with Fall, I have trouble fitting the heavy leathers, chunky knits, and menswear-inspired styles on my petite frame.
Fri 09.05
It seems like the belt bag keeps trying to make a comeback. Actually, it seems like it's been trying to make a proper renaissance for ages, but it still has yet to gain any legitimate traction. I want the belt bag to be back in full swing because what could be better when you truly need a hands-free day?