Balmain
Fri 07.26
Working a great, big pop of fuchsia into your wardrobe is essential this fall. The hot color is an on-trend must and its unabashed brightness begs you to have fun.
Thu 07.25
Are you on the list? These days travel is more hectic than ever. From the bag fees to the security lines, you're bound to be stressed while heading somewhere to relax. Check out these new airport clubs that could help ease the stress (and minimize the time) of your airport experience.
Mon 07.01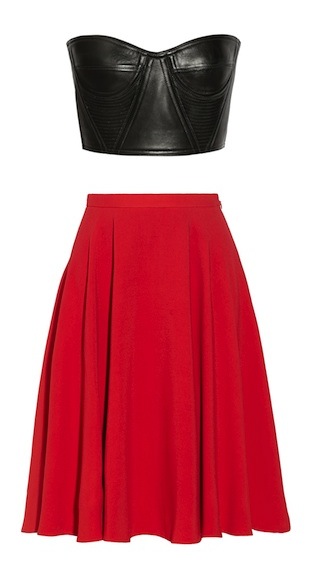 I love the look of full skirts worn with crop tops. It's the perfect mix of retro and modern, of ladylike and sexy.
Thu 06.13
Always count on Balmain to stay true to their more-is-more sense of style, even when other big names are stripping down and going minimal. Their Pre-Fall '13 clutches exude old-world glam fit for Marie Antoinette…if she ran off and became a superstar Vegas showgirl.
Wed 03.20
In the past when you heard the words track pants, you probably didn't think high fashion, but these aren't your high school team's pants. Sleek and perfectly cropped for spring, the trend has just taken off and so far Monika Chiang is in the lead. Her leather track pants (at Monika Chiang for $995) are […]
Fri 03.01
It's only natural that the highlight of Paris Fashion Week is attending Balmain. I was there at Olivier's freshman show, back in September 2011. For Fall 2013, the wunderkind is far more seasoned, but just as optimistic and full of youth. Ready to be Balmain's glamazon again? I know I am. More is more is more! […]
Fri 03.01
It's only natural that the highlight of Paris Fashion Week is attending Balmain. I was there at Olivier's freshman show, back in September 2011. For Fall 2013, the wunderkind is far more seasoned, but just as optimistic and full of youth. Ready to be Balmain's glamazon again? I know I am. More is more is more! […]
Wed 01.09
Kelly and I had the greatest time at the Luisa via Roma Firenze 4Ever black and white party with our friends BryanBoy, Chiara (aka the Blonde Salad!), and Betty. I love a theme and will always commit 110% to it, so with the night's throwback to the '90s, I felt it only appropriate to carry […]
Tue 12.25
Finally, a bag from Balmain I can get behind! The partnership between wunderkind artistic director Olivier Rousteing and Parisian-chic jewelry designer Aurélie Bidermann has proven to be a great thing for the brand. It also proves, once again, less is more. Who needs studs and shock value when you have an inherent sense of cool? […]