Christian Louboutin
Wed 01.29
Spring is the time to come out of your shell (or more likely, your cocoon of coats), leaving your shyness behind, and there is nothing shy about these crystal-encrusted shoes. Certainly nothing comfortable either, but the girl who wears these couldn't care less about that. They're hefty in weight and in price.
Thu 01.23
While Jessica Alba has been seen carrying her red Saint Laurent Sac de Jour (at Barneys New York for $2,950) all over LA, this casual airport outfit is probably the best way she's styled it yet.
Fri 01.10
The Polar Vortex has us all feeling a little under the weather. Fight the gloom with some shoeshine! From classic cap toes to angular slices of silver to the thinnest gold rims, there's a tip for every taste, whether it's cold, hard metal or simply metallic leather.
Tue 01.07
There is color-blocking as a trend, and then there is color-blocking as a concept. While the former has been done to death, a geometric combination of shades inspired by artist Piet Mondrian are feeling right at the moment.
Fri 10.04
You can't rationalize indulging in every trend that pops up, but considering lace-making has been around since ancient times, you're pretty much guaranteed to get a lot of wear out of the style. And it doesn't hurt that we saw it grace the Fall and Spring catwalks. So what'll it be? Pumps? Booties? Flats? I'll take them all! Lace up your shoes with these romantic picks…
Fri 10.04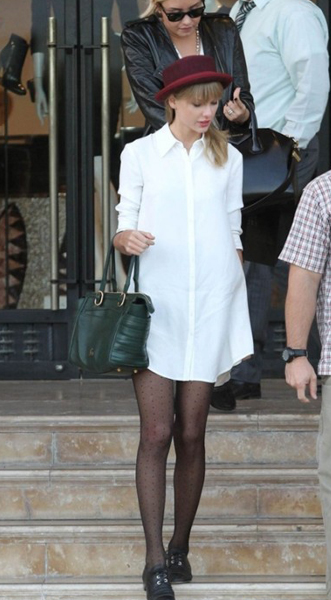 Now I love a good shirt dress, especially this time of year. They are comfortable, versatile, and look great with flats or heels which is a plus when the weather starts to turn. However, there's something about this particular dress that's a bit too man-ish? I get that's the idea of the look, but this one is a bit too bulky.
Mon 09.23
I may have survived fashion week, but my feet didn't. I do like to complain about shoe discomfort. Like my husband has said again and again, "You are at the comfort stage of life." Fine, I accept that. At least I know that about myself and can plan out my life accordingly, but Fashion Week is the exception. The heels had to come out, and I had to prepare to be in them for 14 hours a day.
Tue 09.17
Leather and chains might look good in the dungeon, or better yet, catching the wind on the back of a Harley (or a Ducati if Italian engines are more your speed)…But when Jimmy Choo gets in touch with their tough side, they're even better.