Lanvin
Wed 10.08
The sensible wedge gets a stylish update for fall. Sure, these aren't all that attention-grabbing, but they're flattering, easy for any occasion, and best of all, incredibly comfortable. As in, house slippers comfortable. As much as I'd love to wear my most seductive stiletto from sunup to sundown, it's just not feasible…
Thu 10.02
Yes, you read that right! I got us an additional 20% off already reduced items on Luisa via Roma. They really love us Bag Snobs there! Some of these are pieces you've been pining over all year, waiting for them to go on sale, so here's your chance to snatch them up at an even bigger discount.
Thu 09.25
When it comes to sexy with a dash of athleticism, nothing beats neoprene. Every season we see more and more of the flexible fabric, on both dresses that mold flawlessly to your body and shoes that, as Balenciaga points out, fit like a glove.
Fri 08.29
Fact: An elegant and timeless clutch is never wrong. Another fact: Lanvin excels at creating elegant and timeless clutches, pieces that are as refined and nuanced as they are quietly evocative of the house and the distinct brand of femininity they represent.
Tue 07.29
Ever find yourself needing to go from schleppy to dressy with only a couple of minutes to spare? Been there, done that!
Fri 07.25
I always find it intriguing to see the inclusion of wood on a bag, and in this case, more than just a touch does the trick. In fact, more is better…
Thu 07.24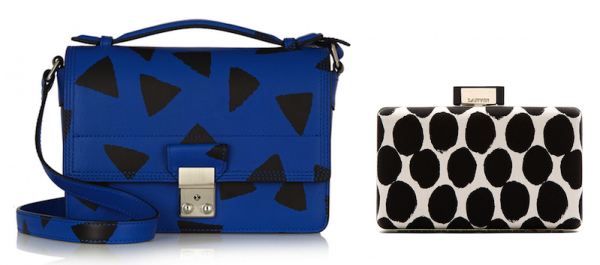 Polka dot or animal spot? Painterly circles or graffiti-inspired triangles? Or something else entirely? Honestly, when something looks this good, it doesn't really need to be defined with a precision-perfect touch.
Mon 07.14
Where would we Bag Snobs be without the French? Not only did they give us Champagne and the word chic; they have blessed us with many of the most vital and beloved designers in the world.