Michael Kors
Wed 08.07
When you're not strutting around in 5-inch heels, it's nice to pull on a pair of shoes that actually supports your ankles. So with grunge coming back in style, it's time to pull your combat boots out of the closet! Wore them out in the '90s?
Tue 08.06
The '70s were coined as the "Me Decade," and this emphasis on individuality brought about a wide range of styles from that of groovy hippies to DVF's iconic wrap dress to glam rock David Bowie. One movement defined bag design more than any other, though – feminism.
Fri 08.02
I may not have been around for the Swinging '60s (I'm not that old!), but there's a lot to love about the generation – Twiggy, white go-go boots, Balenciaga, the Beatles, Catherine Deneuve in Belle du Jour, and of course, bags! This was the decade when women finally broke out of the tweed jacket/chain bag combo and embraced their personal style.
Fri 07.19
When first released, this was called the Sac à dépêches. It wasn't until twenty years later that it became truly iconic when Grace Kelly used it to hide her pregnancy. And so the "Kelly" (inquire at Hermès) was reborn. There are few bags like it. The Fendi fashion top handle ($2,210) gives you a little taste.
Tue 07.16
I've fallen hard for fatigues this season. I'm getting everything in the print (of course, wearing it all together would be a serious no-no). Believe it or not, camo is incredibly versatile. I mean, it was designed to blend in! Wallflowers need not apply, though. Camo must be executed the right way and that requires confidence and style.
Mon 07.01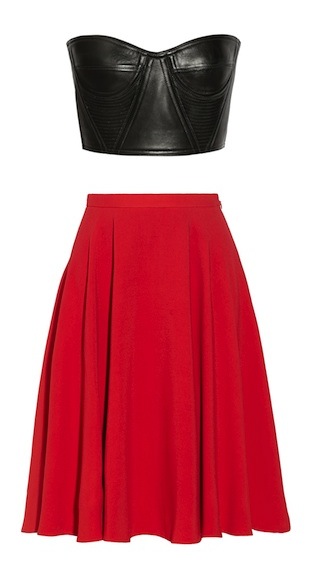 I love the look of full skirts worn with crop tops. It's the perfect mix of retro and modern, of ladylike and sexy.
Thu 06.27
Heidi Klum models Michael Kors' new studded summer bag.
Tue 06.11
It seems like NET-A-PORTER's sale will never end, and I never want it to! One of the best additions today? Jason Wu's star-embellished Karlie clutch ($1,077). While the little black bag may be small, it has loads of attitude. It's just the kind of fun accessory you want to bring out to evening events – […]
Fri 06.07
If you squinted and expected to see studs on this bag, then you're not alone. This has the faint feel of Valentino's Rockstud motif, but look for more than a moment and you know it's Michael Kors through and through. The bold, thick stitching is brilliant; it is everything on this bag. They give it […]