Designers
I can't handle this handle – it's so fantastic! Reminiscent of retro satchels and briefcases, the Madras is a grown-up move for Miu Miu, and it's a turn that is entirely welcomed. Especially as we look ahead to the fall season, which always calls for more polish and structure.
Kiss me, Prada! Their latest statement-making patterns prove that lips – and lipstick – can look shockingly hip. Irreverent? Absolutely. Exciting? Yes, indeed. Unexpected? Well, that's almost always to be expected from Miuccia.
As much as I love my neutrals, there is something about a colorful bag that gets my pulse racing and my eyes beaming like nothing else. A brightly-hued bag, especially one that breaks the rules of what supposedly clashes and matches, is like an instant shot of energy.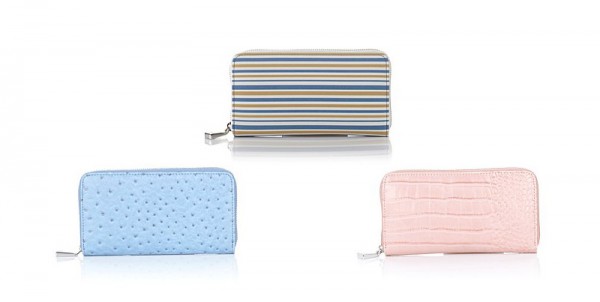 Mini bags are on-trend right now, but I raise the tiny treats one more….what about wallet clutches? Store it in your tote at work, then come night, when you need to downsize for cocktails without downsizing the glamour, carry this as your clutch.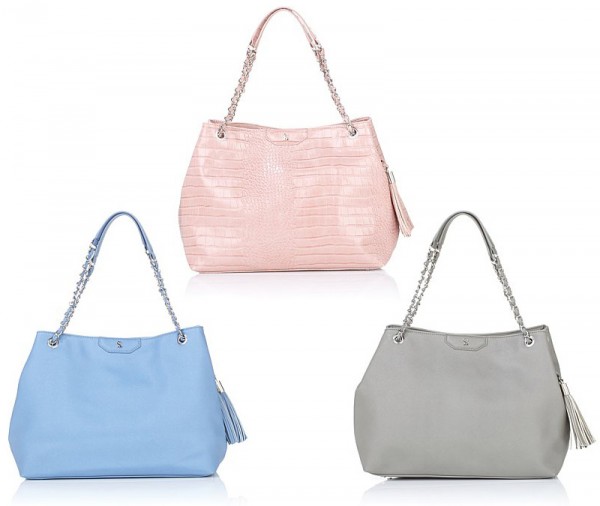 We may not all have the jet-set lifestyle of supermodels, but we can have their bags! In fact, our Drew tote was inspired by the women who rule the catwalks. The one catch? We didn't design it based on the inaccessibly-priced, for-show-only runway pieces these women carry at work.
A few summers ago, I was sitting on the French Riviera, taking a quick lunch between work and all around me were colorful striped canvases. I immediately knew I wanted to capture that sun-streaked moment and keep it with me (as my son says, "Take a photo with your mind").
Summer freedom, and the carefree outings that come with it, is upon us. I just spent the last week traveling and no matter how light my bag is, at the end of walking for about 10 hours, my shoulders, along with everything else, start to ache like never before.
And here's Demi Lovato looking like a Hawaiian breeze ready to ring in the weekend! I love her floral Bardot jumpsuit – so much so that I found others below – but the yellow Céline Mini Tie tote is the true star. Céline anything is always the star of an outfit, isn't it?
I have always loved the construction of Chloé bags, and while they've been on a recent roll this year, this may just be the best yet. The Georgia is an updated saddle style, a refined equestrian bag, if you will.