Designers
There's always a place in my heart for rainbows. Maybe it's the fact they seem a bit magical and represent our dreams coming true. Or maybe it's that there's no visual delight quite like a union of every bright, happy color in the spectrum. For example, Stella McCartney's famed Falabella tote now comes in seven boldly saturated hues, and the bag has never looked better.
Featured Items
…and already we've seen four great sales! First there was NET-A-PORTER's, then Neiman Marcus', and now Shopbop and Saks Fifth Avenue have taken up the cause to help melt away your mid-week blues with deals at up to 40% off. The former's discounts will be available through Friday, while Saks' will last through the whole weekend. The way things are going, I bet there will be more sales to come next week, but in the meantime, make sure you check out these personality-packed steals.
Featured Items
You might find this hard to believe, but I've walked around all day with nothing but my phone and survived, thanks to Apple Pay. Not only did I just survive, I was surprised by how fabulously liberating it felt. Sometimes it's nice to take a load off and travel light. Not long ago, the idea of carrying nothing but a slender pouch seemed crazy. This is the new normal.
Featured Items
A sale on summer essentials before spring is even over? That's a rare and special event – and one going on today at Neiman Marcus! Now through Thursday, shop thousands of select items, all discounted at a lovely 25% off…
Featured Items
Have you entered our Mother's Day giveaway yet? Click here for your chance to win a Jumbo Chanel Classic Flap bag from Designer Vault…
In honor of Mother's Day this upcoming Sunday, I've pulled together a list of gift options (bags, natch) that will not only delight her sartorial sense, but will give her the function she needs as a parent – of a child of any age. Take Elle Macpherson's Hermès Jypsiere. She carried this when her kids were toddlers, and thanks to the timelessness and high-quality nature of Hermès pieces, it remains a go-to for her even now that they're older.
Featured Items
To anyone who questions the frequency with which you show up to lunch carrying a new bag, guess what? It pays to shop. If you've been as addicted to NET-A-PORTER as we have, then you received an e-mail this morning offering you a pretty 25% off discount that's valid now through Sunday on the US site (to save some potential disappointment, note that this excludes items marked "New Season," "Essentials," or "Fine Jewelry"). The deduction is automatically applied at checkout, so just log in here and start shopping!
Featured Items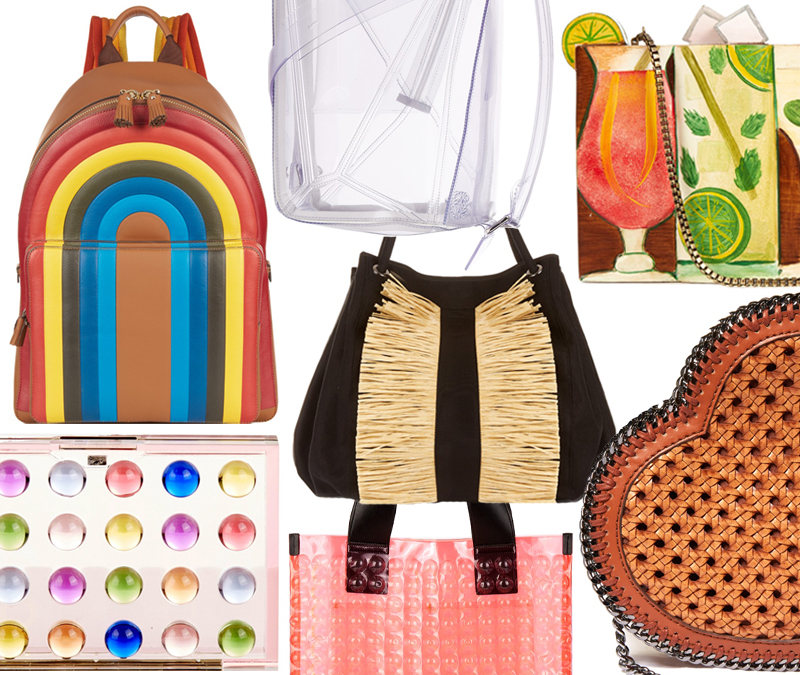 Maybe it's delirium from the heat, but summertime is when I like to get experimental and wear things I never thought I would. Going for something that surprises even yourself is a move guaranteed to make for some fun vacation photos of the "What was I thinking?" variety, but hey, playing it safe only ensures boredom in life. Get out of your shell and throw caution to the wind!
Featured Items
Front is the new back. And pack is the new bag. When it comes to casual dressing, the latest celeb bag trend isn't just the roomy backpack, from the classic and quilted to the rugged and safari-inspired. It's carrying your backpack in the front. Think 360° and use the straps to your full advantage. Also, use your hands. While the appeal of the backpack has long been in its capacity to free you up, now is the time to take a hands-on approach.
Featured Items