Designers
Thu 02.26
While it's easy to get caught up in the new softer textures and pastel-pale palettes of spring, let's not forget, it's still prime shopping time for the end-of-season sales. Just look at this delectable piece of arm candy from Pierre Hardy, now a full 50% off.
Wed 02.25
Leave it to the Brits to bring the camp, cleverness, and cheekiness to the Fall '15 lineup. At London, there was no shortage of personality, to say the least. The question is: who do you want to play with come fall?
Wed 02.25
After a busy NYFW spent studying the latest trends, I'm excited to return to HSN today at noon EST to share our spring collection. Rather than make you wait for fall, we're bringing the best '70s chic looks straight off the catwalk.
Wed 02.25
This little bag is so freaking adorable! I've already been on a round bag kick to begin with, but this one is special to me. I always love Loewe's buttery-soft nappa leather and such a shape, lightly scrunched and all mush-able, really relishes the suppleness.
Tue 02.24
I'm kinda shocking myself by how much I like this bag. We all can appreciate a few rays of sunshine right about now, as the February doldrums fully kick in, but usually something that features such an overt print will start to get on my nerves after a few minutes. Not this. It's actually growing on me the more I look at it.
Tue 02.24
I've long lauded the pleasures of the mini bag. Cute, compact, and yes, scaled to my petite size, how could I not? So I couldn't be much happier that the baby-sized accessory is proving to be the big bag trend of the Fall '15 season.
Mon 02.23
I'm so excited about our brand new bucket, not only because it's totally on-trend but because we've created one that resolves the biggest issue I have with the bag style – the need for outer pockets!
Mon 02.23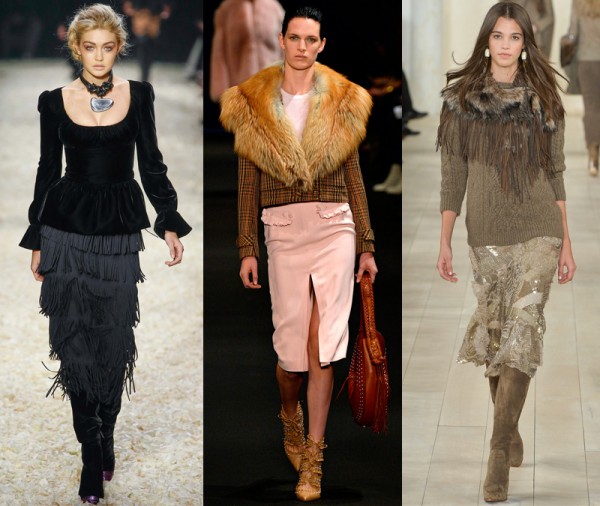 From flourishes with swingy movement to unapologetically tactile fluff to out-of-the-bedroom silhouettes, these are the most major elements of style we'll be wearing come fall, fresh off the New York runways…
Fri 02.20
We all have to grow up some day, so what happens when the famed, longtime fashion character of the mod-hippie girl becomes a woman? Thanks to Francesco Costa and his swingy, sultry Fall '15 work for Calvin Klein Collection, we have our answer.