Rodarte
With all the gorgeous weather as of late, you're finally getting outside and exploring, and as much as I love a platform pump, some adventures require a little more (okay – a lot more) comfort…
So why would you wear head-to-toe leopard?! Pick one of these great pieces, the staples I'm choosing to invest in myself, to wear at a time, and you will have them begging for more.
I have loved Anna Sui since I was a kid in the '80s. At the time, there were no other Asians in fashion for me to look up to; naturally, I copied her signature bold red lipstick and her thick swipe of black eyeliner (still do!). This woman hasn't stopped encouraging individuality and celebrity uniqueness since back then.
I truly dislike nausea-inducing 3D movies. In fact, I hate them. I'm just trying not to use that word in 2014 (hey, I made it one week, right?)! 3D fashion, on the other hand, is a dimension I'm more than happy to step into.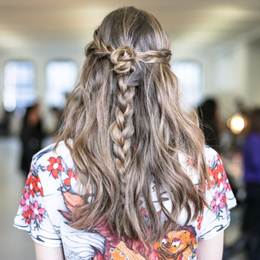 I'm a little obsessed with braids at the moment and there were so many on the runway. Rodarte's ready-to-wear collection was one of the more unfortunate ones I thought. It was inspired by L.A. and kind of a big hot mess. The hair however was fantastic! Working for John Frieda, Odile Gilbert created a "rocker princess with a cool, "undone" texture."
I've found your next obsession – Paire! The new site sells runway pieces that you can't find anywhere else, and what better to wear as you're watching the latest hit the NYFW runways than runway jewelry? I just had to bring a few pieces to NYC. First up was Rodarte's snake collar ($595) – it's exclusive to Paire and somehow also on sale.
Lately, celebs have been passing on full-on cutout dresses in lieu of something a little more concealing – gowns with sheer panels. The style manages to be sexier with more fabric, playing with the fun of leaving more to the imagination. Model of the moment Cara Delevingne is the most recent to try the trend, … Continue reading Celeb Trend: Going Sheer
Often called the fashion equivalent to the legendary Vanity Fair Oscar's Party, the Met Gala at the Metropolitan Museum of Art brings out the best of the world of fashion, celebrity, society, sports, and more. Merging this with the philanthropic mission of the Costume Institute Benefit, and you have one of the world's greatest parties. … Continue reading From Chaos to Couture: Some Awesomely Chaotic Met Gala Fashion
For those who fear color or simply love sticking to neutrals, a dose of creamy lace is the way to stay on top of trends this spring. Soft and pretty, you're never too young or too old to wear it. Black lace is blatantly seductive, while creamy lace captures a sense of effortless sophistication. Perhaps … Continue reading Spring Trend Alert: The Icing on the Cake