Sergio Rossi
When a good sale comes your way, you stop everything you're doing and get to shopping. Items already discounted, some by as much as 50%, are getting an additional cut of 30% off just for Bag Snobs with the code BS30FR. And FREE SHIPPING. What?!
It's that special time during sale season when a mere price reduction isn't enough to turn our heads. As seen on Shopbop yesterday and Luisa via Roma today, it's all about the sale on sales! Right now, LVR is offering an additional 15% off already discounted items…
Each season, I try to prioritize essentials for the upcoming months (so as not to go wild and get five of each!). For fall, it's all about flash and function – a burst of metallic via party-ready sandals, as well as flats and galoshes for those cold, rainy days when a black and white calf hair pump wouldn't be able to hack it.
This is an homage to friends who wear black all year long. When we're bustling over pastels in springtime? They're in black. When we're sporting the brightest, boldest prints for summer? They're not! And I get it – the sartorial choice is perennially chic. Have you ever looked at someone wearing black and thought, "that is just not her color?" No!
Spring may seem far away, but we're always shopping a season (or two) ahead and have already spotted a big trend to watch – winged accessories. While the butterfly is nothing new in fashion, its incarnations are getting more and more intricate from Bottega's abstract patchwork or Sergio Rossi's filigree heels. Which wings will you be flying with this spring?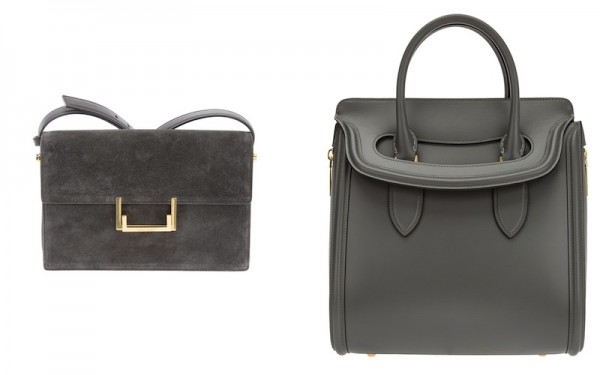 While black and white may be on trend, it's their middle ground that I'm finding even more versatile. Just look to Saint Laurent's suede Lulu bag (on Farfetch for $2,141.48) for proof. You could wear this to work with fall burgundies and cobalts, then break it out come springtime with a green party dress.
As we make our way into fall, we leave the flowy silhouettes of summer behind and embrace structure. What better to do this with than the caged trend? While it's been around for a while, we're starting to see this manifest itself more and more on everything from booties to sexy peplum skirts.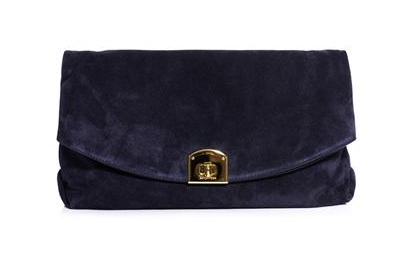 When the season changes, powerful statement pieces are a blast to buy, but you've got to have elements to balance them out. That's why it's so nice to have something new and pared-down for fall, so you're free to go to town on the rest of your outfit. Sergio Rossi's Viva clutch is the answer to your punch-packing graphic prints, tricked-out bomber jackets and textural exotics.
Like father, like son! There must have been some shoptalk at family dinner (wouldn't you love to be a fly on the wall at that house??) because this season both of the Rossi men are creating covetable flared back pumps. The Rossis are too talented – Gianvito's their third generation of shoe designing genius.