Stella McCartney
Wed 09.17
This outfit makes me want to go pick a few pumpkins, then go sip on an appletini while curling up next to a fire. Is it just me? Rihanna is wearing the coziest outfit ever, draped in a Stella McCartney Long-Sleeve V-Neck Chunky Sweaterdressicon and carrying the corresponding Stella McCartney Crossbody Bag (they're sold together!).
Fri 08.22
Abstract florals or an elaborate English labyrinth? Stella's latest take on the Boston bag is like a Rorschach test – it's up for interpretation!
Tue 08.19
The passionate love affair between fashion and art continues, and the latest collaboration between high-end designers and fine artists is from Stella McCartney and British painter Gary Hume. Unlike the major statement made by Prada's latest foray into the art world, this collection veers slightly more towards the understated side.
Wed 08.13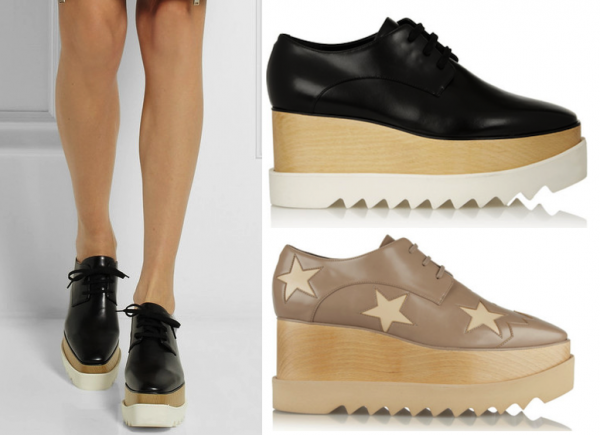 For the past few years, more and more women have incorporated brogues into their wardrobes, and now Stella has taken the popular style and elevated it even further – literally. This is one of those times when I get the idea in my head that I can pull off looks best left to others…
Fri 08.08
Adidas and Stella McCartney may call this a yoga bag, but really it's a gym/baby/carry-on/laptop bag! Yeah, I can see why they trimmed down the name…
Tue 08.05
Forget the Walk of Fame. Who needs a star on Hollywood Boulevard to prove she's a shining Snob?! I mean, these days if you have an active Instagram account, you are technically a star, no?
Fri 07.25
I always find it intriguing to see the inclusion of wood on a bag, and in this case, more than just a touch does the trick. In fact, more is better…
Fri 05.30
Donning denim when it's not in the form of pants, shorts, or anything in the "bottoms" family: I was on the fence until the most recent crop of denim made its showing.
Mon 05.12
Size matters. Like I would be so in love with this Stella McCartney clutch if it weren't so GIANT. And I mean this thing is big, not merely oversized. It's actually the same scale as a carpet bag, just fashioned in clutch form.