Stella McCartney
Thu 01.29
Denim is now nearly unrecognizable! This spring season, designers are taking everything a major step past black skinnies, saucy bellbottoms, and other basic blues. Forget your old jeans, and think more dressed up than off-duty!
Fri 01.23
Just like people, many bags prefer certain climates to others. I'm not just talking seasonal styles. While some only function happily on the balmiest days of summer, others are made with winter weather in mind – and the messiness that arrives with it.
Thu 01.15
We are FAR from shorts weather (unless you've booked a fabulous vacation, in which case, take me with you!), but don't get stuck in a skinny jean rut. Switch up your pant game with some high-waisted, well tailored, slacks.
Wed 12.31
Mirror, mirror, in your closet! But I'm not talking about your full-length reflection…
Thu 12.04
While there's been no shortage of designer sneakers within the last year, it wasn't until Mary Katrantzou's Adidas collaboration that I really got excited about the trend.
Fri 11.28
You know when something's a no-brainer? Like when a sale gets so good, like doubly discounted good, that it would just be dumb to pass up? Today marks one of those happy situations. Our exclusive code gives you an extra 20% off all already reduced sale items on Luisa via Roma
Mon 11.17
I've been heavy into neutrals lately, and if street style trends are any indication, I'm not the only one! Peruse the season's best camel coats in every price range with our first ever Snob Shopping Guide…
Fri 11.07
Who says winter means you've got to ditch bright colors? You don't have to abandon the fun neon trend just because temperatures have dropped. The '80s girl in me wants it all year long!
Wed 11.05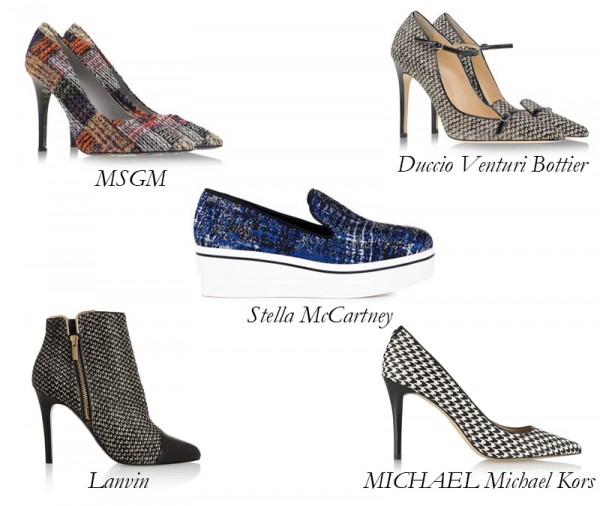 At the start of every winter, I find myself excited for my favorite cold weather-ready fabrics to re-enter my wardrobe. Tweed, herringbone, and houndstooth: it's all so cozy, and there's an instant sense of sophistication that come with these textures.