Stella McCartney
Fri 07.25
I always find it intriguing to see the inclusion of wood on a bag, and in this case, more than just a touch does the trick. In fact, more is better…
Fri 05.30
Donning denim when it's not in the form of pants, shorts, or anything in the "bottoms" family: I was on the fence until the most recent crop of denim made its showing.
Mon 05.12
Size matters. Like I would be so in love with this Stella McCartney clutch if it weren't so GIANT. And I mean this thing is big, not merely oversized. It's actually the same scale as a carpet bag, just fashioned in clutch form.
Thu 04.24
We love when a designer donates a portion of proceeds to charity, but when a campaign like Born Free Africa rounds up 22 major designers to collaborate on a collection that promises to give 100% of its profits, that's nothing short of a movement.
Fri 04.18
If I have to look at one more photo from Coachella, I'm going to lose my lunch – and the festival's second weekend has only just begun. But I do have to credit them with heightening my crop top obsession, which admittedly was already pretty serious. Since the look is hard to pull off at any age, you have to proceed with caution.
Thu 03.06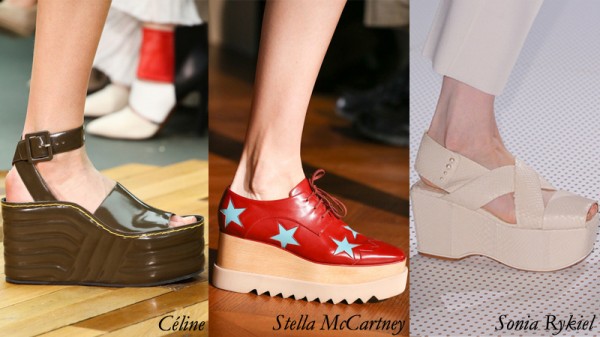 Which is your favorite shoe trend from Paris Fashion Week?
Mon 02.17
…well, florals at least! Spring is here and with that always blossoms a royal garden's worth of prints and appliqués. This season's are some of the best yet from Givenchy's dark, romantic roses to Kotur's girly, pink petals. Yes, right now it is okay and even desirable to wear your mother's sheets. When done right, the look isn't old lady-ish in the least.
Mon 01.27
Rejoice! It's the era of the sweatshirt, and I'm all about comfort couture so this is a trend I'm jumping on. First the Birkenstock and now sweats. Schlepping has never been so chic! Seriously, when are pajamas going to be acceptable to wear out? Oh yeah, that already happened.