Versace
I'm sure you have LBDs stockpiled from here to the next century, but what about LRDs? Red is one of my favorite colors. It's empowering – and also actually a neutral – so I'm pleased to see it taking center stage this season. Which one will have you going rouge?
While you're trying to get through the end of a long week, celebs are sunning in Cannes; and in spite of the potentially awkward tan lines, the outfit of choice often seems to involve cutouts! Karlie Kloss' is about the most sophisticated jumpsuit I've ever seen.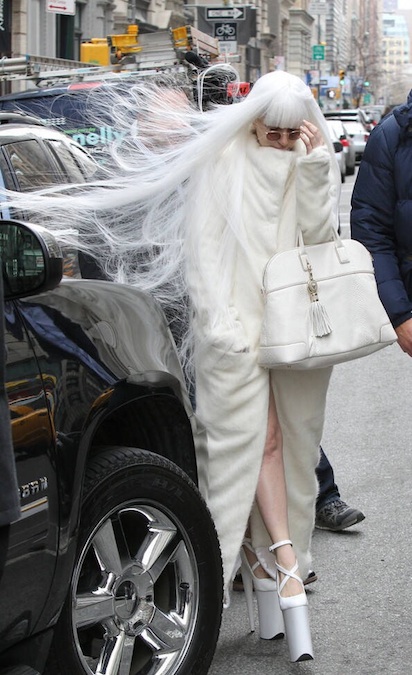 Another day, another eye-popping ensemble from Gaga! This white queen look is so bizarre, and yet, I love everything about it. It's as if she's a ghostly vision from a Japanese manga. And true to her devotion to Donatella, Gaga's carrying a Versace Athena bag.
It was an absolute dream to be able to attend the Golden Globes. Well, I didn't actually attend the awards show, only the parties and I wasn't actually ON the red carpet but I was pretty darn close. Apparently I photo bombed Ryan Seacrest all night on the E! red carpet show, I am hanging … Continue reading Golden Globes 2014: Snob Fashion Awards, Part 1
Julie Bowen really wowed with this sweeping Zac Pozen. The over-the-top look is not what we expect from her which makes it that much more exciting. Plus she looked like she was having fun with it which always makes it look more grand.
I'm off to Punta Mita this weekend and want to make sure I've got everything I need for the sunny seaside excursion. I like to savor every moment of vacation, dressing in pieces that take me from the beach to lunch without a side trip to change in the room. The best are cute dresses … Continue reading Vacation Packing List: Beach to Brunch Summer Clothes
The pant made a big statement at the couture shows, on its own and ironically, even more so under gowns. Valli did it best with glamorous flair, seamlessly integrating matching trousers underneath billowing gowns. I loved the entire collection. Armani also played around with the style, taking the pantsuit to an entirely different level with … Continue reading Couture Spring 2013 Roundup: Fancy Pants
Mixing prints can definitely go wrong, but when done right, it's so right! This trend is not for the weak. Be adventurous, but err on the side of caution. Keep your shoes and bags simple, and minimize jewelry (sometimes there's already some on the dress!). It's about finding harmony in the chaos. If it makes … Continue reading Top 5 Mixed Print Dresses: No Mixed Messages
Sure, Alber Ebaz for Lanvin did it, but I never thought I'd see the day that Donatella would join the ranks of couture-meets-High Street. And here she comes with a bang! This just might be the most powerful high-low collaboration to date. Think bright prints – Asian, Greek, tropical, wild – and you've conjured Versace … Continue reading Versace for H&M: H&M Turns Up the Italiano Heat