Dresses
Tue 03.04
I say this with confidence: When it comes to mastery of the craft and virtuosity of divine execution, Maria Grazia and Pierpaolo are unparalleled. In a most emotional Fall 2014 show, the pair made their inspiration felt by each and every onlooker: unconventional women deeply rooted in a moment of change.
Sun 03.02
See who made the cut on our best and worst dressed lists!
Fri 02.28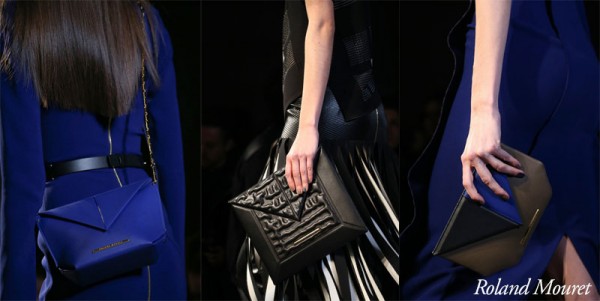 My favorite dressmaker may just become my favorite bag maker yet. Watch this video I made backstage of the Classico bag. The man is pushing envelopes, literally. These envelope-style bags constructed of origami folds (fastened by a single magnet) allow you to play with and change up the flap of the bag at your whim.
Wed 02.12
The lovely prints that have surfaced for the Fall 2014 season are the standouts of New York Fashion Week for me, from the already-dramatic gowns of Monique Lhuillier, Naeem Khan, and Dennis Basso enlivened with inspired prints to the playful dresses by Tracy Reese, Alice + Olivia, and Carolina Herrera.
Tue 01.14
I love the days when Target collection lookbooks are released. They let you prepare your shopping list for the big day when the pieces go up for sale, and thanks to London-based label Peter Pilotto, I have a feeling all of our wish lists are going to run long. Designers Pilotto and De Vos may be scaling back on price, but on print? Never.
Mon 01.13
It was an absolute dream to be able to attend the Golden Globes. Well, I didn't actually attend the awards show, only the parties and I wasn't actually ON the red carpet but I was pretty darn close. Apparently I photo bombed Ryan Seacrest all night on the E! red carpet show, I am hanging […]
Mon 01.13
Florals for spring is hardly revolutionary, but the way designers are reimagining the trend for 2014 certainly is. The look is rougher around the edges than we remember, and I have to say, I love it! The contrast between saccharine sweet blooms and roughed-up style is just what was needed to keep flower power from wilting. Which piece has you excited to step into the new season?
Mon 12.16
Mira Duma's at the top of every designer's list. First Roger Vivier and Michael Kors, now Oscar de la Renta for his second Outnet-exclusive collection which will be hitting the online outlet tomorrow.
Mon 11.25
Costume designer Trish Summerville and I caught up on the red carpet of the Catching Fire premiere to discuss her work on the film and her tie-in collaboration with NET-A-PORTER – Capitol Couture. Trish didn't make the costumes for the first Hunger Games, so she had to play catch-up, and in the end, far outdid all expectations.