Fashion News
Mon 12.16
Mira Duma's at the top of every designer's list. First Roger Vivier and Michael Kors, now Oscar de la Renta for his second Outnet-exclusive collection which will be hitting the online outlet tomorrow.
Sun 09.08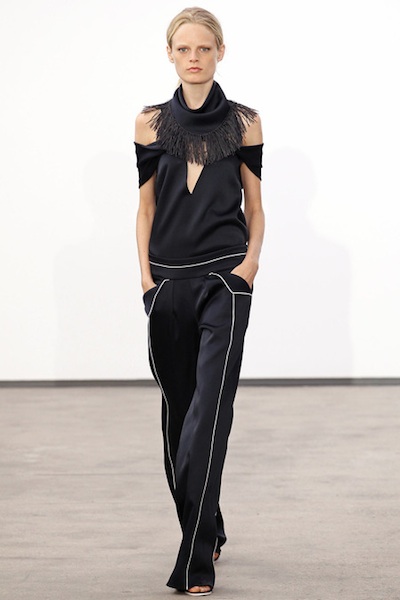 Spring 2014 marks a masterful collection from Derek Lam, one that's impossibly covetable and wearable in equal measures. I spoke with him just 30 minutes before the show, and he gave me the lowdown on what inspired him.
Wed 02.06
My dear friend Leandra Medine is launching her first clothing line during Fashion Week! With all of her readers in mind, she's partnered up with PJK, a company known for chic basics at accessible prices. Leandra's vision for the collection is very fantastical, though – think flare leg overalls, unicorn tank tops, and silk mermaid […]
Fri 12.14
Winter is the best time to try out different legwear. I mean who wants to be limited to just pants or basic tights?? Cold weather challenges us to expand our fashion horizons (sometimes this is good, sometimes not so much – but it's the effort that counts!). From bright, funky patterned tights to pantaloon-style pants […]
Mon 12.10
Kate Bosworth channels Jessica Rabbit in her new music video for TopShop's holiday campaign.  Wearing a Topshop burgundy backless number and matching heels, Kate sang a sexy rendition of "Winter Wonderland" atop a piano, reminiscent of Rosemary Clooney in White Christmas, but with a little more va-va-voom and leg. The dress and shoes worn in […]
Wed 09.05
It's a collaboration nation we live in, and I couldn't be happier about it! Collaborations allow designers to work with sources whom inspire and, at times, invigorate their creativity. One of the most exciting collaborations of SS 2013 is by my friend and DJ extraordinaire– Mia Moretti with contemporary New York brand, Pencey. The 10 […]
Thu 05.31
They often say that suits are like the lingerie equivalent for women. I'd be willing to concur, as there's nothing more attractive (cue the list of dapper synonyms) than a man in a tailored suit. Appropriately, MR PORTER, one of my guilty pleasures, is partnering up with USA Network's 'Suits,' a show focusing on a […]
Mon 05.07
Tonight, we have fashion's version of the Oscars, the Met Gala. Without a doubt, this is one of the most anticipated events of the year, and the clothing (and yes, couture) is stunning! So take a load off, mix a cocktail, and watch the Red Carpet from the comfort of home at amazon.com/fashion!
Thu 01.26
A basketball court gone eerily ethereal. This set the tone for Riccardo Tisci's take on Givenchy Couture – and it's not the gauzy, floral, effervescent Spring collection most designers have in mind. And we wouldn't have Riccardo any other way! Inspired by the groundbreaking 1920s film Metropolis, there were industrial touches like bold metal spikes, not to […]