Hats
Tue 04.08
Reese Witherspoon shows off her sunny disposition not just with a smile, but with a vibrant yellow sweater. This is transitional dressing at its best, not to mention a great excuse to show off your legs if you keep them as toned as Reese's!
Mon 02.17
The Olympic Games are well underway, and yet one of its biggest issues continues to loom at large – the Russian government's discrimination against the LGBT community. Enter Principle 6, a campaign to remind all of the Olympic Charter's prohibition of just such prejudice at the Games.
Fri 12.20
I love any party where not only is a headpiece acceptable but welcomed (you could say I'm fascinated with fascinators – pun intended!), and there's no celebration better at that than New Year's Eve.
Fri 10.04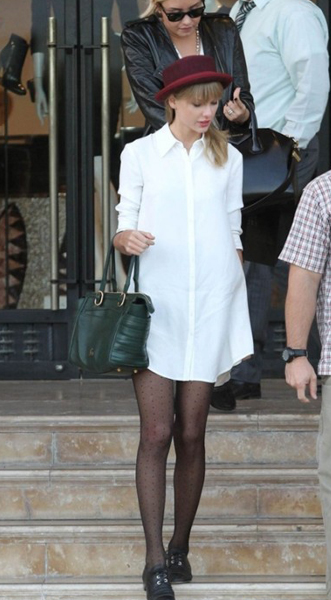 Now I love a good shirt dress, especially this time of year. They are comfortable, versatile, and look great with flats or heels which is a plus when the weather starts to turn. However, there's something about this particular dress that's a bit too man-ish? I get that's the idea of the look, but this one is a bit too bulky.
Fri 09.20
One trend that seemed ubiquitous on the runways at NYFW was athletic wear, and what better to top that with than a chic baseball hat? I know, it felt as weird to write that as it is for you to read it, but hear me out! I got a black leather cap at Barneys last year, and it's now the most versatile hat I own.
Thu 09.19
I've long been enamored with the flattering cut of Rag & Bone jeans and the instant glam that comes with one of their fedoras, but in the last year I've come to realize that the CFDA-winning duo, David Neville and Marcus Wainwright, also know how to design quite the tailored jacket.
Fri 08.16
When it comes to hats, more is never, ever enough, so I've found extra fall options guaranteed to enhance any collection. Best of all, they keep you chic and warm, transitioning your look perfectly into winter. Some will go with just about everything in your wardrobe, while others are meant to be the central component of an outfit.
Wed 06.12
One of my favorite things about the beginning of each new season is the hat shopping! Summer has some fun options, but fall is when the hat department really starts buzzing. From lacy berets to hybrid hats to silk newsboy caps, there's no shortage of unique accessories. Here are some choices that'll have you holding […]
Wed 05.22
Emmy Rossum has spring/summer travel style down pat. From her bold pants to perfect hat/shoe combo- she keeps it fresh, chic and comfortable all in one snappy outfit. This look is easy to travel in, yet looks flawless coming out of the gates. Steal her style for the next time you fly!