Jackets
After you spent all that time deciding what to pack for your trip (and which bags to pack everything in), dressing for a long flight can feel more daunting that it should. Now imagine you KNOW you're going to be photographed by the paparazzi…
Sooo…we're on a bit of a pink kick today! Can you blame us?? The sun is shining, the birds are singing, and we are ready to walk out in the midst of it all looking just as light and cheery.
If there's one item that never goes out of style, it's the blazer. There are many different kinds to choose from, though, and the trendiest at the moment is one with a sleek shawl collar.
Pantsuits tend to be aging, even the sleekest ones out there, which is exactly what makes this youthful winter white so refreshing…
First Gwyneth Paltrow opened a pop-up shop in LA, and now she's come down south with a Michelle Nussbaumer-designed space in Highland Park Village! Through December 14, Texans can shop a specially curated selection that includes everything from Stella McCartney to Jennifer Meyer Jewelry to Staub Kitchenware…
There's something for every shopper in the new DKNY x Cara Delevingne collection, ranging from beanie hats and t-shirts to pink shearling coats. Style-wise, it leaps all over the place, much like the jet setter herself.
It's almost time to start bundling up! Are you ready?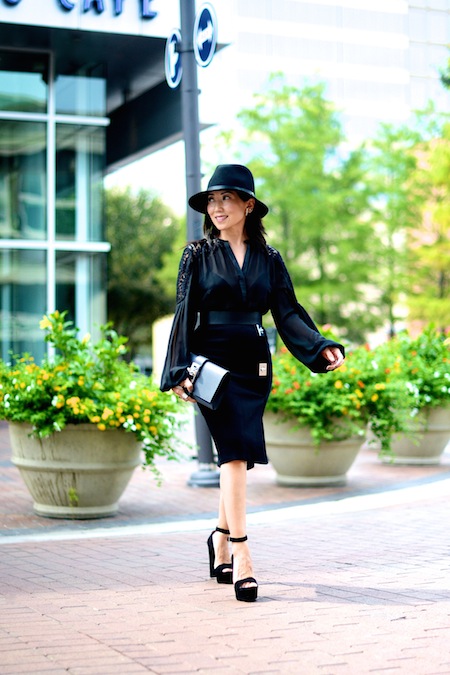 No matter which year or season it is, fashion's perennial favorite uniform will always be all black. It's as sure as the sun rising each day, or Anna Wintour's sleek bob. And this is not just because black flatters everyone, but because of the easy, cool factor it guarantees. Though the look feels luxe, there's no need to spend a fortune.
You probably already have a black leather jacket that you love and wear to death. It's a basic worth investing in that you'll have for the rest of your life, a piece you can throw on with just about anything! With fall soon upon us, though, I'm looking for something a little different – a leather jacket with unexpected flair.