Bracelets
Wed 08.14
As summer cools down we start to bundle up, and our jewels are no different! Woven cotton adds a boho feel to even the most elegant pieces, relaxing them to optimal wearability without losing any of the chic style. Which artisanal jewel will you be wrapping yourself in this fall?
Tue 07.23
Tassels have a long and versatile history. Think about it – the same accessory that hangs from your mortarboard at graduation is worn on stage by burlesque performers. Somewhat ironically, the first mention of the tassel came in the Bible when God claimed that wearing one would help you remember the 10 Commandments.
Fri 07.12
…even when you're not! That's right – I'm not going to let the fact that I'm already married stop me from commandeering these looks. I've been excited about the jewels since I saw them at Jenny Packham's runway show. I love that the Swarovskis are set like diamonds – it elevates the look without elevating the price…
Thu 07.11
Not the kind of hand cuff you'd expect – far better! Ana Khouri's creation wraps gently around your hand like a sophisticated snake (it's handmade from 18k rose gold and 1.5 carats of diamonds!). This is for the Jewel Snob who has everything because frankly, it's pricey. Considering a hand cuff is such a novelty, I'm not sure it's worth the investment…
Wed 07.03
NYC artist Eva Zuckerman (Fehren is her middle name) makes fine jewelry, but she doesn't rely on the high-quality gems and metals to impress you (although those are pretty breathtaking!). These pieces are all about delicate, yet impactful design. After earning a degree in fine art from Cooper Union and working with Snob favorite Monique Péan, Eva started her own line in 2011 and quickly won rave reviews with the X Collection.
Thu 06.27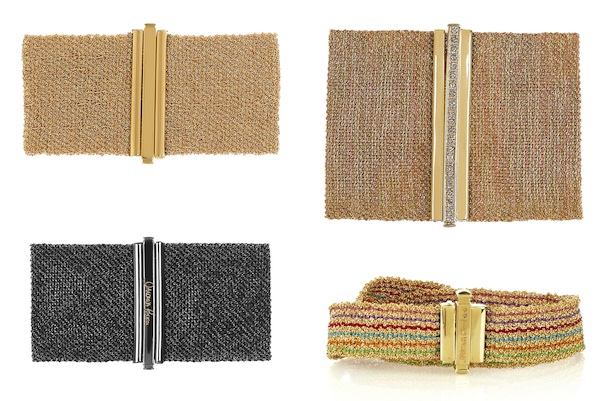 It's always nice to find pieces that are both unique and wearable like Carolina Bucci's woven gold cuffs. They're great for summer when you want to make a big statement with minimal effort. Weaving delicate precious metal pieces together requires a level of craftsmanship that makes this investment worthwhile.
Wed 06.26
As a Vita Fede superfan, Plukka's Arrowhead cuff immediately caught my eye – and not necessarily in a good way. The white sapphire and black spinel-accented bracelet bears a striking resemblance to Cynthia Sakai's popular crystal Titan (on Intermix for $375), especially the super sparkly ones from the fall 2013 collection…
Mon 06.24
One crystal is nice, but ten is better! Go big or go home, right? These kaleidoscopes of color are summer fun that will liven up any old outfit. They look like bright pieces of candy, and are just as hard to resist. I say give in to your sweet tooth. The opulence of dripping in […]