Rings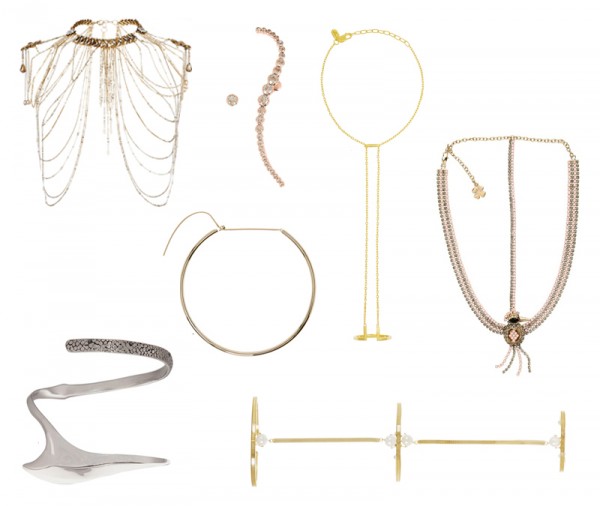 Rings that just sit on one finger are so passé. A plain, dainty anklet is old news. And what's a stud earring without an accompanying cuff?! Okay, I'm kidding, but the point is: There's a genuinely new shift in motion. Jewels have gone the way of the unconventional…
Ana Khouriicon takes personal expression to another level…another stratosphere, really! Both Tina and I have fawned over the Brazilian designer's hand cuffs before (they're not what you'd think), and with each new piece I discover, I find myself more and more intrigued.
There seems to be a relatively consistent image of what a successful woman should wear, from hair and makeup to clothes and shoes. While fitting this mold isn't a bad thing, sometimes a girl just wants to branch out, toughen things up a little bit.
It's a perfect symphony when Derek Lam joined forces with former NYCB ballerina and current jewelry designer Jamie Wolf for a collection honoring the New York City Ballet, inspired by famed choreographer George Balanchine.
Jewelry designer Julia Hagen pairs cocktail rings and cocktails for Derby Day! Read about her picks here…
I've been addicted to auctions ever since I started shopping on eBay in 1999. I love the thrill of the chase, and the stakes just got higher with Paddle8.
Have you entered to win our Lele Sadoughi giveaway yet?
Gold has been capturing the desires of people for thousands of years (did you know the earth's gold likely originated from colliding stars?!), and for good reason. Timeless and sophisticated, no metal is more alluring, and only real gold will do.
When it comes to holiday dressing, nothing is more fun than piling on jewels, so in honor of the season of giving, we'll be giving away five special pieces, courtesy of the lovely Lele Sadoughi!