Pants
Wed 12.04
The holidays are upon us and so are the calories the season brings. There's no better time to try on this figure-forgiving, celeb-favorite trend…
Mon 11.25
Costume designer Trish Summerville and I caught up on the red carpet of the Catching Fire premiere to discuss her work on the film and her tie-in collaboration with NET-A-PORTER – Capitol Couture. Trish didn't make the costumes for the first Hunger Games, so she had to play catch-up, and in the end, far outdid all expectations.
Fri 11.15
The Spring 2014 runways were coated with jewels – at least the leg wear was! The sparkle came in all shapes and sizes from Simone Rocha's pearl-embellished knee-highs to Tom Ford's full-body crystallization. Admittedly, these are looks that require a grand forum, so I've picked out some pieces that are less editorial and more everyday.
Wed 11.13
The holiday season is all about decadence – bright lights, rich colors, and of course, lush textures. The best way to celebrate in style is with some soft, chic velvet. The drama ends there, though, because the keys to pulling off the slinky fabric are muted colors, impeccable tailoring, and minimalism (Multiple pieces at once? A definite no!).
Fri 11.08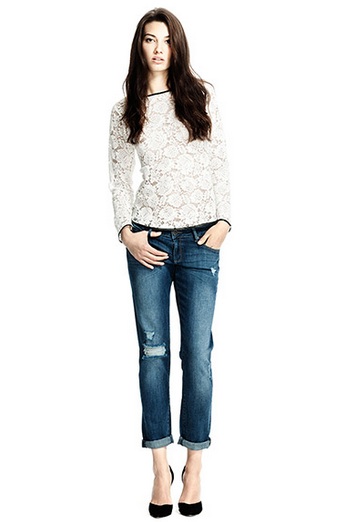 When I put on a pair of boyfriend jeans a few months ago, my husband laughed so hard he almost peed his pants. They're just too baggy for petite girls (the crotch sagged all the way to my knees!). Truth be told, I could've fit three of me in those jeans. At the same time, I'm sick of skintight skinnies that demand you skip dinner the night before.
Fri 11.01
Dressing appropriately for work is not always easy for a Snob with a strict office dress code, but where there's a will, there's a way! Replace those boring khakis with some color and add some sophisticated sparkle via unique, yet understated black crystals. Show your respects to the traditional office uniform with a basic white button-down and some black heels (closed-toe is a must).