Pants
Mon 06.23
With the temps heating up, we're all turning to cool, silk pants, and Joe's Jeans just came out with some of the best. There are nine colors and prints, ranging from classic black to plaid to my favorite – leopard! Check out all the different ways you can style them…
Fri 06.13
It's said that you should never leave the house in sweatpants. But what about silk sweats?
Tue 05.20
I recently found a photo of myself from the 10th grade prom. I could barely remember my date's name, but that white lace dress? Unforgettable! It was a youthful, fresh look that's perfect for summer – and not just for brides or prom-goers.
Mon 05.05
Denim on denim at one point used to be a fashion faux-pas. The Canadian tuxedo seems to be becoming a celeb trend as the weather warms up…is it cutting-edge snob or still Slob? You decide.
Wed 04.30
Lululemon has really up'd their fashion game. They have a launched a bunch of new items that would look just as appropriate at the gym as they would for a casual night out or for post-workout brunch. Some of them you could even get away with wearing to work to maximize the likelihood of squeezing a workout in.
Mon 04.28
If you had a baby in the U.S. anytime after 1950, this print will look lovingly familiar to you. And if you didn't, then the mystery of why every single newborn picture shows a tot wrapped in the same pink and blue striped blanket is about to be solved. Each baby is given one at the hospital, meaning there have been over 25 million doled out throughout the years.
Wed 04.16
I love pink, I love leather, and yet I'd never been able to find the pink leather of my dreams…until I saw Jamie Chung in J Brand's Aiah jacket at Coachella, that is! The hibiscus hue is perfect, so of course it's sold out. This has sent me into search mode for the past couple days, looking for more delicious, bubble gum pink…
Tue 04.08
Reese Witherspoon shows off her sunny disposition not just with a smile, but with a vibrant yellow sweater. This is transitional dressing at its best, not to mention a great excuse to show off your legs if you keep them as toned as Reese's!
Fri 03.14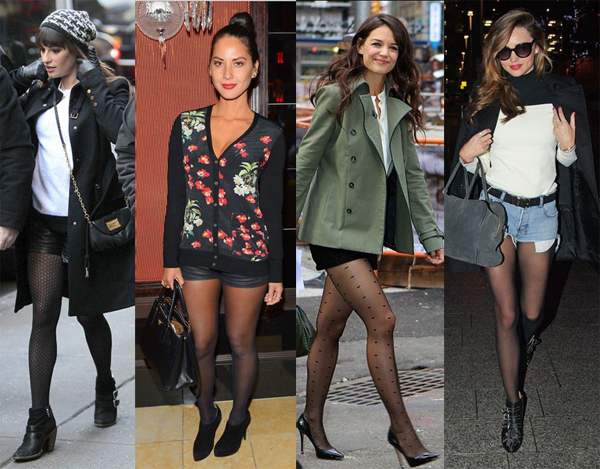 Shorts can be summers best friend or your worst enemy. But what about in winter? Do you dare to throw on a pair of tights and brave the elements in the name of half-pants? You decide.