Peep Toe
You can't rationalize indulging in every trend that pops up, but considering lace-making has been around since ancient times, you're pretty much guaranteed to get a lot of wear out of the style. And it doesn't hurt that we saw it grace the Fall and Spring catwalks. So what'll it be? Pumps? Booties? Flats? I'll take them all! Lace up your shoes with these romantic picks…
Okay, we're not even halfway through the decade, so there are certainly more trends to come! But we already spotted quite a few, ranging from vampy cutout shoes to simple ballet flats. It seems that we've finally learned to mix style and comfort. There's a little something for everyone, whether you like a bird's eye view atop skyscraper heels or prefer to stay grounded.
Gucci's fall shoes are gorgeous, so much so that this could be one-stop shopping for the season's essentials. They're very well made, and while not Frugal Snob friendly, the shoes are priced better than those from other established brands (except for the python booties – they also come in leathericon for only $895, though!).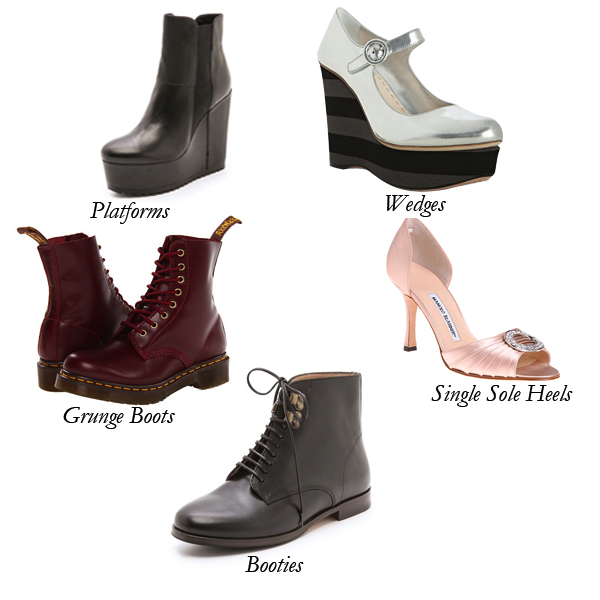 When it comes to shoes, I definitely peaked in the '90s – partly because the platforms were so high! On MTV Asia, I would interview celebs like the Spice Girls, all of us sporting those same crazy shoes.
It's always disappointing when the time comes to store your chic summer sandals away for another year. Fill that void by indulging in a slew of stylish winter boots! Just don't let yourself get carried away with buying ones that are all for the same purpose or occasion.
Emily VanCamp attended the Dramatically Different Party By Clinque New York City recently wearing a Preen By Thornton Bregazzi poppy print jersey dress and B Brian Atwood Leida pumps. Emily looked prim and proper with her hair slicked into a ballerina bun with sweet pink lips and simple eyes…
Taylor Swift proved she is not afraid of heights recently when she sported Christian Louboutin Karina booties, which stand at  4.5" high, to the 2013 MuchMusic Video Awards in Toronto. These intricate booties have a strappy suede cage with parent leather pickstitching down the center and bring the heat when it comes to sex appeal. … Continue reading Taylor Swift Towers in Toronto: Get it Girl
The Great Gatsby has been in theaters for a while now, but fashion's Art Deco revival shows no signs of stopping. Here's hoping it stays that way – we could all use an extra dose of glam! The black suede and metallic gold leather on these T-straps from Charlotte Olympia (at Bergdorf Goodman for $1,195) … Continue reading Trend Alert: Art Deco Shoes
Sometimes feeling caged isn't such a bad thing. The shoe trend continues to ride high and will all the way through fall, so find a pair you love and step right in. Besides, some of these are on sale. Hello! It's a sign from the universe (or Bergdorf Goodman – depends on which altar you … Continue reading Top 5 Caged Sandals: Strappy Situation