Skirts
Tue 11.11
While we're on a '90s kick, let me mention yet another of the decade's most beloved looks – the checked skirt. This pattern has got to be the biggest street style trend of the season.
Tue 09.30
Every year, without fail, layering is a key look for fall, whether you live in perennially sunny LA or on the East Coast where there are actually four seasons. Effortless layers are the way to go, but achieving the look can be time consuming or worse – leave you looking more frumpy than fashionable…
Thu 09.25
When it comes to sexy with a dash of athleticism, nothing beats neoprene. Every season we see more and more of the flexible fabric, on both dresses that mold flawlessly to your body and shoes that, as Balenciaga points out, fit like a glove.
Mon 09.15
It's another home run for Target collabs! This is Frugal dressing at its best. Python prints, swiss dot tops bedecked in pussy bows, thick belts to cinch in a womanly waist…Joseph Altuzarra's are rich, sumptuous pieces – the kind you would expect to pay way more for than you will.
Sun 09.07
Jason Wu's Spring '15 collection gave way to my favorite show thus far. Simply put, it was beautiful. Sans bells and whistles, no stage antics: the clean, gleaming runway let the pieces, as well as the ladies wearing them, shine as they should.
Thu 08.14
For his mere 30 years, Joseph Altuzarra isn't just an especially precocious designer. He makes elevated clothes for the fully realized, fully grown woman. Happily, his latest venture is no exception. Runway versus real life? Where many designers have trouble bridging the gap, Joseph has effortlessly solved the equation with his highly covetable, entirely wearable collection for Target.
Wed 08.06
It's a well-documented fact that Beyoncé can do no wrong, but in case you'd forgotten, here she is in all her 3.1 Phillip Lim glory to remind you!
Wed 05.14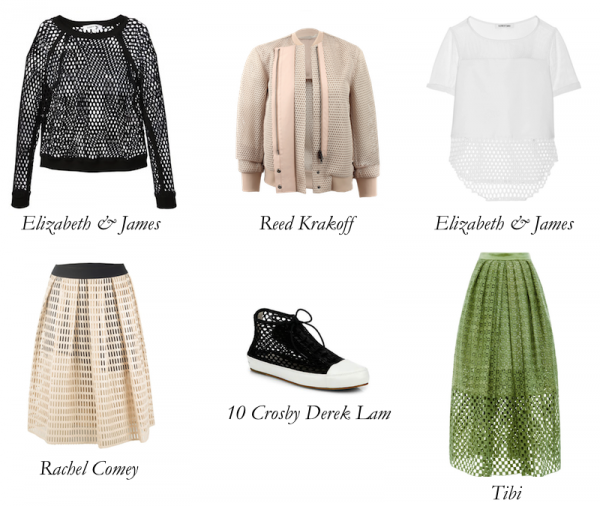 We played with mesh inserts last winter, but now that the weather is on our side, I say we go full-on mesh! It's an edgier take on the ladylike lace so prominent in spring, but we're not talking delicate mesh. I'm craving the loose, fishnet-like kind – the type that requires strategic layering.
Tue 03.18
Have you ever fallen in love with a piece seasons after it came gliding down the runway? Somehow it fell through the cracks, and now you have little to no chance of finding it…