Tops
Fri 11.07
When you think feathers, you think formalwear. Such decadent accents have long been reserved for special nights out when evening gowns and glittering minaudières take the place of your comfy sweats and relaxed tees…but that's all changing.
Wed 10.22
So why would you wear head-to-toe leopard?! Pick one of these great pieces, the staples I'm choosing to invest in myself, to wear at a time, and you will have them begging for more.
Wed 10.15
Designers have made it easier to go from yoga to brunch and beyond. Check out some "street-friendly" styles that will have you looking and feeling pumped up. Workouts never looked so good!
Tue 10.14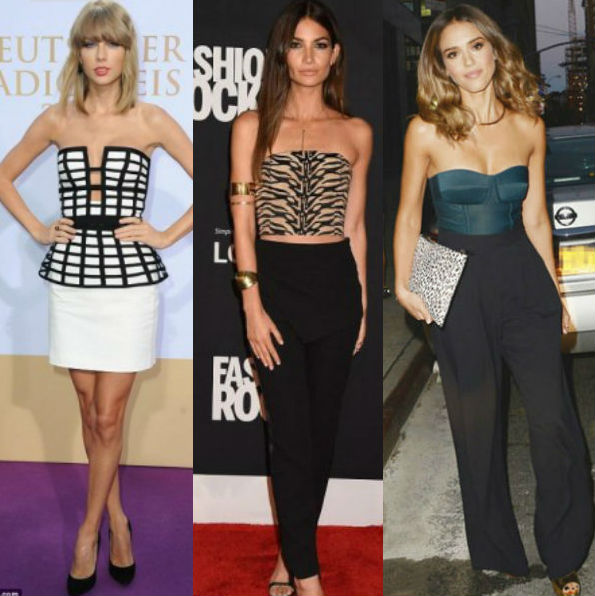 Bustier tops were spotted all over the runways at NYFW this year, and stars have already been spotted sporting this trend in all shapes and patterns.
Fri 10.10
Some Snobs aren't so excited for autumn, but I say, bring it on! Starting a new season is like opening a brand new closet. You haven't seen these pieces for half a year! And now that the faux fall of the past month is over and we're really getting into the chilly weather, I'm ready to bundle up in some oversized knits.
Thu 10.09
Some days demand comfort, but comfort and style need not be mutually exclusive. With this season's crop of bejeweled, laser cut, and lushly accented sweatshirts, normcore is getting a swift kick out the door (or at least, I'm hoping!). Here are my favorite fancy sweatshirts for fall…
Tue 09.30
Every year, without fail, layering is a key look for fall, whether you live in perennially sunny LA or on the East Coast where there are actually four seasons. Effortless layers are the way to go, but achieving the look can be time consuming or worse – leave you looking more frumpy than fashionable…
Mon 09.15
It's another home run for Target collabs! This is Frugal dressing at its best. Python prints, swiss dot tops bedecked in pussy bows, thick belts to cinch in a womanly waist…Joseph Altuzarra's are rich, sumptuous pieces – the kind you would expect to pay way more for than you will.
Thu 08.14
For his mere 30 years, Joseph Altuzarra isn't just an especially precocious designer. He makes elevated clothes for the fully realized, fully grown woman. Happily, his latest venture is no exception. Runway versus real life? Where many designers have trouble bridging the gap, Joseph has effortlessly solved the equation with his highly covetable, entirely wearable collection for Target.