Tops
Thu 01.22
Pantsuits tend to be aging, even the sleekest ones out there, which is exactly what makes this youthful winter white so refreshing…
Fri 01.16
Sometimes you see something fab, but then again, you feel like it's probably way too specific to make it a reality in your life. Take Esteban Cortazar's cape-like, flowing chiffon top: When you first see it, you might think "one-night stand," but this is a piece that's down for some commitment.
Wed 12.24
Forget awning, Bengal, zebra, Breton, repp, and candy stripes. Even pinstripes. The chicest of all breeds of stripes is chevron!
Fri 11.07
When you think feathers, you think formalwear. Such decadent accents have long been reserved for special nights out when evening gowns and glittering minaudières take the place of your comfy sweats and relaxed tees…but that's all changing.
Wed 10.22
So why would you wear head-to-toe leopard?! Pick one of these great pieces, the staples I'm choosing to invest in myself, to wear at a time, and you will have them begging for more.
Wed 10.15
Designers have made it easier to go from yoga to brunch and beyond. Check out some "street-friendly" styles that will have you looking and feeling pumped up. Workouts never looked so good!
Tue 10.14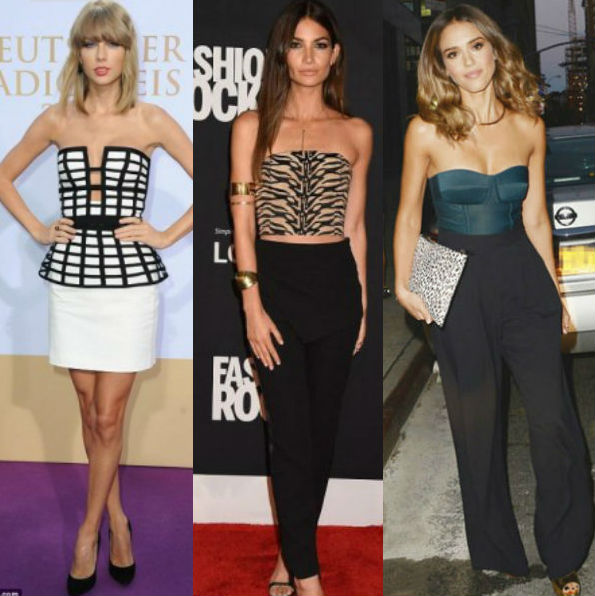 Bustier tops were spotted all over the runways at NYFW this year, and stars have already been spotted sporting this trend in all shapes and patterns.
Fri 10.10
Some Snobs aren't so excited for autumn, but I say, bring it on! Starting a new season is like opening a brand new closet. You haven't seen these pieces for half a year! And now that the faux fall of the past month is over and we're really getting into the chilly weather, I'm ready to bundle up in some oversized knits.
Thu 10.09
Some days demand comfort, but comfort and style need not be mutually exclusive. With this season's crop of bejeweled, laser cut, and lushly accented sweatshirts, normcore is getting a swift kick out the door (or at least, I'm hoping!). Here are my favorite fancy sweatshirts for fall…