Tops
Wed 07.09
If there were ever a collection that seemed to be curated entirely for me, this is it. Narcissism aside, my deep affinity for Balmain stems not only from the brilliant interpretations Olivier Rousteing produces each season, but from the artisanal craft coming forth from each and every, single piece.
Tue 07.01
You probably already have plans this weekend that involve friends, fireworks, and a lot of delicious food. Though that's certainly a great way to celebrate July 4th, how about adding on to that? By shopping! Yes, there really are few things more American than that, however, I'm talking about socially conscious shopping – supporting a clothing line that builds up our economy and provides jobs for Americans.
Wed 06.18
The Queen of the Wrap Dress has something new for us to wrap ourselves in – silk vests. These are perfect for summer nights when you want to keep out the chill or days when you just want to look hot!
Wed 05.14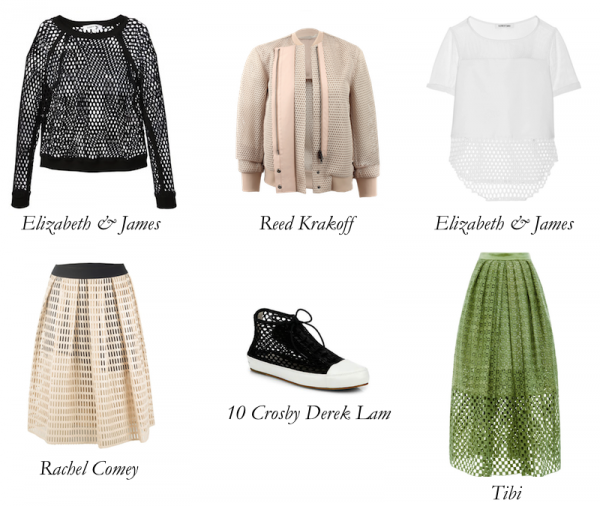 We played with mesh inserts last winter, but now that the weather is on our side, I say we go full-on mesh! It's an edgier take on the ladylike lace so prominent in spring, but we're not talking delicate mesh. I'm craving the loose, fishnet-like kind – the type that requires strategic layering.
Mon 05.05
Denim on denim at one point used to be a fashion faux-pas. The Canadian tuxedo seems to be becoming a celeb trend as the weather warms up…is it cutting-edge snob or still Slob? You decide.
Wed 04.30
Lululemon has really up'd their fashion game. They have a launched a bunch of new items that would look just as appropriate at the gym as they would for a casual night out or for post-workout brunch. Some of them you could even get away with wearing to work to maximize the likelihood of squeezing a workout in.
Tue 04.29
Forget the tank, tee, tube, and even white button-down. Effortlessly feminine and perfectly sweet (yet not without spice), bustiers are my favorite summer-style tops. But finding a bag that won't leave unsightly marks is quite a challenge at times. Forget your classic chain-strapped Chanel bags, unless you don't mind welts on your bare shoulders…
Mon 04.28
If you had a baby in the U.S. anytime after 1950, this print will look lovingly familiar to you. And if you didn't, then the mystery of why every single newborn picture shows a tot wrapped in the same pink and blue striped blanket is about to be solved. Each baby is given one at the hospital, meaning there have been over 25 million doled out throughout the years.
Mon 04.14
I went to see the new musical Harmony last week, and fell in love with one of the character's capes – a velvet capelet with long straps that went under the arms and tied in the back. Some costumes can only be pulled off on a stage, but these are pieces you can integrate naturally in everyday life, whether you're on the beach, playing in the rain, or out on a Friday night!