3.1 Phillip Lim
Mon 07.21
Contrary to what we might hope, bags are not always "one size fits all." Skinny, young things may be able to get away carrying just about anything, but my well-endowed girlfriends have trouble finding even a simple crossbody. While you can certainly buy any bag out there, the truth is that different bags flatter different body types. See which will work best for you!
Mon 07.14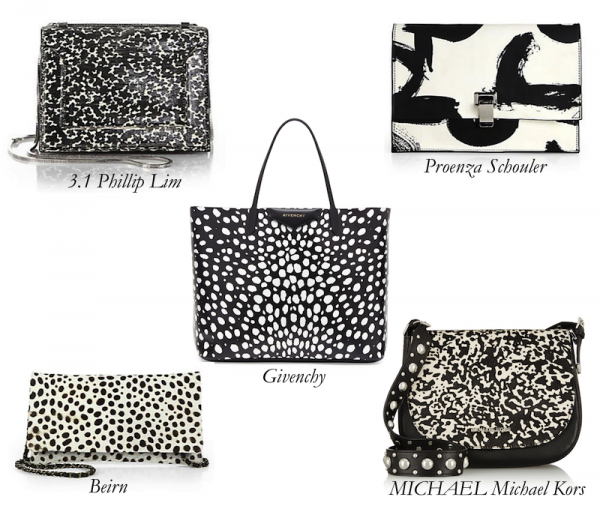 A printed bag in black and white may seem specific, but this is the most versatile color scheme you can ever find…
Wed 06.18
NARS has been doing the nails of Phillip Lim's NYFW models for the last 14 seasons, so this collaboration is no mere whim but rather the result of a long and beautiful partnership.
Thu 06.12
Resort is no mere iteration of Fall or a lead-in towards Spring. It's now a well-established season unto its own…
Fri 05.30
This bag is kind of ridiculous…in a good way. You know what I mean. It is so over-the-top and crazy that it crosses the line and eases into "awesome" territory.
Thu 05.08
When you think neutral, it's easy to think boring. But that's just not the case! The term encompasses everything from beige to white, black, camo, and if you ask me, even red.
Tue 04.08
Reese Witherspoon shows off her sunny disposition not just with a smile, but with a vibrant yellow sweater. This is transitional dressing at its best, not to mention a great excuse to show off your legs if you keep them as toned as Reese's!
Fri 04.04
Graphic black and white was last year's biggest spring trend. Actually, it was probably the biggest trend of the year, one that has stuck around and likely won't go anywhere too soon. Because really, when is the classic duo not in style?
Wed 02.26
I love a great white bag, but hate the high maintenance it demands. The solution? Buying one that's already distressed! Without an optic sheen, the look becomes wearable all year round. I have a white cracked leather Proenza coat, and it's the single most versatile moto jacket I own.