3.1 Phillip Lim
Wed 02.26
I love a great white bag, but hate the high maintenance it demands. The solution? Buying one that's already distressed! Without an optic sheen, the look becomes wearable all year round. I have a white cracked leather Proenza coat, and it's the single most versatile moto jacket I own.
Wed 02.26
When it comes to classic-cool style amped up by a thousand percent, Phillip Lim puts other designers to shame. He has an eternally fresh sensibility, something you just can't fake. Once again, Phillip has brought his downtown-with-a-hint-of-uptown aesthetic together in a flawless manner: the result is an amazingly edgy shoulder bag.
Wed 02.19
We're used to flipping through fashion glossies and perusing runway photos for style inspiration, but thanks to social media, the democratization of fashion can actually make your next-door neighbor more influential than even the most famous fashion editors. Take Luvocracy, where you can recommend everything from lipstick to kitchen utensils to your followers.
Thu 02.13
We're never surprised to see fur grace the Fall runways, but the number of fur bags this season is off the charts. From Donna Karan's shaggy style (her 30th anniversary collection was all about movement) to DVF's trim shoulder bags, black seemed to be the shade of choice, with Vera Wang also throwing her noir beaver shopping bag into the ring.
Mon 02.10
Or should I say, here comes Soleil? "This season, I gave her a name: Soleil," said Phillip Lim of his Fall 2014 woman. "A fun and culturally curious woman, her world is somewhere between instant pop and culture." She's also a more evolved version of the original Lim girl.
Tue 01.14
As soon as New Year's passes, the interminable feeling of winter begins to set in, leaving us somber and our clothes, heavy and layered. Fight off post-holiday ennui with polka dots! It's just what the doctor ordered, and by doctor, I mean Phillip Lim – he has the monopoly on the look this season, covering every style from the beloved Pashli to the Ryder in graphic blacks and whites. Which is your favorite?
Mon 12.23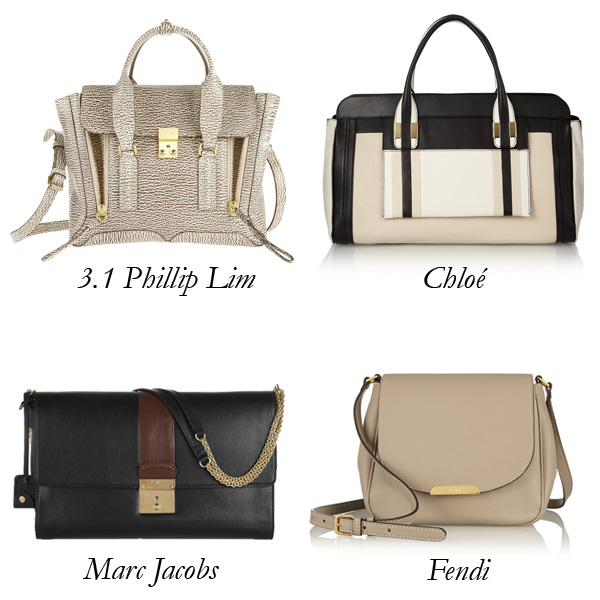 What better way to start the week than with some sale shopping? NET-A-PORTER's markdowns went international just in time for the holidays. Consider it an early gift! The bag selection is heavy on neutrals, which makes rationalizing these well-priced purchases even easier.
Wed 12.18
It's hard to commit to a white daily bag. We worry they'll get dirty (because they inevitably do). Is a big white bag hard to carry off in the winter? Even if it's as pure as the driven snow, the answer is yes!