3.1 Phillip Lim
Tue 09.16
Fur bags are an inevitability this time of year. And although it makes no physiological sense to provide your bags with warmth, especially fuzzy, furry, luxurious warmth, the look certainly does feel right for the season.
Mon 09.08
Phillip Lim has been trapped in his bedroom for almost a year, due to a lengthy apartment renovation. But the really creative aren't ever really trapped anywhere, and Phillip is one of those boundless, broad-thinking few.
Thu 08.21
"Pale pink for fall?" you say? "Buy pastel now?" you wonder, aghast? I know, I know. It seems a little backwards – but that's precisely what I like about the prospect of purchasing this newly released 3.1 Phillip Lim bag right now.
Wed 08.20
The last few seasons have been all about the skirt, particularly the ultra-feminine midi. Now I'm in the mood for the stark opposite – menswear-inspired pants.
Thu 08.14
We're used to Cate Blanchett looking glamorous and sophisticated, and while this is really no different, it is nice to see her let her hair down a little bit and have some fun!
Mon 08.11
The king of streetwear reigns on. In the time of hashtags galore, endless abbreviations, and tweets and retweets, Phillip Lim is leading the pack once again, thanks to his new trio of bags that are as much a commentary on our current culture as they are comment-worthy.
Wed 08.06
It's a well-documented fact that Beyoncé can do no wrong, but in case you'd forgotten, here she is in all her 3.1 Phillip Lim glory to remind you!
Thu 07.24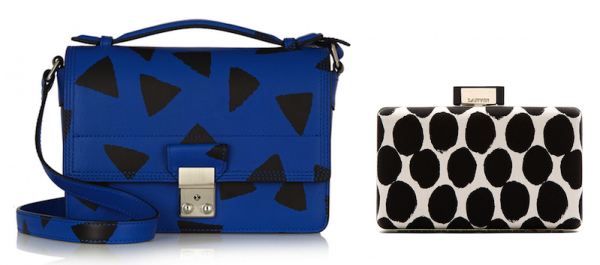 Polka dot or animal spot? Painterly circles or graffiti-inspired triangles? Or something else entirely? Honestly, when something looks this good, it doesn't really need to be defined with a precision-perfect touch.
Mon 07.21
Contrary to what we might hope, bags are not always "one size fits all." Skinny, young things may be able to get away carrying just about anything, but my well-endowed girlfriends have trouble finding even a simple crossbody. While you can certainly buy any bag out there, the truth is that different bags flatter different body types. See which will work best for you!