Alexander McQueen
Can't keep up with who's designing for which brand? In the high fashion world's ongoing game of musical chairs, it can be overwhelming to keep track of the creative minds behind the brands.
Thanks to street style and social media, fashion trends change with such rapid speed nowadays, it means they come back around as fast as they go. Who can keep track? That's why you shouldn't ever rid of anything you love. If it's feeling tired, just put it in the back of your closet store it for another day.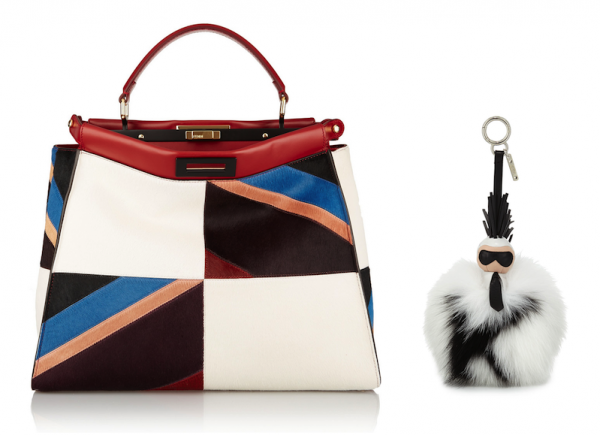 As I go through the thousands of looks from New York Fashion Week and choose my favorites, I can't help but think how safe most of the Spring '16 collections were revealed to be (with the exception of a few bold geniuses like Marc Jacobs, Alex Wang, and Riccardo Tisci).
Now is the time to embrace some major texture changes! If fur is too extreme for you as a winter bag, then felt is definitely right. Think of it as the perfect frigid-weather compromise. Soft and not too-in-your face, it's the more practical choice.
When a good sale comes your way, you stop everything you're doing and get to shopping. Items already discounted, some by as much as 50%, are getting an additional cut of 30% off just for Bag Snobs with the code BS30FR. And FREE SHIPPING. What?!
How is it already Monday again? I'm not going to opine on why the weekend goes by in the blink of an eye, while a workday can feel like an eternity. Instead, I'm going to distract myself with a bunch of bags that have me all starry-eyed.
All right, I can barely get my husband to stand my culottes, let alone get him in a pair, but Alexander McQueen's SS16 mulottes (Is this a term? It is now!) give me hope that the trend will be making its way into menswear soon. Guys must get tired of wearing the same old shorts all summer long, no? This is a fun alternative – and a much cooler one than a pair of bootcut jeans.
It's that special time during sale season when a mere price reduction isn't enough to turn our heads. As seen on Shopbop yesterday and Luisa via Roma today, it's all about the sale on sales! Right now, LVR is offering an additional 15% off already discounted items…
Personal style is just that – personal. But as a writer develops his voice by reading the work of classic authors or an artist learns his craft by studying the genius of generations past, so do we evolve our fashion sense by observing and appreciating the style of others.