Alexander Wang
Winter dressing can be a real downer, especially when you're navigating the New York City sidewalks and temperatures are barely hitting the above-freezing mark. Enter Vanessa Hudgens for some mid-winter style inspiration. She was spotted in the city on Tuesday, after stopping by SiriusXM Studios, in a look that's color-blocking perfection.
Featured Items
The '90s were a lot of fun, plain and simple. It was definitely an interesting decade: We had learned from the mistakes of the '80s but maintained enough of the residual carefree attitude to have a great time, especially when it came to dressing. Kelly and I wore high-waisted jeans with all of our tops – and in my case, bustiers, aka bras disguised as tops (and I use the word "disguise" loosely). Nineties style was relaxed yet high in edge and attitude, and it's clear not much has changed now that the era has long passed; the trends are back in full effect, especially for today's most in-demand "it" girls.
Featured Items
Call it the holiday spirit of giving (or receiving), but we can't get enough of the current sales! And the latest certainly don't disappoint. Now through Friday the 11th at Neiman Marcus and Saturday the 12th at Bergdorf Goodman, get an additional 20% off already reduced merchandise, including these highly giftable finds and this stunning party dress…
Featured Items
Last night I was delighted to join Cate Blanchett, her longtime stylist Elizabeth Stewart, Sarah Rutson of NET-A-PORTER, and other high-profile fashion lovers for an intimate dinner at LA's Chateau Marmont in celebration of Hollywood style.
Featured Items
The results from New York Fashion Week are in, and the biggest bag trend off the Spring '16 runway is definitely the saddle bag. It's the perfectly relaxed counterpart to the season's loose silhouettes, sweetly lacy accents, and pajama-reminiscent looks.
Here we are again! Back in New York City and the energy is palpable, from the searing late-summer sun to the mad dash between Lincoln Center and Milk Studios (and everywhere in between). But it's what's going on inside that's really stirring up our spirits…
A clutch specific to the fall season might not be something you want to splurge on, but then again, having a particular tweed texture or distinctive animal print at your fingertips just feels so right. Enter Diane von Furstenberg's new crew of Secret Agents.
Texture is a word that comes up a lot when talking bags. Smooth, grainy, rough, pebbled, furry, plush, soft, rugged…there are endless varieties and almost as many ways to describe them. But some bags out-texture the rest, so to speak.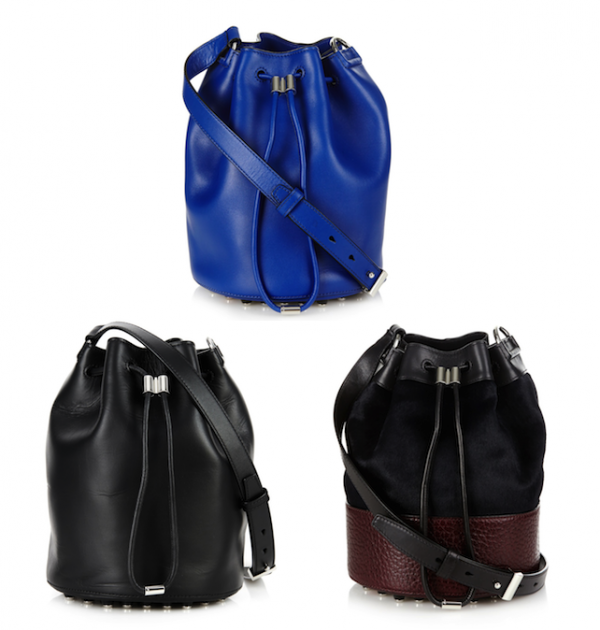 Do you remember when Alexander Wang released the Diego bucket bag back in 2009? Not only did the tightly cinched design make it a hard task to yank anything out of it, hefty hardware, like chunky studs covering the bottom, made the bag insanely heavy with nothing even in it.