Alexander Wang
Fri 01.23
Just like people, many bags prefer certain climates to others. I'm not just talking seasonal styles. While some only function happily on the balmiest days of summer, others are made with winter weather in mind – and the messiness that arrives with it.
Fri 01.16
Sometimes you see something fab, but then again, you feel like it's probably way too specific to make it a reality in your life. Take Esteban Cortazar's cape-like, flowing chiffon top: When you first see it, you might think "one-night stand," but this is a piece that's down for some commitment.
Wed 01.07
What's inspiring the hottest graphics of the season? It's none other than tie-dye in a full spectrum of variations, from the artful and abstract to distinctly deliberate patterns. Bring the beloved, nostalgic summer motif into winter right now to create an unexpected mood. You'll be surprised at how effortlessly it blends with your wardrobe.
Fri 11.07
Many people are under the impression that fanny packs (or belt bags or waist bags…whichever makes you cringe the least!) were never on-trend, and that's just not true. Crop tops and fanny packs pretty much defined my college years in the '90s. And I wasn't in the minority there, either…
Fri 11.07
Sometimes, less is more. On the subject of color, this can be true, especially this time of year when everything is being toned down from the brights of summer. Fall/winter is the perfect time to go all in with a simple shade to pack a coordinated punch from head to toe.
Fri 11.07
Who says winter means you've got to ditch bright colors? You don't have to abandon the fun neon trend just because temperatures have dropped. The '80s girl in me wants it all year long!
Thu 10.16
Between Target and H&M collaborations, designer fashion is more accessible than ever, and those collections are just getting better all the time. If you thought Isabel Marant's H&M tour de force was highly anticipated, then there's not even a word to describe the mania that's about to ensue for Alex Wang.
Tue 10.14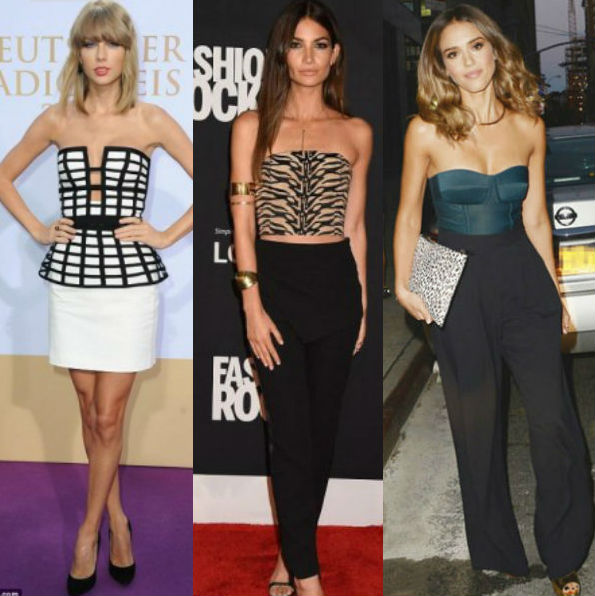 Bustier tops were spotted all over the runways at NYFW this year, and stars have already been spotted sporting this trend in all shapes and patterns.
Wed 10.01
From demure blush tones to innocent garden hues to quintessential Barbie pinks to searing fuchsias and bold magentas to the perfect shade of lipstick pink: October is the best month to show off your best pinks, in support of Breast Cancer Awareness.