Balenciaga
It's all about extremes. When it comes to Balenciaga's most recent totes, I wasn't into their chunky, giant chain straps, so instead I'm slowly falling for the flipside: this leaner, meaner shopper tote with razor-thin straps.
Start the week off right by entering to win a cotton candy-hued Balenciaga Tube bag – and a $1,000 Kirna Zabete gift certificate to help you with your summer wardrobe!
Have you entered our Balenciaga bag giveaway yet? As if the gorgeous, cotton candy-hued creation isn't temptation enough, Kirna Zabete has also generously included a $1,000 gift certificate to help you with your summer wardrobe!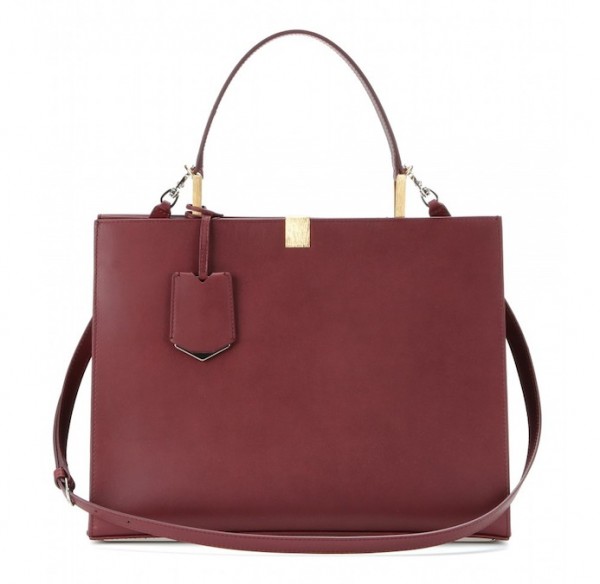 I love the minimalist aesthetic Alex Wang brought to Balenciaga. He knows that just because you're spending top dollar doesn't mean you need extra bells and whistles. The original Le Dix had a flap that lent the bag a briefcase look. By taking that away, he's uncovered a ladylike style that is somehow both understated and demanding of attention.
Remember when we all gasped at Lupita N'yongo's stunning Golden Globes' gown (and pretty much every other time she appeared anywhere)? The woman behind that look – as well as those of Michelle Dockery – is Micaela Erlanger. She's the stylist to the stars – and the best-dressed ones at that!
Last year we had the black and white trend, and this year, things are taking a darker turn – in a good way! I'm obsessing over pastels right now just as much as the next girl, but there's nothing like a bag you can carry year-round.
Sometimes the perfect handle is all it takes to make a simple tote feel special. It's the power of a detail, the potency of one great touch. And speaking of touches, it's looking like Alexander Wang still has one with some magic to it.
If you haven't won one of our four April giveaways, this just might be your lucky week! Third time's the charm, right? Each Monday, we've announced a different bag from pre-owned accessories purveyor LUXE DH, offering four chances to win, and today's prize is a pink Balenciaga First.
I went to see the new musical Harmony last week, and fell in love with one of the character's capes – a velvet capelet with long straps that went under the arms and tied in the back. Some costumes can only be pulled off on a stage, but these are pieces you can integrate naturally in everyday life, whether you're on the beach, playing in the rain, or out on a Friday night!