Balenciaga
Wed 12.18
This simple and refined lady bag will not only outlast it through the thick and thin of trends, it is a bag captivating enough to keep you cherishing it forever. The Le Dix Cartables pays respect to the elegant old guard of Balenciaga, with its classic silhouette and prim, structured feel. At the same time, thanks to Alexander Wang's ever forward-gazing eye, it feels undeniably new millennium by nature. It's literally the best of both worlds.
Mon 12.09
Love, love, love! This bag proves Alexander Wang is capable of imbuing the near-immaculate house of Balenciaga (from Cristobal to Nicolas) with his distinct brand of street-style savvy – without abandoning their finely cultivated aesthetic.
Mon 11.18
Some Snobs hate winter because it means covering up a season's worth of glittering outfits, and while I understand the frustration, there is a way to stay chic in the snow – by making your coat a part of the look!
Thu 11.07
From the enigmatic and avant-garde to the upbeat and ladylike (and oft monogram-laden): While both have storied histories, the house of Balenciaga could not be more different from mega-brand Louis Vuitton. Yet the wise choice of Nicolas Ghesquière to succeed Marc Jacobs was of no surprise to me.
Mon 10.21
Before we get too caught up with the Fall/Winter season's tweeds, wools, knits, dark leathers, and heavy textures, let's take a minute to appreciate the unconventional. There's something to be said for the element of surprise (got to keep 'em on their toes!), and nothing will catch onlookers off-guard like a bright, perky bag right about now.
Mon 09.30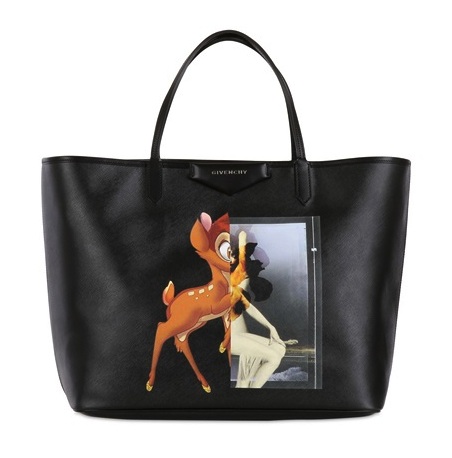 Givenchy's Fall 2013 collection is full of trippy floral prints, tricked-out moto jackets, and a whole lot of the world's most famous cartoon deer. The Bambi-meets-surreal art motif didn't just make it to Riccardo Tisci's high-fashion sweatshirts.
Fri 09.27
The moment I landed in Paris yesterday, I turned my phone on and looked up the latest Balenciaga runway images. The suspense was killing me. For Alexander Wang to successfully and seamlessly fuse his athletic aesthetic with Balenciaga's classical silhouettes is no easy feat.
Tue 09.10
I've been all about the envelope clutch lately. Credit Fashion Week! In all the hustle and bustle of the crowds rushing from show to show, sleek and chic is best. Varying textures on this Balenciaga (smooth and lizard textured leather surround the center canvas panel) give it depth and serious sophistication, but ultimately, it's very versatile.