Balenciaga
Mon 10.21
Before we get too caught up with the Fall/Winter season's tweeds, wools, knits, dark leathers, and heavy textures, let's take a minute to appreciate the unconventional. There's something to be said for the element of surprise (got to keep 'em on their toes!), and nothing will catch onlookers off-guard like a bright, perky bag right about now.
Mon 09.30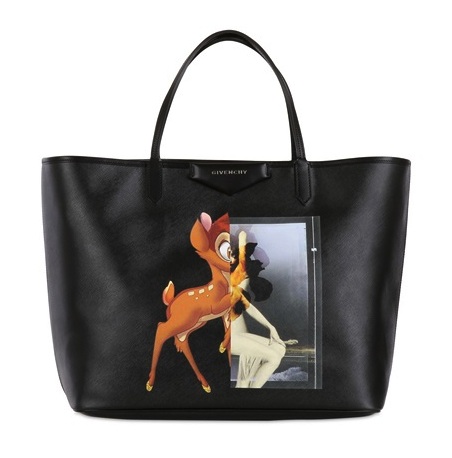 Givenchy's Fall 2013 collection is full of trippy floral prints, tricked-out moto jackets, and a whole lot of the world's most famous cartoon deer. The Bambi-meets-surreal art motif didn't just make it to Riccardo Tisci's high-fashion sweatshirts.
Fri 09.27
The moment I landed in Paris yesterday, I turned my phone on and looked up the latest Balenciaga runway images. The suspense was killing me. For Alexander Wang to successfully and seamlessly fuse his athletic aesthetic with Balenciaga's classical silhouettes is no easy feat.
Tue 09.10
I've been all about the envelope clutch lately. Credit Fashion Week! In all the hustle and bustle of the crowds rushing from show to show, sleek and chic is best. Varying textures on this Balenciaga (smooth and lizard textured leather surround the center canvas panel) give it depth and serious sophistication, but ultimately, it's very versatile.
Tue 08.27
There is something about a stark, graphic black and white bag that is so soothing to the eye. The clean, minimalist canvas allows you to make it your own. The modern touch is an instant update when you're feeling your wardrobe is getting stale (a weekly occurrence for all of us, right??!!).
Fri 04.26
While I'm excited for the shorter stacked heel movement, these hideous creations seriously need to be outlawed. Comfort plus style is the right equation, but comfort minus style just doesn't factor out. If you're looking for granny shoes (and you should really only be doing this if you are, in fact, a granny), then check […]
Tue 04.09
Balenciaga's black wool-silk toga dress ($2,076) has me feeling like a Grecian deity. The gold-fringed trim is a subtle nod to the ancient inspiration without leading you into cheesy frat party territory. Wear it with heels for a sophisticated look or with flats to amp up its cute frilliness. Browns' own line, BFocus ($96), offers […]
Wed 04.03
What goes around comes around: Balenciaga's iconic reissue comes just in time for the new season. Cristobal designed this mod-perfect tote in 1968, a part of his final collection for his namesake house, after five decades at its helm. It came as no surprise the designer, who made only a few bags in that lengthy […]