Belstaff
Mon 03.03
Who says you need to be decked out in camouflage to inject a little bit of boot camp chic into your look? Sometimes subtle is the way to go, and sticking with a neutral palette of lush olive, earthy brown, rich hunter green, and all-grown-up mahogany will leave you anything but fatigued.
Mon 09.02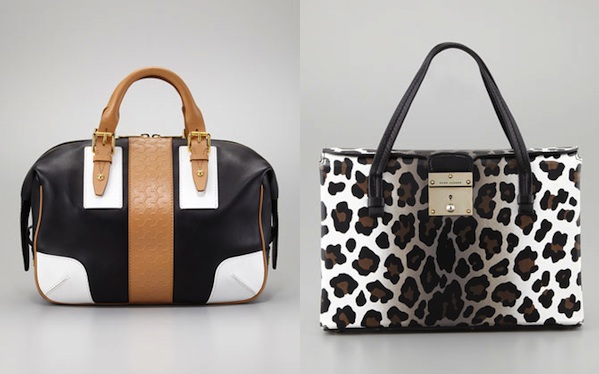 Happy Labor Day! I hope you're enjoying the holiday with family and friends, but if you have a moment to yourself, indulge in some sale shopping. My first stop was Neiman Marcus. Getting up to 50% off bags, dresses, shoes, etc. makes having to say goodbye to summer just a little bit easier. Belstaff's Ashley Bag ($1,738) immediately caught my eye.
Thu 08.15
Don't be fooled by our talk about It-bags, Treasure bags, unapologetically impractical (and irresistible) tiny minaudières, and anything sporting feathers, neon, and dare-to-carry-them exotic skins.
Wed 06.12
Boots are a fall staple, and in honor of the punk revival, why not go with some lug soles? Granted the trend is more glam punk (kind of an oxymoron), but no matter! It's fun and these boots are made for walking, which is not always the case. From Doc Martens to platforms, lug soles […]
Tue 03.26
Belstaff is a study in contrasts. Their classic-shaped bags come with bike tread embossing the leather, while their shoes are composed of a variety of textures, colors, and materials. One of my favorite examples is the Leafield, a sandal that mixes hunter green suede, fresh canvas, and snake embossed leather to create a shoe that […]
Fri 03.22
I love so many things about leather, naturally, but best thing about it may be its far-reaching versatility. Thanks to stamping, molding, and big imaginations, leather can take on any mood, anywhere. Whether it's in the form of animal prints, quintessential intrecciato, Baroque opulence, or polka dots, the embossing of leather doesn't just provide intriguing […]
Tue 02.12
It's hard to believe it's only been a year since the re-launch of the original biker label – they are doing it like a seasoned pro. Presenting a hefty collection with a wise focus on outerwear, Belstaff cleverly applied the heritage of their brand as building blocks, and now they have redefined luxury.
Fri 02.08
I could say that I want to get these shoes in preparation for the Year of the Snake, but the truth is that I would invent pretty much any reason to wear them. They had me at the ankle cuff and the beguiling sneaker-like perforation. The style is just a little sporty, which is perfect […]